Albatros Productions | Aviatik (Berg) D.I At War
Reviewed by Kevin Williams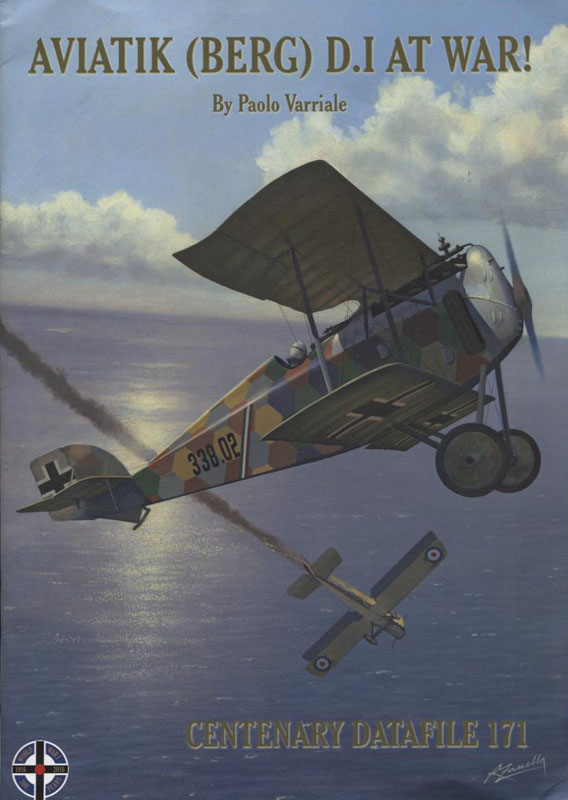 The "At War" series of Datafile Specials from Albatros Productions, offer up a unique look into the world of the subject WWI aircraft, with a look at the aircraft during the wartime years, as well as in the case of this particular volume, some very nice detail shots of original remnants. Adding up to around 37 pages, this is a very nice companion volume to the Aviatik D.I, Datafile #45, from this same publisher.
Designed by Julius von Berg, the D.I, apparently, though produced in fairly large numbers, established a reputation for be a "frail" fighter plane, frequently falling apart in flight, not really a desirable attribute. Nonetheless, the D.I soldiered on, giving basically good service and performance in the hands of a competent pilot, and the bugs eventually began to get worked out of the design/manufacturing issues.
Anyone with even a passing interest in WWI aviation, is usually familiar with the extensive line of publications offered, and the overall quality that is typical from them. This volume is certainly no exception, offering forth a glimpse into an era long since passed, but hopefully, never forgotten. I've long been attracted to the hexagonal lozenge used on select versions of these and similar machines (as opposed to the random polygonal shapes of the Fokker D.VII, which I also very much enjoy), and that in itself, is sufficient justification for me to eventually tackle one.
This particular volume also delves into some of the subtle (and not so subtle) differences in the specifics of various manufacturers.
Typical Photo Selection/Drawings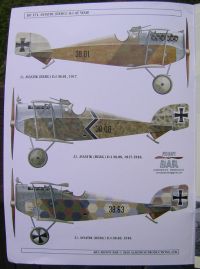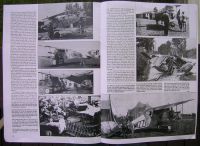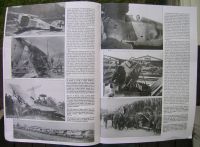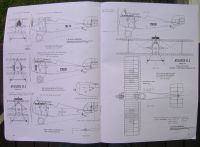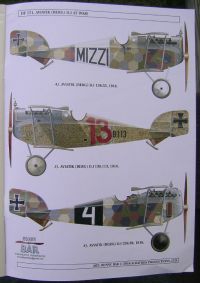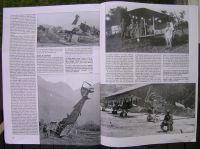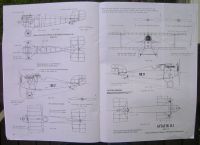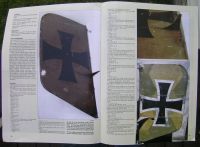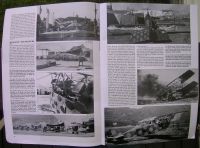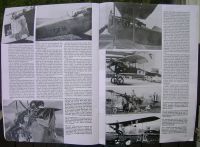 ---
The text is augmented with a very nice selection of period photos, as well as a small section devoted to additional references used, a nice touch that I quite frankly wish would become standard with all references of this nature.
Rear Cover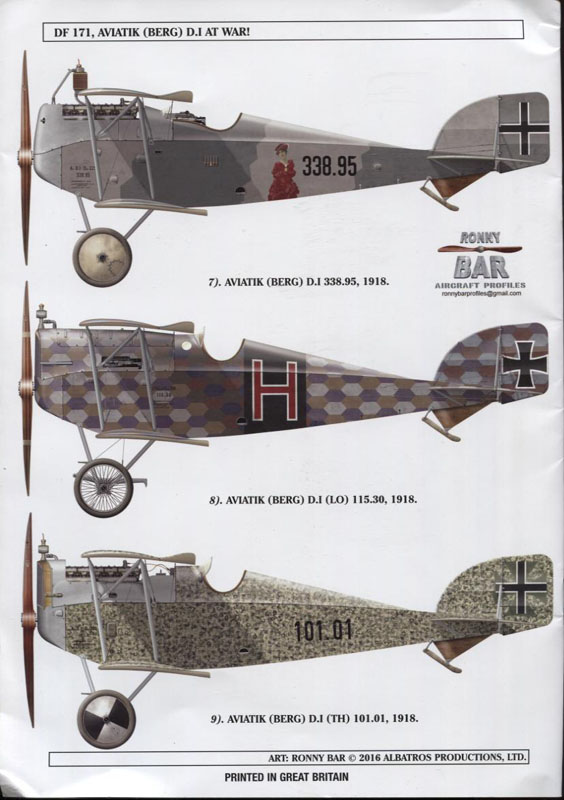 Rear cover offers up three more nice profiles by well known aviation artist Ronny Bar.
All in all, I'd recommend this book without any reservation at all. At a modest 37 pages, this volume makes for a nice addition to the library, and may well prove invaluable when I attempt to eventually model this particular machine. (Though WNW does not currently have an Aviatik D.I in their catalog, I assume (and hope) that they eventually will, so I'll certainly be looking forward to that possibility.)
If you have but even a passing interest in WWI aviation, this series of books (as well as indeed all of the other Datafiles), may just convert you into a fan.
Review copy compliments of Ray Rimell at Albatros Productions.
Recommended additional References
JaPo: Aviatik D.I & D.II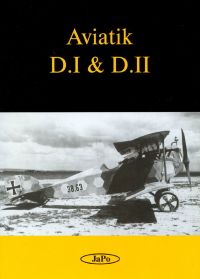 ---
Albatros Productions: Aviatik D.I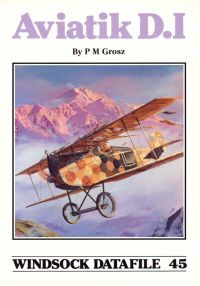 ---
© Kevin Williams 2016
This product is available from the following LSP sponsors
This review was published on Wednesday, September 07 2016; Last modified on Wednesday, September 07 2016