Obscureco | OBS 32002 F6F Hellcat and F4U Corsair Wheels (Early Style)
Reviewed by Floyd S. Werner, Jr.
One of the biggest downfalls of both 1/32nd Corsair models is the wheels. In Revell's offering the wheels are extremely plain lacking any tread pattern on the tires and important details on the wheels. The Trumpeter kit does a little bit better job with the wheels but includes gimmicky rubber tires that are almost certain to either eat away at the plastic wheels or dry rot and crack in time. Both those problems are rendered moot by an excellent set of tires released by Obscureco Aircraft.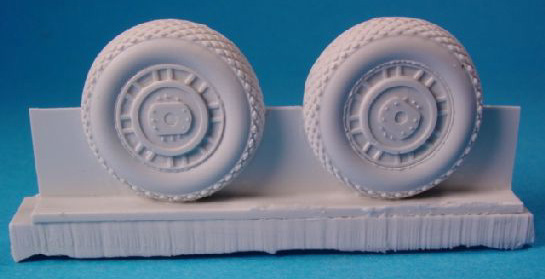 A relative newcomer to the aftermarket resin industry specializing in simple and economical enhancements for aircraft models, their Hellcat/ Corsair wheel set continues that tradition. Flawlessly cast in a light gray resin, the wheels convincingly capture the look of the early cross tread pattern of these two legendary WWII U.S. Navy aircraft. In addition the wheels include clear locating holes to guide a drill bit for creating mounting holes for the strut axles. This is a feature sometimes overlooked by after market manufacturers making a precise location for the hole needlessly difficult.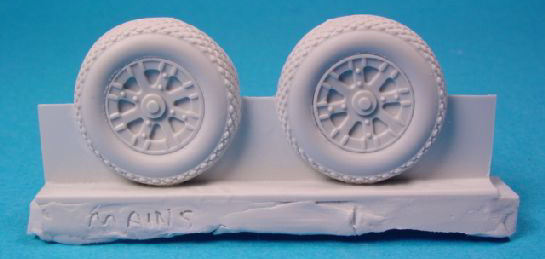 The wheels are surrounded for half their diameter by wafer thin flash and have prominent mold parting lines around their circumference. These will be easily dealt with by snapping the flash away and giving the wheels a light sanding to eliminate the parting seam. While in some cases this might result in lost tread detail, the detail on the Obscureco parts is extremely sharp and will look just right after sanding and a coat of paint.
These wheels will significantly improve the appearance of either of the Corsair kits as well as the Hasegawa Hellcat. At a very reasonable $6.00 per set, the modeler can afford to retrofit them to multiple kits. I just hope future releases will include later tread types.
Highly Recommended.
Advantages: Cleanly cast with crisp detail; clearly defined positioning hole for axle.
Disadvantages: Some flash and mold parting line requiring cleanup.
OBSCURECO AIRCRAFT; San Jose, CA U.S.A.
Email - ObscurAir@aol.com
Thanks to Obscureco for the review sample
© Floyd S. Werner, Jr. 2004
This review was published on Saturday, July 02 2011; Last modified on Thursday, December 29 2016