Zoukei-Mura | SWS07: A-1J Skyraider USAF
Reviewed by Kevin Williams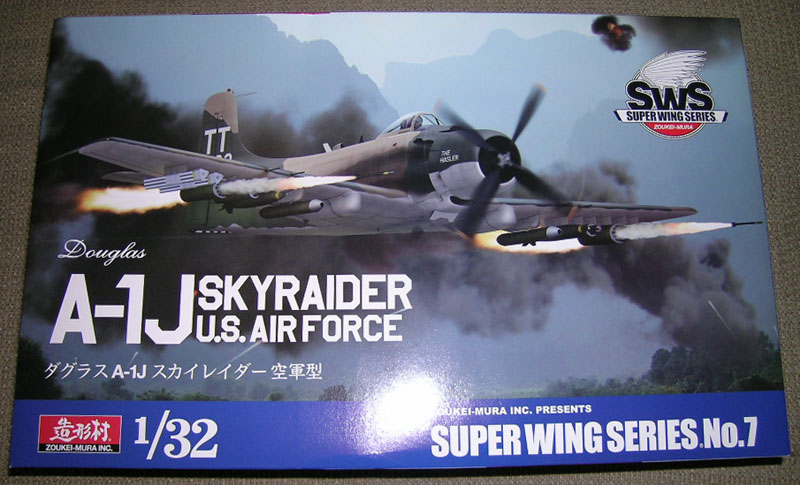 I decided at the outset to remove myself from the somewhat typical and lengthy description of the Skyraider technical development and operational history. I will however say that I personally believe that for all the work the Skyraider squadrons performed, be it supply interdiction, communications, transportation (both road and rail) destruction, SAR missions, as well as close air support, (very significant to the ground pounders), that they deserve to be recognized for the tremendously important role they had to play during the conflicts they were involved in, and the fact that they performed in that role quite admirably. Loitering time "on target", was legendary, and many a soldier undoubtedly owes his life to the capabilities of this aircraft.
(Since this is more of an in-box review than a build review, I have no photos of assembled sub structures, so my inputs should be considered more of an overview of the various areas I thought might be of interest, rather than an analysis of any accuracy issues, if indeed any are inherent.)
Instructions & Misc Documents
---
Instructions are depicted in a sort of pictographic way, making assembly a fairly straight forward process, similar to what WNW provides in their kits. Much to my happiness, a complete parts chart is provided in each of the two provided instruction booklets. The booklet for the -1H, though not illustrated in this review, is very similar in nature to the -1J booklet, though in obviously much greater detail.
Instructions Amendment
---
A small document (6" x 8-1/4") is included that amends some errors in the provided instruction booklet(s). These are worth reviewing prior to the building process, and may save some grief down the line.
A-1J Specific Instructions
---
Since this kit is actually the earlier A-1H, but with specific parts added to make the A-1J, an extra instruction sheet is included to allow one to make those specific changes/additions.
Decals
---
Markings are provided for four Skyraiders, two USAF, two USN:
137543, AK 409 VA-176, USS Intrepid (USN)
137496, AK 405 VA-176, USS Intrepid (USN)
142063, 602nd SOS (Special Operations Squadron) USAF
142014, 602nd SOS (Special Operations Squadron) USAF
Decals appear to be in register, quite opaque, and well detailed, with plenty of stenciling. No mention is made of where these decals were printed, but they look acceptable to me, though I'll probably chase down AM decals anyway, as I really have my heart set on a South Vietnamese machine.
Plenty of extra numbers are provided that might assist with doing other machines (Air Force versions), though no specific or unique markings are provided for that purpose. I find that a bit of a paradox, but perhaps I'm reading too much into it.
Since this kit is basically the A-1H kit, but with additional added parts for the A-1J, two sets of decals are provided, two USN and two USAF, giving the modeler some interesting options that he might not otherwise have had.
Masks
---
A small pre-cut canopy mask set is included here, along with two steel wires.
Major Kit Sprues
---
Offered up here, are a selection of major sprue components, with more detailed photos in the categories to follow.
Fuselage Major Components
---
Most major fuselage components are represented above. Proportions and detailing are done to a very high level indeed. Internal ribbing, though somewhat redundant by my view, will nonetheless contribute, along with the bulkheads, to a rock solid structure, and that can't help but be a good thing for an aircraft of this size.
Wings & Wing Armament
---
Again, wings are very well detailed, and include a very nice rendition of the catapult hooks and weapons bays; the 20mm cannons and feed boxes/belts, being especially well done.
Flying Surfaces, General
---
(I didn't really take a lot of photos of these, as there's really not much to them, a few panel lines, and that's about it.) I will say this though, the molded on static dischargers, are very nice, but I also know they'll never survive my building method, so they'll be clipped off altogether, then added back near the end of the construction phase.
The Cockpit
---
One thing about the cockpit that I absolutely don't like, is the simulated canvas cover aft of the pilot seat. It looks more like a piece of ratty and wrinkled tissue paper, more of an afterthought than a genuine attempt at recreating the actual crumpled appearance of the cover. I'll be sculpting my own, that's for certain.
Many have already noted the rather soft and somewhat generic details of the cockpit, but I believe that with some careful painting, it could still quite readily capture the "feel" of this area nicely for those that may opt to go that route. I'll undoubtedly be investing some cash in an Aires cockpit for mine, but mine will more than certainly be contest bound, and this area is one that seems to receive quite a lot of attention by spectators. Still, the cockpit, as provided, may prove more than adequate for many.
Canopy & Clear Parts
---
The clear parts were not only bagged, but wrapped in a piece of foam sheet, really protecting them from harm, and this is deeply appreciated by me. Clarity is astounding, as the photos readily attest.
Engine
---
The Engine is an injected marvel, quite complex and busy. Too bad mine will be buried and never seen, but for those wishing to display it exposed, it offers up a whole world of detailing opportunities.
Fuel Tanks
---
Two under-wing tanks are provided, either one of which, if desired, can be converted into a fin-less center station tank. (Oddly, despite the abundance of pylons available on a SPAD, I'm always reluctant to give up a wing pylon for a fuel tank.)
Landing Gear, Wheels & Tires
---
Landing gear is actually quite complex and busy, while tires and wheel combinations look excellent. There appear to be two different styles of main wheels, probably owing to the two types of craft able to be produced from this kit.
Weapons
Sadly, no weapons (save for the wing mounted 20mm cannons and ammo feeds) are included. Since a Skyraider without weapons looks sort of naked to me, I'll have no choice but to hunt down some cool gadgets to hang from the numerous pylons, perhaps a Z-M weapons set. While I understand fully the reasoning behind this choice, personally it was a bit of a disappointment, but certainly not something that's un-resolvable.
Miscellaneous
---
These are various bits and bobs that I photographed, but had no specific and/or convenient place for. One of the smaller bits was busted in my kit, but will be a relatively easy fix.
Summation
All in all, I think this is a very commendable effort from Z-M (the first kit from them that I own), and I am very pleased with what I've found so far, and anxiously await the opportunity to begin working on my example. I also expect that the AM folks will jump on when and where needed (and in fact already have to some degree), to provide us with additional enhancements for this cool kit, the iconic Douglas "Flying Dump Truck".
I see it as a major plus that both the -1H and -1J can be built from this kit, and that the -1H decals are still present. I see this as a very nice touch from the folks at Z-M, offering up to the modeller, a nice set of options for this kit.
This kit is highly recommended by this reviewer, for overall aesthetic appeal, and for giving us another choice by which to display the brute force appearance of this truly iconic aircraft.
Many thanks to HobbyLink Japan for the review kit, which can be purchased at the following link:
1/32 Douglas A-1J Skyraider U.S. Air Force
Additional Recommended Reading/Reference Material
Squadron/Signal: A-1 Skyraider Walk Around
---
Osprey: Douglas A-1 Skyraider
---
Detail & Scale: AD Skyraider
---
Schiffer: The A-1 Skyraider in Vietnam
---
© Kevin Williams 2016
This review was published on Friday, September 16 2016; Last modified on Monday, April 17 2017