AK Interactive | Aces High Magazine Issue 8: Captured!
Reviewed by Kevin Futter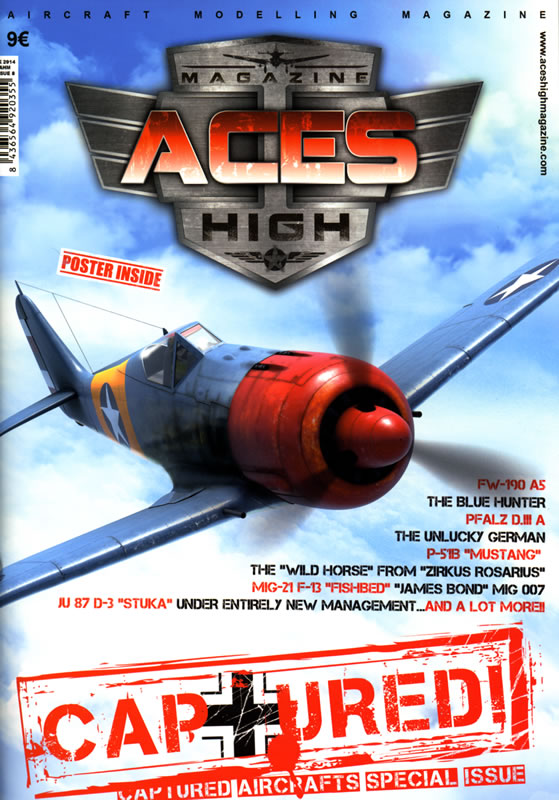 Spanish firm AK Interactive has, in a relatively short space of time, become quite well-known for its finishing and weathering products, of which it sports an extensive range. In 2014, the company branched out with the launch of its own aircraft modelling magazine, entitled Aces High. Here we examine issue number 8, entitled Captured!.
The magazine itself is very stylishly produced, with the covers printed on light card stock, and the contents on heavy, glossy paper. The design is busy, with lots of stylistic conceits that occasionally interfere with readability, such as this example below: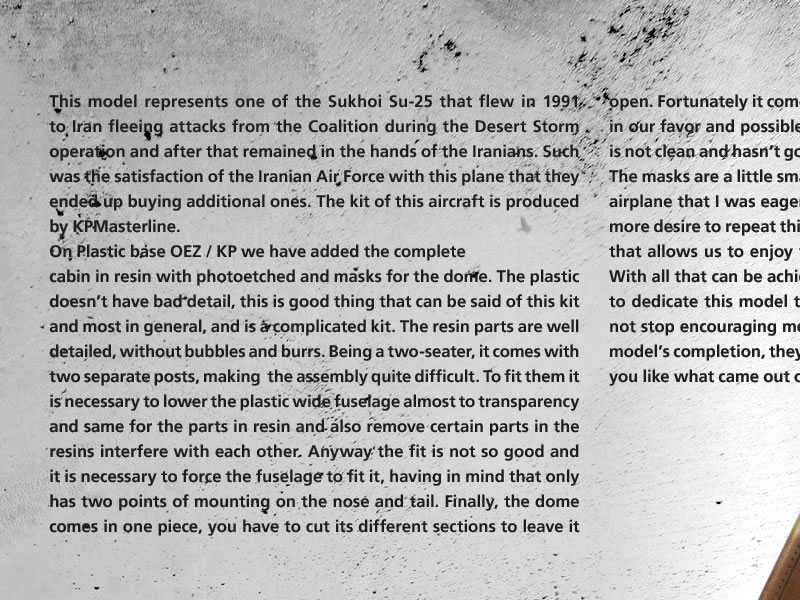 The body of the magazine consists of six major build articles, plus a bonus round at the end:
Tamiya 1/48 P-51B Mustang - The Wild Horse from Zirkus Rosarius (Daniel Zamarbide)
Wingnut Wings 1/32 Pfalz D.IIIA - The Unlucky German (Michel Gruson)
Hasegawa 1/48 Ju 87D-3 Stuka - Under Entirely New Management (Kamil Feliks Sztarbala)
Trumpeter 1/48 MiG-21 F-13 Fishbed - James Bond MiG 007 (Girolamo Lorusso)
Eduard 1/48 Fw 190A-5 - The Blue Hunter (Marek Novacek)
KP-Masterline 1/48 Sukhoi Su-25 - The Gulf War Escape (Juan Villegas)
Tamiya 1/48 VW Type 166 Schwimmwagen - The Swimming Beetle (Francisco Javier Martinez)
---
Sample images are from the AK Interactive website.
Each of these builds is truly exceptional, with fantastic detail and meticulous paint work, with the focus of each article placed squarely on the finishing techniques employed. It's fair to say that, being a Spanish magazine, the finishing style of each model belongs to what is colloquially known as the 'Spanish School' - a stylised approach that exaggerates certain elements of the finish to create a dynamic impact on the viewer. When used judiciously, this style can produce truly wondrous results, but when taken to extremes, the resultant model can look like a caricature of the subject.
Happily, the models featured in this issue of the magazine have generally avoided the extreme end of the spectrum, with the worst excesses of the style kept on a short leash. This should give the content a broader appeal, while still pleasing those readers who enjoy this finishing style.
Francisco Javier Martinez's Tamiya Schwimmwagen article features the only non-aircraft model. In keeping with the theme of this issue, it shows a machine captured by the Americans in 1944. It feels a little tokenistic, but is an interesting article nonetheless.
Judgements of taste aside, there's no doubting that there is much to marvel at and learn from in the pages of this magazine. Even those finishes our personal aesthetic my deem overdone, offer insight into the techniques used to create them, and these are still eminently useful in creating a more restrained result on your own models.
It's worth noting that in all cases, the photography is clear and crisp, with each image supporting the explanatory text nicely.
In previous issues, the centre fold-out page has featured a piece of artwork by Romain Hugault. This issue also features a terrific rendering of an Aleutians P-40 scene, but is uncredited, and not mentioned anywhere in the magazine. It's a lovely piece of work, however, and no less desirable for its anonymity.
Also not mentioned in the Table of Contents is the page of eight photos at the rear of the magazine, labelled Captured Gallery. These historical period photos feature various aircraft in captured guise, and interestingly, none of them is represented by the builds within. It's a bit of a curiosity, but interesting nonetheless.
Conclusion
It's not perfect, and the featured finishing style will not be to everybody's tastes, but the quality of the modelling on show transcends such subjective considerations. There is much to admire and learn here, and the impressive production values make it a visual feast. Overall, I think it's a great effort, and will only improve in subsequent issues. Recommended!
Thanks to AK Interactive for the review sample.
© Kevin Futter 2016
This review was published on Thursday, September 29 2016; Last modified on Thursday, September 29 2016