Profimodeller | #32003: MiG-15 Wheel Details
Reviewed by Kevin Williams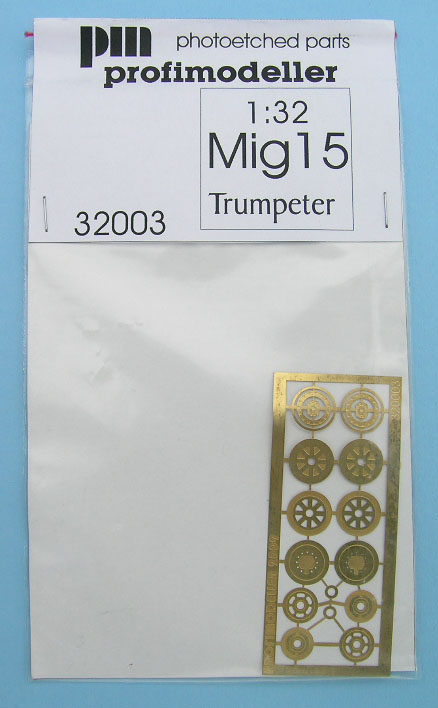 Czech firm Profimodeller has released a series of upgrade sets for the Trumpeter miG-15 kit. Here we examine set #32003, a small photo-etched set to dress up the kit's injection wheels (tires remain the rubber material if using this method).
While the kit's wheels are molded to an acceptable standard, this set replaces the molded detail, using a multi-part laminated approach, stacking several parts one atop the other to give a more 3-D look. How successful this approach will be, is entirely up to the competence of the individual modeler, but may well look pretty good, as the P.E. parts have nice etched details in relief. (It is unclear if these are intended to replace the wheels entirely, or be added to the existing wheels, but I suspect the latter, as the P.E. parts alone, would not have sufficient strength to hold the weight of the kt proper. Parts are provided for both main and nose wheels.
(I find it just a tad odd that Profimodeller also offers up a complete set of resin wheels/tires for the same kit.)
Photo-Etched Fret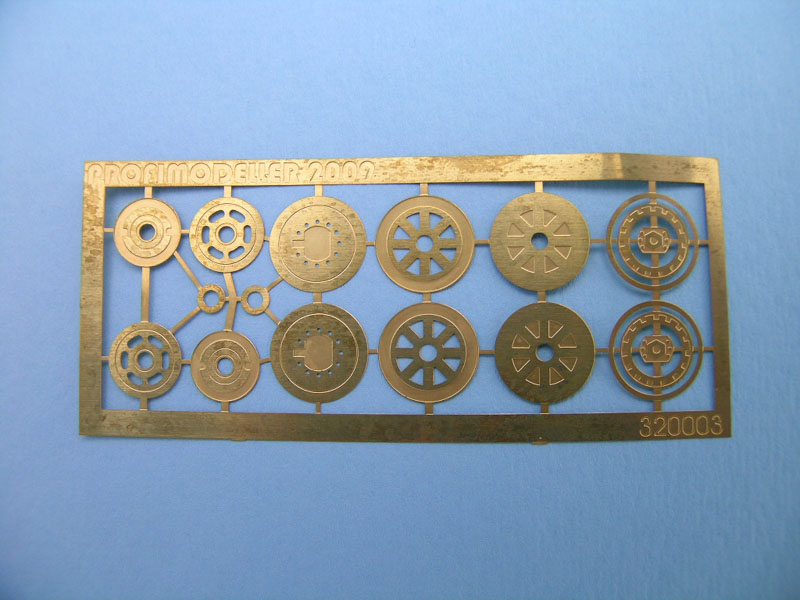 Pretty straightforward stuff, just trim/file and attach. Parts have some nice 3D relief, so this may prove a viable option to dress up the wheels of your MiG kit.
Instructions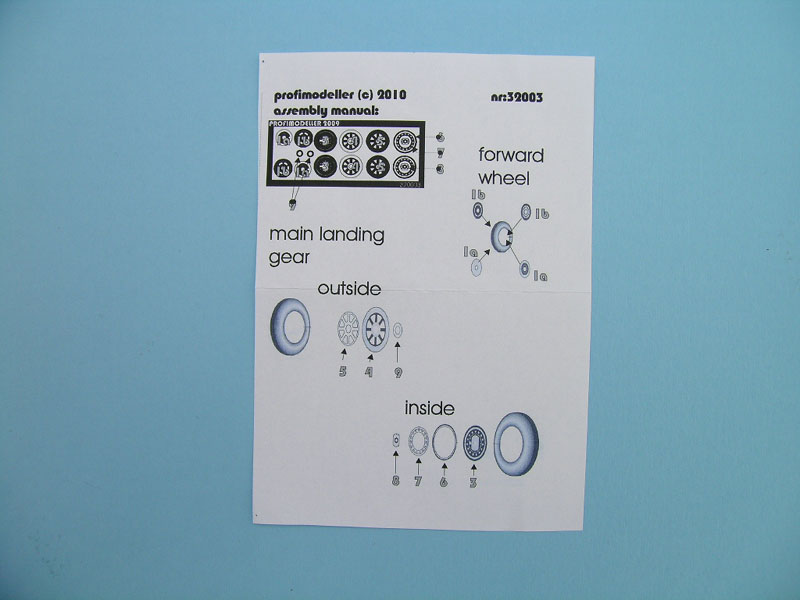 Again, pretty straightforward stuff here, one sheet with illustrations depicting part locations and sequence.
Conclusion
While this is not a large or comprehensive detail set, it does provide a simple solution to the problem of improving the wheel(s) appearance, offering up another option to the modeler.
Thanks to a good forum friend (Harv) for the review sample.
© Kevin Williams 2016
This product is available from the following LSP sponsors

This review was published on Friday, September 30 2016; Last modified on Friday, September 30 2016