Master Model | AM-32-068: MiG-15 Gun Barrels
Reviewed by Kevin Williams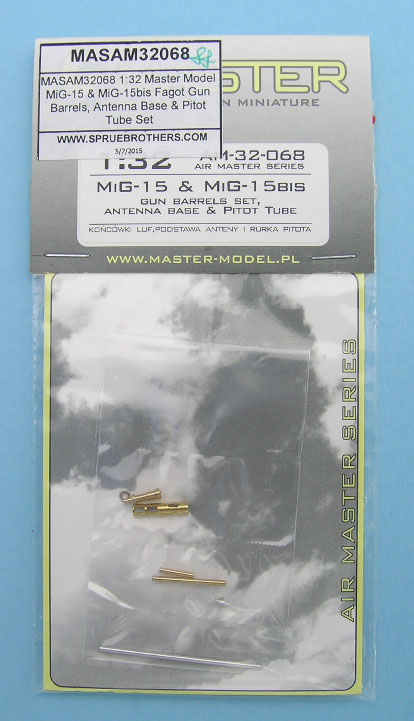 This is a set of Russian MiG-15 cannon barrels, and are designed as direct replacements for what are sometimes the weak representations offered in traditional model kits. The use of these barrels enhances and better details out this often neglected area, offering up a better appearance, and is therefore highly recommended.
Included in the set are (2) 23mm barrels (one short, one long), (1) 377 barrel and muzzle brake assembly, as well as the pitot probe and antenna mount.
Since no guns (or the drop down weapons tray) are included in the Trumpeter kit, no additional detail parts are offered here.
Instructions
Pretty straightforward here, with little need for elaboration on my part, just a basic direct replacement set for the Trumpeter parts, and not very complex.
The Product
---
Some images (green background) "borrowed" from the Master Model site, for the purpose of clarity of detail. The delicate machining of these brass (and aluminum) beauties is incredible, with cooling holes in body of gun muzzle/blast brake (in the case of the 37mm) and ends of barrels hollowed out. What else can I say about these delicate machined parts but...magnificent! (Definitely a nice addition to any 1:32 MiG-15 aircraft project.)
The Real Deal
---
(Image above scanned from this Squadron/Signal Walk Around book.)
Summary
All in all, I can (and do) recommend these as an addition for anyone that seriously wants to upgrade this particular area of their kit. I know I'll certainly be using this set on my own model.
Review sample compliments of my own pathetic wallet.
© Kevin Williams 2016
This review was published on Friday, September 30 2016; Last modified on Friday, September 30 2016