Cutting Edge Black Magic | CEBM32045: MiG-15 Canopy Masks
Reviewed by Kevin Williams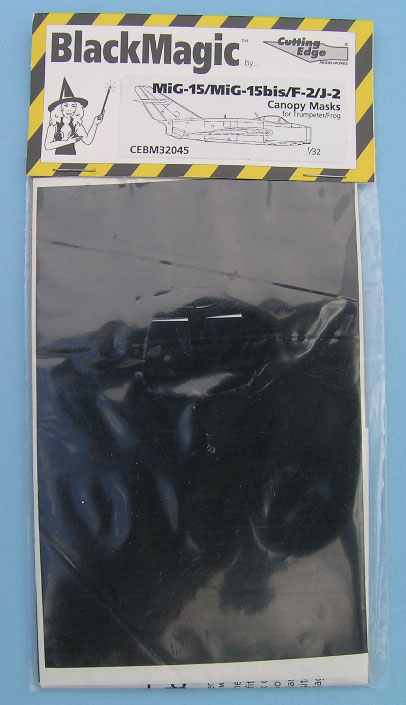 Not new by any stretch (in fact, long out-of-production), the Black Magic mask set for the Trumpeter MiG-15 kit, will be looked at here.
Included in this set are a complete assemblage of self adhesive canopy masks, that theoretically (more on that later), will enable one to get a much cleaner/sharper/more accurate paint job done on the canopy sections.
One issue with this mask set, and indeed all mask sets for this kit, is the fact they are designed to mask windscreen "as is", despite the fact that the windscreen in the kit is completely wrong, so mask will need to be trimmed accordingly, if windscreen is to be corrected.
Instructions
---
Pretty straightforward stuff here, with little need for elaboration on my part, just a basic mask set for the Trumpeter parts, and not very complex. (Despite what the generic instructions may otherwise imply, no wheel masks are provided in this particular set.)
The Product
---
As can bee seen from the above images, masks appear to be die-cut, and will hopefully have been designed to actually fit properly, though I have yet to confirm whether they will or not. I don't know if Cutting Edge were the first to explore the whole mask concept, but they are certainly a very welcome addition to my hobby arsenal.
Summary
All in all, I can (and do) recommend these as a potential addition for anyone that seriously wants to ease the painting woes of this particular area of their kit. I know I'll certainly be using this set on my own model, possibly in conjunction with the Eduard set.
Review sample compliments of a great forum pal (thanks, Harv).
© Kevin Williams 2016
This review was published on Friday, September 30 2016; Last modified on Friday, September 30 2016