Eagle Aviation | 332 Squadron
Reviewed by Kevin Williams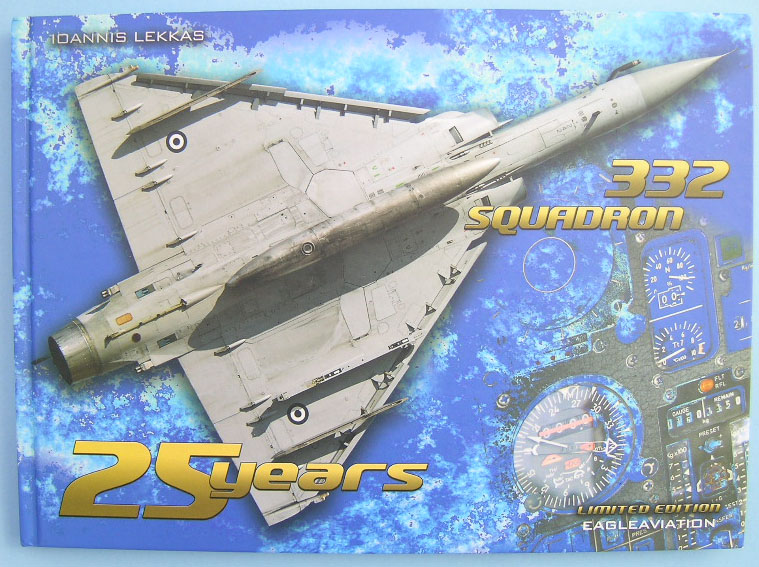 Soft Cover: 88 pages
Published: 2014
ISBN 978-618-81376-2-2
I recently had the opportunity to purchase a book that had previously been unknown to me, and here I'll briefly explore that publication. I had only heard of Eagle Aviation fairly recently, and from what I could gather, they seemed to be producing publications "by a modeler, for modelers", with ultra sharp photography, and interesting details explored. The quality of the photography throughout, really has to be seen to be appreciated.
Having very little references to the Mirage 2000 specifically (the DTU publication, basically), I very much looked forward to receiving this book, and it does not disappoint. Though not an "under the skin" type publication (that comes later), it's still a visual experience to enjoy, and a very nice, if somewhat generic, addition to my library.
"Viper under the skin", was the first book I became aware of, and almost immediately recognize that this would be a series to keep an eye on. The company is located in Greece, and as such, covers a variety of Hellenic Air Force (HAF) aircraft. This book is very well illustrated with clean and sharp photographs. As stated previously, the author/publisher is a model builder, thus the subjects are normally illustrated from a modeler's point of view. The text is covered both in Greek and English.
This particular volume takes a look at 332 Squadron, one of at least two Mirage 2000 squadrons operated by the HAF. A brief history is given regarding the acquisition of the Mirage 2000's and the subsequent friendly rivalry that developed between the Mirage and F-16 Viper squadrons, leading directly to the "Hawk" combat training exercises, improving the combat skills of both the Mirage and Viper pilots.
Photo Excerpts
---
As can be seen from the photos above, the photography is first rate, offering up crystal clear images of various aspects of the aircraft; just splendid.
Ads
---
This particular volume (currently out of print), perhaps unique to the series (and I certainly hope so), was laced with several (at least 5) ads throughout the book. Personally I found this a bit distressing, as when I purchase a reference book of any kind, I prefer it be kept "on subject", and not peppered with advertising. Despite this one particular niggle, it's still a very worthwhile book, in my opinion.
Summmary
To conclude that this is a good book, is a complete no brainer, as the photos basically speak for themselves. The promise of a new volume (sometime in early 2017), specifically dedicated to the Mirage 2000, fills me with great anticipation, and I'll grab one just as soon as they become available.
Review copy compliments of my own pathetic finances.
© Kevin Williams 2016
This review was published on Friday, October 14 2016; Last modified on Friday, October 14 2016