Luftkrieg 1919 | 1/16 Spandau German Aircraft Machine Gun
Reviewed by Mike Swinburne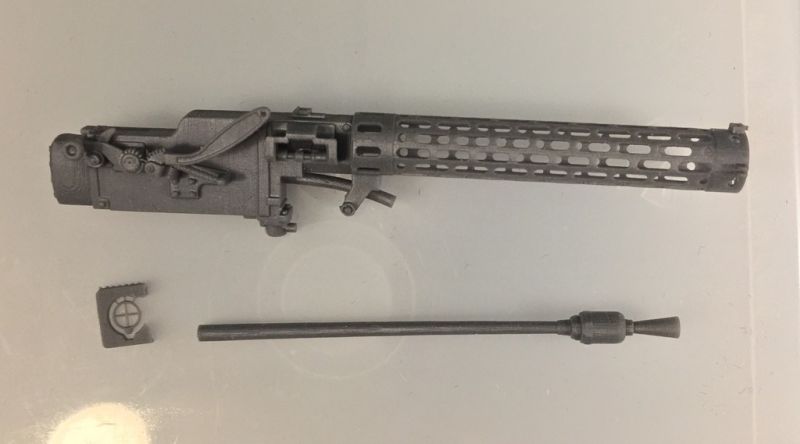 Luftkrieg 1919 is a new company out of the UK with a common theme among their planned release subjects: an alternate history immediately following the First World War, where conflicts continue. The first three releases from the company are all in 1/16 scale: two figures based on history with a bit of science fiction thrown in for good measure, and this, a Spandau machine gun. Additional releases in 1/32 scale will follow in the coming months and while I've been sworn to secrecy on the subject matter, I encourage you to explore the various pages on the Luftkrieg 1919 website to read the well thought-out story line so far and get an idea of where future releases are headed.
The MG 08 Spandau needs little introduction as a weapon - it was the forward-firing gun of essentially all German WWI aircraft fitted with a forward-firing gun starting with the Fokker Eindecker series in 1915. Luftkrieg 1919's 1/16 Spandau has been licensed from Gaspatch, and I am very impressed with the crispness and level of detail present in this resin casting. The set consists of a simple three pieces: gun breach and cooling jacket, the barrel, and a small cross hair sight.
Outside of existing and planned releases from the company (the Spandau is also available with Luftkrieg 1919's new Kati - "Die Fledermaus" figure), there are existing 1/16 scale Albatros D.Va and Fokker Dr.1 models from Model Airways and at least a Dr.1 in balsa from Guillows if not additional releases. The Spandau would also look good displayed with other 1/16 scale figures such as Model Art's Udet, Von Richtofen and Goering.
My Spandau sample has no flash or casting imperfections anywhere that I can find however I do notice some layering on the leather padding at the rear of the gun breach. You need to look quite closely to see this; the thin layering is a by-product of the 3D printing used to create the master. A minute or two of light sanding or a coat of Mr Surfacer should cover this easily for smooth and even painting.
Recommended without hesitation - this is one gorgeous accessory that will dress up your large aircraft or vignette with little effort to assemble and paint. My thanks to Luftkrieg 1919 for the review sample.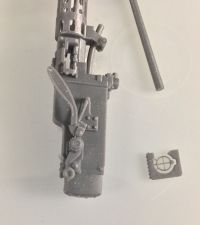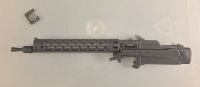 ---
© Mike Swinburne 2016
This review was published on Monday, October 24 2016; Last modified on Wednesday, October 26 2016