Jim Brown | 1/32 Spitfire Mk.XIV Conversion
Reviewed by Mike Swinburne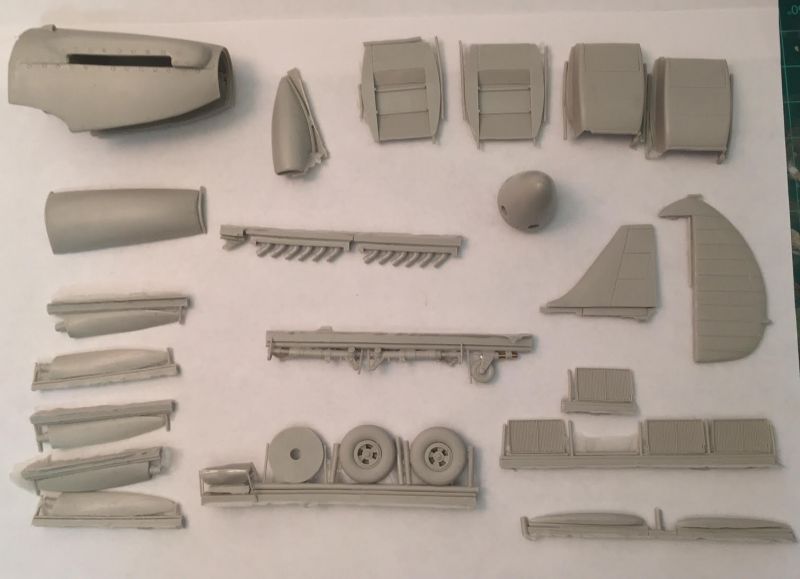 Following close behind his Spitfire Mk.XII conversion set, Jim Brown has released a resin conversion set to produce a high-back Griffon-powered Mk.XIV Spitfire out of the recent Revell Mk.II kit. Jim was kind enough to supply a review sample of this new offering reviewed here. The breakdown of parts should allow the builder to use other 1/32 spitfire kits without additional effort needed over using the suggested Revell kit.
The set consists of nearly 40 parts cast in grey resin and includes a new cowl, spinner, chin intake, propeller blades, tail, rudder, underwing radiators, exhaust stubs, clipped wingtips, wheels, retractable tail wheel doors, and new landing gear legs and tail strut. Note that cannon barrels and bulged cannon access panels were not included in my review sample but are included with purchased sets. An acceptable amount of flash is present from the casting process and it appears that parts will be easy remove from their pour stubs without any surprises.
---
Overall, casting is very well done. I detected a few small pinholes along one edge of the lower cowl and it appears some of the propeller blades may have some small air bubbles near the surface, so take care when removing these from their pour stubs to minimize any needed cleanup.
---
The cowl has been cast hollow with separate lower panel, and is thin enough to allow for some bending to more closely match the contour of your preferred donor kit fuselage. The depth of the large cowl fasteners is a bit inconsistent and is less defined on the lower edges and over the top than along the center of the cast. I don't expect this will be too difficult to fix to make them more uniform. Panel lines scribed on the new tail appear slightly deeper than other lines in the conversion set and there is one small scribing slip on one side. Easy fixes with putty and a quick rescribe will take care of these if they're not to the builder's satisfaction.
---
The gear legs are cast around strong copper rods, as is the tail strut which also has the tail wheel cast on as one piece. 4-spoke main wheels are included and the detail on these parts is very nice. The new radiators appear to be copies of an existing kit, I believe Tamiya given the fine rivet detail present. There are two ejector pin marks that have translated over in the casting that will need to be removed from the inside of each radiator flap.
---
Instructions are a mix of text, drawings, and small photographs. If you're not familiar with the Spitfire, take your time to study exactly what goes where and where you'll need to cut to fit the new tail and the radiator troughs. Drawings show what wing details need to be removed from the Revell parts, and show where new panel lines need to be scribed.
While there are other older conversion sets on the market to produce Griffon-engined Spitfires from Merlin-engined kits, I've not seen them first hand and cannot offer a comparison to these. What I can offer is my recommendation of Jim's conversion set to those looking to add some horsepower and additional propeller blades to their Spitfire, and don't mind putting in a little bit of extra effort to bring all of the details to a level of consistency. All things considered, I'm very impressed with Jim's effort in this conversion set. At the time of writing, Jim's resin sets are only available through his eBay store. My thanks to Jim Brown for the review sample.
© Mike Swinburne 2016
This review was published on Tuesday, November 22 2016; Last modified on Sunday, June 18 2017