Revell | 04888: Messerschmitt Bf 109G-10 Erla
Reviewed by Kevin Williams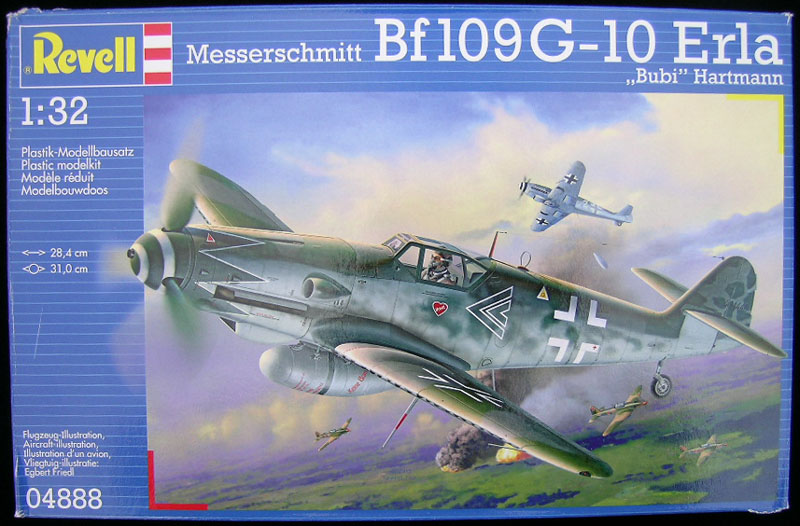 I decided at the outset to remove myself from the somewhat typical and lengthy description of the '109' technical development and operational history. I will however say that I personally believe that for all the hard work these aircraft performed, and sometimes under very harsh conditions indeed, they definitely left their mark on aviation history, being instantly recognizable to even the novice/non-enthusiast, and therefore are very worthy of a good kit. Despite the presence of the very nice Hasegawa series of 109s, Revell has here taken it upon itself to jump on the bandwagon with their own attempt at recreating this fine aircraft in miniature. (Since this is more of an in-box review than a build review, I have no photos of assembled sub structures, so should be considered more of an overview of the various areas I thought might be of interest.)
While not really a new kit as such, nonetheless this 1:32 Bf 109 series (at least I hope the line will continue) from Revell, was a welcome addition to the hobby scene, at least as far as I'm concerned. Also worth pointing out, this is not a re-pop of the Hasegawa 109G-10, but is in fact a brand new tooled kit from Revell.
(Note: several optional parts are included in this kit, carry-over parts from the G-6, I'd imagine, but instructions are fairly clear as to what's to be ignored.)
Sprue Shots
---
Just an overview of what's in the box in the way of plastic. Where sprues are doubled, I have only used one shot of those particular sprues here.
Instructions
---
Instructions are depicted in a sort of pictographic way, typical of Revell Germany kits, making assembly a straight forward process. A complete "parts chart" is included, and I see this as a terrific aid to the modeler.
Note: The scans above do not represent the entire set of instructions, but are instead just a random sampling of them.
Decals
---
Markings are provided for two Bf 109s:
491446, JG 52, white chevrons, Erich Hartmann (the ace of aces)
152016, yellow 7, JG 300
Decals appear to be in register, quite opaque, and well detailed, with very nice stenciling. (No mention is made of specifically who the printer may have been, though probably Cartograf would be my guess.) It's also worthy of note that are there are no swastika decals for the tail, absolutely none at all. While this may make sense for a kit produced in Germany, I still find it just a bit annoying. To achieve a proper and authentic depiction of the complete aircraft national markings, the swastika decals will obviously need to be sourced elsewhere.
Air Frame General
---
Now that I have the kit "in hand", I can say that the fuselage looks quite acceptable, to include the elevator shaft opening at trailing edge of vertical stabilizer, ahead of the rudder. Three distinct rudders are also included (a carry-over from the G-6 kit, I guess).
Wings
---
There have been some web grumblings about the multi-piece wing assembly, but I personally don't see it as too challenging, even if a bit odd. As has become more or less standard practice these days, a spar is also included that should greatly assist with getting the correct dihedral, as well as providing additional strength. The oval shaped lightening holes in each landing gear leg well are open, allowing one to see through them (this is a feature not present on the Hasegawa kit). Unfortunately, area inside upper wing (beyond these slots) is bare, not that anything would really show there anyway, other than to purist, flashlight wielding zealots.
Cockpit
---
Not a lot to be said here, save for the notion that if one takes his time, cockpit will build into a very nice and busy "office". On my example, seat belts, particularly the shoulder belts, are molded with very soft details, some almost disappearing entirely, and will need to be replaced (photos #44 &46). IP looks pretty good, and decals are also provided to overlay the raised details, but whether that will work out OK, remains to be seen. Two cannon shrouds (Mk 108 & MG 151/20, presumably), are also included
Clear Parts
---
One windscreen (with additional bullet proof glass) and two canopies options are offered, and both are as clear as one could hope for. (To be quite honest, both canopies appear to be identical to me, but there are two of them none the same.) One style of pilot head armor is also included, as is the fuel line, located inside the cockpit.
Engine
Somewhat surprisingly (to me, at any rate), there is no engine in the kit, none at all. This undoubtedly helps reduce costs, and is fine with me, as I seldom, if ever, display the engines on my models anyway, but some may find this a bit frustrating.
Prop/Spinner
---
Spinner and props look good to my eye, with adequate chord and twist to blades.
Fuel Tanks
---
One under fuselage fuel tank is provided, and appears to be of correct proportions, with corresponding mounting pylon, which also looks good. Oddly (at least to me), there are no under wing stores at all.
Landing Gear, Wheels and Doors
---
The split gear configuration is a real head scratcher to me, but overall, detailing of gear looks excellent. Two sets of MLG doors are provided, one set for when aircraft is depicted on the ground and one set for an "in flight" display option, a nice touch.
Miscellaneous Parts
---
Just some miscellaneous parts I took photos of, that I had no specific category for.
Miscellaneous Notes
In almost all cases, ejector pin marks are either in hidden locations, or very easily accessible for removal (not adjacent to delicate details). The exception to this, is the landing gear doors, as the connection points to the sprues are in direct contact with the delicate riveted edges of the doors themselves, so special care will be needed here. There is a fair amount of "flash" on this kit, more than what some might expect from new molds. Some may see this as a weakness of some sort, whereas I just see it as an opportunity to have some extra, very thin plastic bits, which can be mixed with liquid cement for a nice plastic filler later.
Summation
Despite some shortcomings (the split gear comes to mind), I see this as a very nice alternative to the Hasegawa kit, offering up several optional parts (not all for this kit, but good as spares) to create a G-10, and all for a very reasonable cost. All in all, I think this is a great effort from Revell. I am very pleased with what I've found, and anxiously await the opportunity to begin working on my example. I also expect that the AM folks will jump on when and where needed, to provide us with additional enhancements for this cool kit.
Review kit compliments of my forlorn wallet.
© Kevin Williams 2017
This review was published on Tuesday, February 14 2017; Last modified on Wednesday, November 24 2021