Noy's Miniatures | 3226: Modern Fighter Hangar Set
Reviewed by Kevin Futter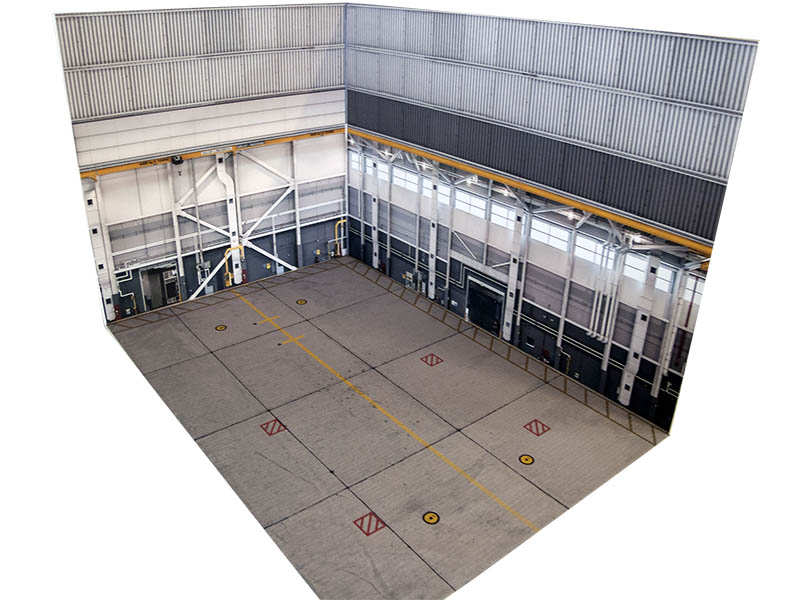 Noy's Miniatures is well known to smaller scale aircraft modellers for its excellent range of printed display bases and backdrops. This hangar set represents the company's first venture into 1/32 scale products (though it's also available in 1/48, 1/72 & 1/144 scales), and is a set of photo-realistic printed sheets representing the inside of a modern military aircraft hangar.
While the smaller scale versions are printed on card stock, the 1/32 scale version is too large for that, and is instead printed on a high-quality matt paper stock. My sample arrived in a hefty poster tube.
The sheets themselves are quite large, with the quoted dimensions as follows:
Floor: Length: 59.3 cm / 23.35 inch; Width: 40.0 cm / 15.75 inch
Rectangle Wall: Length: 59.3 cm / 23.35 inch; Width: 40.0 cm / 15.75 inch
Square Wall: Length: 40.0 cm / 15.75 inch; Width: 40.0 cm / 15.75 inch
Fully assembled, this makes for quite an imposing set up!
No instructions are included with the set, but it's obvious from the outset that the sheets will need to be attached to boards of some sort, as they are nowhere near rigid enough to support their own weight. Nor is there enough surface area at the edges to form attachment points. To this end, I chose some 5mm foam board to attach the sheets to:
---
So, the first thing to note about this set is that you can't use it without spending some additional money. Personally, I don't see this as a big issue, since all modelling projects require additional materials and consumables to complete, and this is really no different.
I used an aerosol 'photo mount' adhesive to attach the sheets to the oversized foam board, which was then trimmed to fit: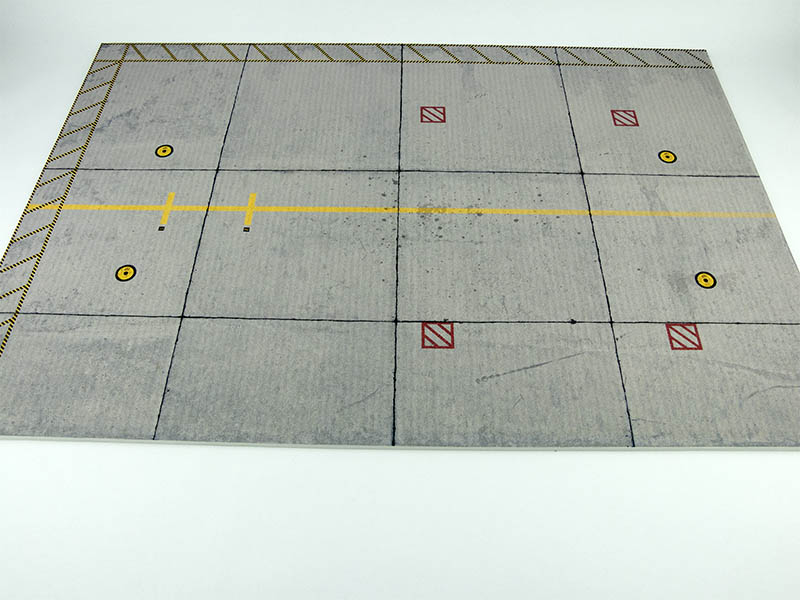 You'll need to spray the board, rather than the paper, as the printed sheets are difficult to keep flat after being rolled up in the poster tube. Even if that were not the case, you don't want to risk oversaturing the paper with the aerosol adhesive, so applying it to the board is the best way to go.
These sheets are printed on a plotter, and the print quality is impressive, and certainly good enough to produce the desired effect:
---
You'll need to plan ahead when mounting your sheets, so that you leave some additional foam board along those edges where you intend to join the pieces together. If you cut them all flush against the printed designs, you'll have to glue them together on the prints themselves, which is not ideal. I used a low-temp hot glue gun to join the foam boards together.
I had some difficulty cutting the boards perfectly straight using a freehand blade, and this made gluing some of the edges a little problematic, so I'd recommend using a straight edge if you can find one long enough. I used clear packaging tape to reinforce the joins on their outside edges.
The fully-assembled result is large and imposing, and quite difficult to photograph!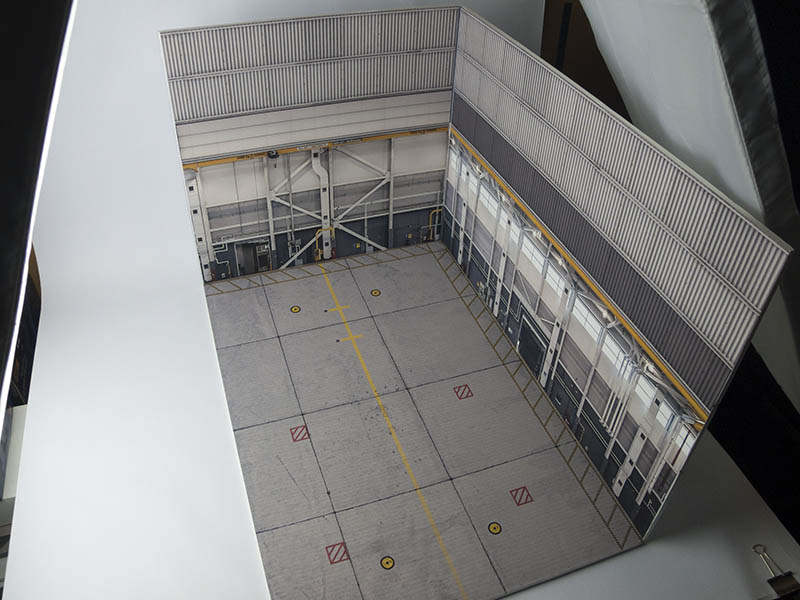 When photographed at close quarters, however, these printed sheets transform into an impressively convincing hangar scene:
---
I decided to place a model in the scene, since this is what the set is intended for, after all. I don't build modern jets, so the closest model I could find that would be appropriate for the job was a HK Models Meteor: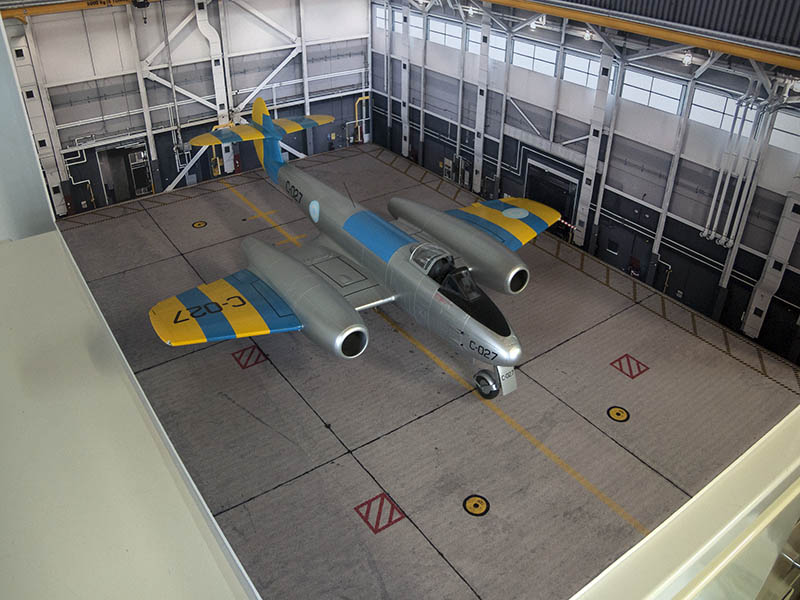 ---
Interestingly, despite its large size, I think this suggests that the set is somewhat under scale, and would struggle to house a larger modern airframe. The Meteor just looks too large in situ. My suspicion is that a large 1/48 modern jet may look more appropriate, but I can't test that assumption, unfortunately.
Having said that, my impression is that this set really isn't intended to be a permanent diorama-style arrangement, but rather, a way to provide a realistic setting in which to present and photograph models. That's the approach I took with the Meteor photos in this review, and I think it's quite effective in that context. Of course, you could always add figures and aircraft maintenance accessories to dress up the display and create something more akin to a traditional diorama.
Conclusion
Despite some niggling concerns about the true scale of this set, I found myself quietly surprised and impressed at just how effective a set of flat printed sheets looks when you use a camera to complete the illusion. I think it's too large to function as a permanent diorama set up, but as a way to transform your photo studio into the inside of a modern hangar, I think it's brilliant!
Noy's Miniatures appears not to have a website at the moment, but the company's products can be purchased from many online retailers, including Hannants, BNA Hobby World, and eBay.
© Kevin Futter 2016
This review was published on Saturday, November 26 2016; Last modified on Saturday, November 26 2016