Special Hobby | SH 32054 1:32 Hawker Tempest II "High Tech"
Reviewed by Iain Ogilvie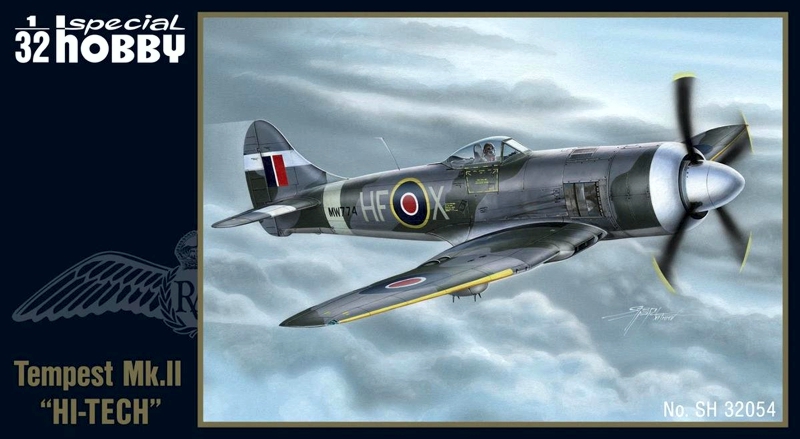 History
The Tempest II was designed from the outset to use the Bristol Centaurus 18 cylinder sleeve valve radial engine as an alternative to the liquid cooled engines used by other marks of Tempest. Apart from the new engine and cowling, the Tempest II prototypes were similar to early series Tempest Vs. The engine was very closely cowled with exhaust stacks grouped behind and to either side of the engine: to the rear were air outlets with automatic sliding "gills". The carburettor air intakes were in the inner leading edges of both wings, with an oil cooler and air intake in the inner starboard wing. The installation of the Centaurus owed much to examinations of a captured Focke-Wulf Fw 190 and was clean and effective.
On 28 June 1943 the first Tempest Mk.II, LA602, flew powered by a Centaurus IV (2,520 hp/1,879 kW) driving a four-blade propeller. This was followed by the second, LA607, which was completed with the enlarged dorsal fin and first flew on 18 September 1943: LA607 being assigned to engine development. The first major problem experienced was serious engine vibration, cured by replacing the rigid, eight-point engine mountings with six-point rubber-packed shock mounts. In a further attempt to alleviate engine vibration, the four blade propeller was replaced with a five blade unit; eventually, a finely balanced four bladed unit was settled on. Problems were also experienced with engine overheating, poor crankshaft lubrication, exhaust malfunctions and reduction-gear seizures. Because of these problems, and due to the decision to "tropicalise" all Tempest Mk.IIs for service in the Far East, production was delayed.
Orders had been placed as early as September 1942 for 500 Tempest Mk.IIs to be built by Gloster but in 1943, because of priority being given to the Typhoon, a production contract of 330 Tempest Mk.IIs was allocated instead to Bristol, while Hawker were to build 1,800. This switch delayed production even more. On 4 October 1944, the first Tempest II was rolled off the line; the first six production aircraft soon joined the two prototypes for extensive trials and tests. With the end of the Second World War in sight, orders for the Tempest II were trimmed or cancelled; after 50 Tempest IIs had been built at Bristol's Banwell facility, production was stopped and shifted back to Hawker, which built a total of 402, in two production batches of 100, which were built as fighters and 302 which were built as fighter-bombers (FB.Mk.II) with reinforced wings and wing racks capable of carrying bombs of up to 1,000lbs.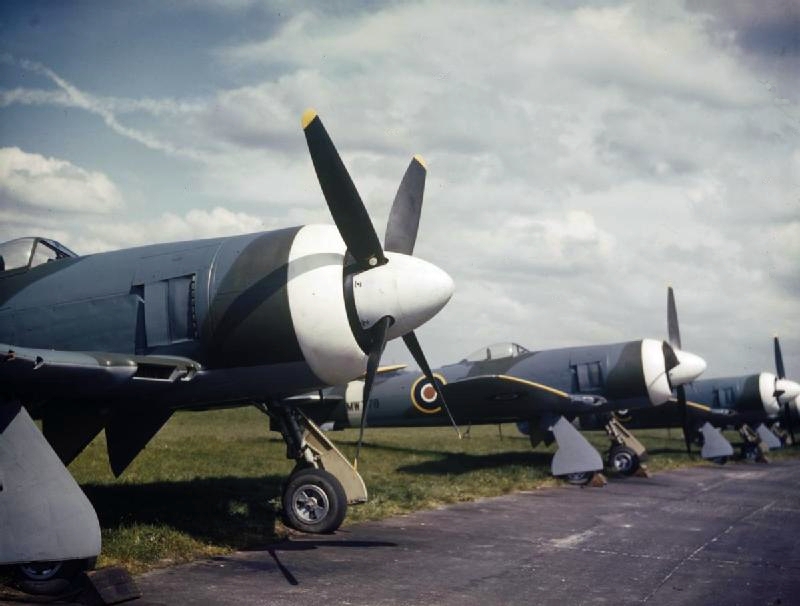 Physically, the Tempest Mk.II was longer than the Tempest Mk.V (34ft 5in/10.5m versus 33ft 8in/10.3m) and 3in (76mm) lower. The weight of the heavier Centaurus engine (2,695lb/1,222kg versus 2,360lb/1,070kg) was offset by the absence of a heavy radiator unit, so that the Tempest II was only some 20lb (9kg) heavier overall. Performance was improved; maximum speed was 442mph (711km/h) at 15,200ft (4,633m) and climb rate to the same altitude took four and a half minutes compared with five minutes for the Tempest V; the service ceiling was also increased to 37,500ft (11,430m).
Tropicalising measures included the installation of an air filter and intake in the upper forward fuselage, just behind the engine cowling, and the L-shaped pitot head under the outer port wing being replaced by a straight rod projecting from the port outer wing leading edge. All production aircraft were powered by a (2,590hp/1,932kW) Bristol Centaurus V driving a 12ft 9inch (3.89m) diameter Rotol propeller. Tempest Mk.IIs produced during the war were intended for combat against Japan, and would have formed part of a proposed British Commonwealth long-range bomber force based on Okinawa, Tiger Force. The Pacific War ended before they could be deployed, but the design saw post war service with the RAF and a number of Commonwealth countries.
Above notes based on the relevant Wikipedia article.
The Kit
Like many, I've been eagerly awaiting the latest release of Special Hobby's Tempest range - the elegant and purposeful Tempest Mk.II, with it's distinctive Bristol Centaurus engine. Perhaps it was building the old Matchbox 1:72nd scale kit back in the seventies, but I've always liked the looks of this aeroplane.
Well, it was Sunday at the recent Telford extravaganza and, at last, I had some time to wander about the halls and was very pleased to meet Alfred Riedel from Special Hobby and see they had managed to bring a small quantity of this kit with them - without blinking it was out with my Visa card!
We've been waiting patiently for the release of Special Hobby's Tempests for a few years but can happily report that the wait has been worthwhile with a very high quality and complete package in this "High Tech" release.
---
Main Sprues
The main sprues are cleanly moulded in Special Hobby's usual grey styrene, with only a tiny amount of flash on one, or two, parts that will take seconds to remove. Special Hobby have come on leaps and bounds in recent years and the surface detail in these kits really is their finest yet and is testament to the time, research and care the development team have put into creating this model. Some of the detail on the smaller parts really needs be seen to be believed! Also, very thankfully, items such as the gear doors, with their sharply moulded inner-side detail, are free from those dreaded ejector pin marks. The engine is simply represented by a bank of cylinder fronts - but you'll be hard pressed to see anything on the completed model anyway. Common sprues with the other Tempest kits mean that a fair number of parts, including wheels, are not used and are available to bolster your spares box.
I'll leave it to the photos to do the talking:
---
This kit includes a generically marked sprue for the under-wing rockets - beautifully done!
---
Resin Parts
Inside the kit packaging is a prominent, yellow, CMK box which contains two separate bags of high quality resin goodies, including seat, alternate wheel/tyres, cockpit parts, exhausts, gun barrel fronts and a complete ammunition/gun bay for the port wing. Casting is top quality and all items are superbly rendered, especially the ammunition feed which really is stunning and will reward careful painting to bring out the fine detail.
---
Transparencies
Very cleanly moulded and superbly clear:
---
Seat Straps
These are done by HGW as laser cut textile - and are a great addition to the package being more realistic than photo-etched equivalents.
---
Photo Etch
A single photo etch fret is included and provides small cockpit details, strap buckles and gun bay frames. A small piece of printed acetate provides 'glass' for the gunsight.
---
Masks
Masks are provided for the canopy, circular lights and wheels.
---
Decals
This release includes four sheets of decals, all with good colour, perfect register and ally high quality. A full sheet of detailed stenciling is provided that includes cockpit placards. Instrument dials are included and, as with the rest of the kit, comprehensive is the only word that can be used!
Markings are provided for 5 options:
MW774 183 Squadron RAF Chilbolton, August 1945 in Medium Sea Grey, Ocean Grey and Dark Green with white identity bands
PR533 of 33 Squadron, RAF Kuala Lumpur, Malaya 1949 in overall High Speed Silver
PR733 Sqn Ldr R. E. Mooney of 16 Squadron RAF, British Forces of Occupation, Fassberg, Germany in Medium Sea Grey, Ocean Grey and Dark Green
A139 (formerly PR809) of 14 Squadron RPAF 1948, in an Earth, Middle Stone and Azure Blue scheme
HA557 (formerly MW704) RIAF late 1950s in overall High Speed Silver with Black ident bands
---
Instructions
Now I haven't commenced building yet, but the instructions look superbly detailed and clear - no problems here! Colour call outs for the option schemes are given using Gunze Sangyo and Alclad references.
---
Conclusion
Overall a superb and very complete package - I'm over the moon to see a Tempest Mk.II to this standard in my favourite scale.
Very highly recommended!
Available through usual Special Hobby outlets, as well as directly from Special Hobby themselves.
Review courtesy of my wallet.
© Iain Ogilvie 2016
This review was published on Monday, November 28 2016; Last modified on Monday, November 28 2016