HK Models | 01E05: B-17E/F Flying Fortress
Reviewed by Kevin Futter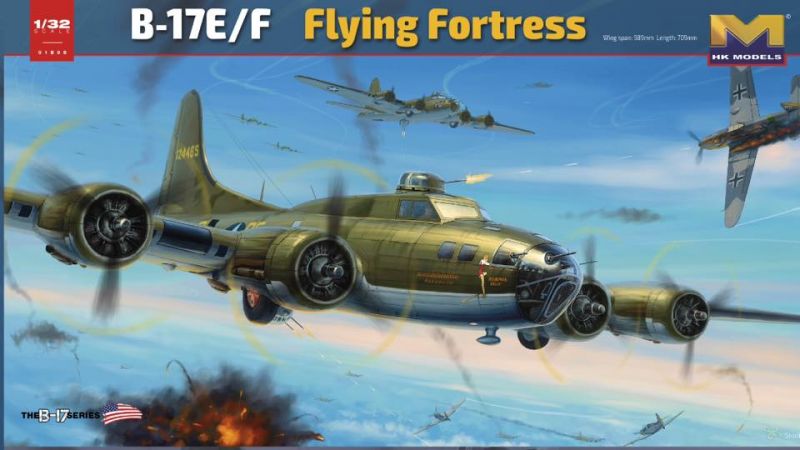 When HK Models released its B-17G kit in 2013, the signs were already there that further variants were possible, and possibly coming. As expected, a B-17E/F release was announced late in 2015, but its gestation period turned out to be long and delayed. Finally, in late 2016, the kit is making its way into the marketplace, so let's cast an eye over what this latest release has to offer.
The Plastic Sprues
The box top boasts a total parts-count of 698, and the number of sprues packed into the enormous box is almost overwhelming. I'm told that there are 22 moulds required to produce this kit, with several of them supplying multiple sprues. By my count, there are 45 grey plastic sprues to contend with.
---
The level of moulded-in detail is impressive, and equal to what you'd expect from a modern large-scale aircraft kit:
---
The Fuselage
The fuselage - minus the nose, turtle deck, and tail cone sections - is moulded in two very large halves that were too big to photograph in toto on my light table. Each has the vertical tail protected by a sandwich of light card stock: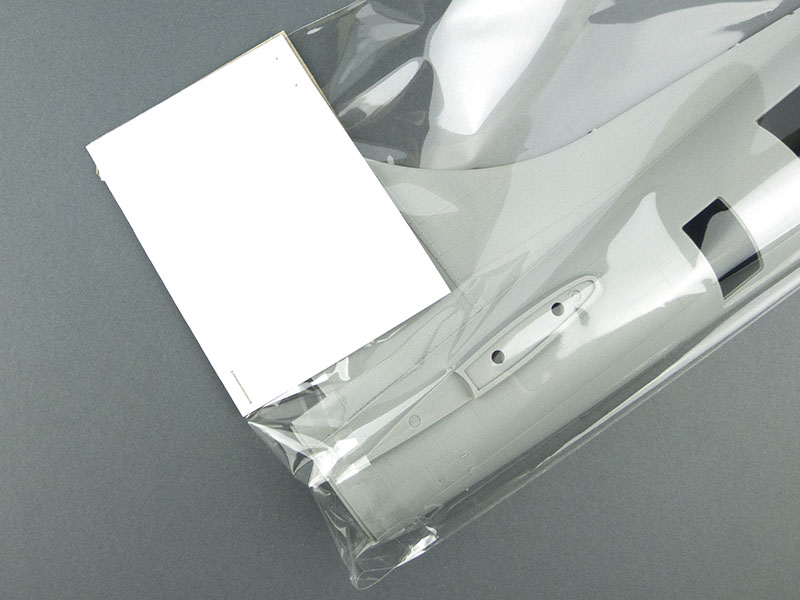 Full internal structural detail is provided, though it is accompanied by a number of shallow ejector-pin marks: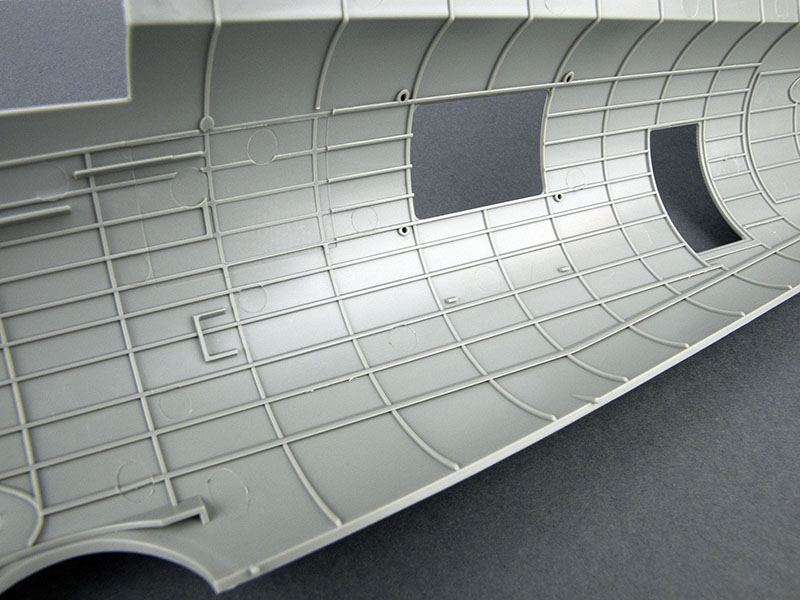 The starboard fuselage half has had the waist gunner's window position moved aft, so that it is symmetrical with the position of the port window. The more forward position featured in the earlier B-17G kit has been plugged, but unfortunately this has left a very slight but noticeable depression in this area: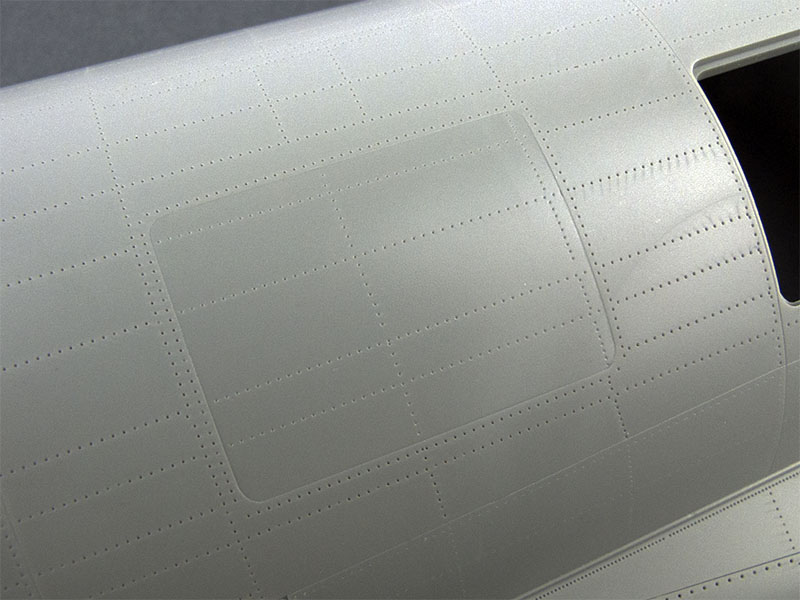 This indentation is extremely shallow, and will require careful handling to rehabilitate. Personally, I'd be tempted to try using some kitchen foil: apply some adhesive to the rear of an oversized piece, apply, and then trim to fit. The underlying surface detail should be visible enough through the foil to reinstate using a pin in a pin vise. No guarantee expressed or implied!
The only other minor issue I came across with the moulding quality on this kit is a few clogged rivets on the port fuselage half: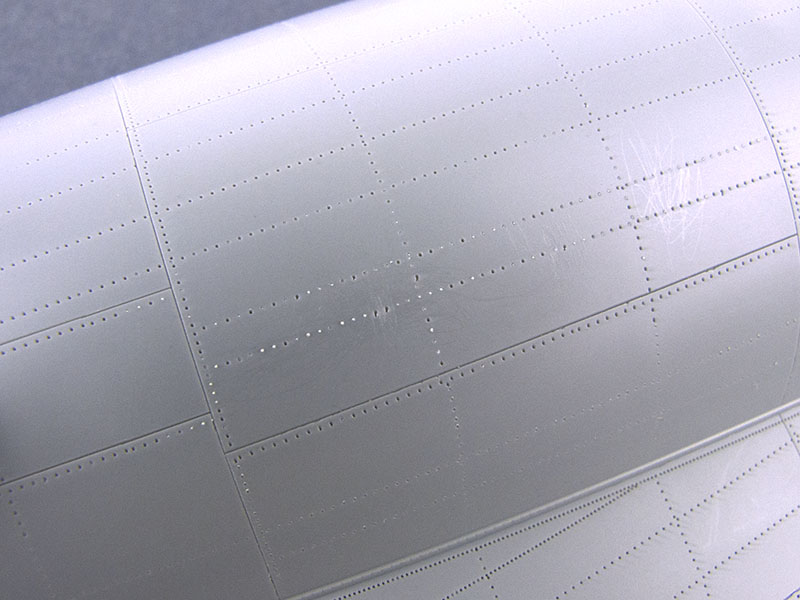 This should be a relatively simple task to fix it, and may well not even be present on other examples. It certainly isn't on the early test-shot I have.
The Wings
The wings, as you might imagine, are understandably massive. Consisting of upper and lower halves per side, they're also reinforced on their respective interiors.
---
There's a substantial reinforcing bulkhead moulded to the lower wing on each side, which also forms part of the locking mechanism when attaching the wings: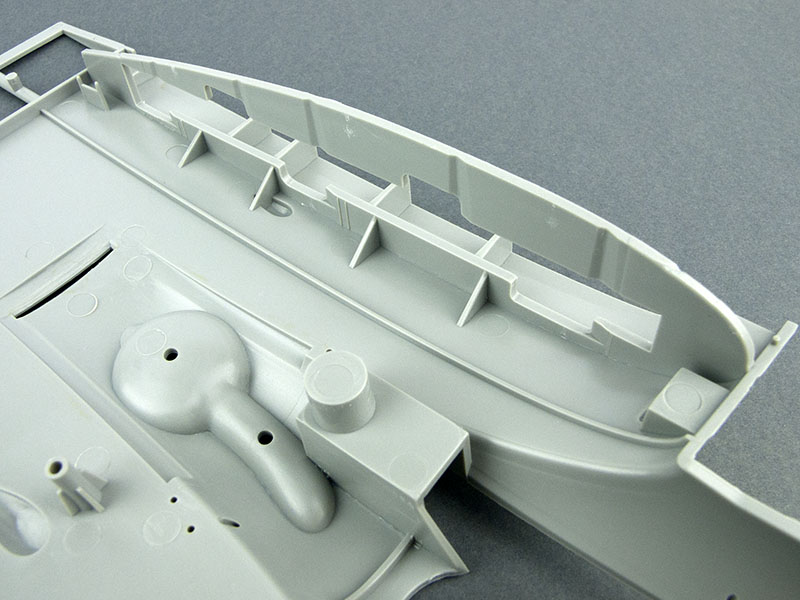 The Nose Parts
As you'd expect, two alternative sets of nose parts are included so that either the E or F variant can be built. Firstly, the basic E nose parts:
---
And the basic F nose parts:
---
Interestingly, both sets of nose parts have the upper navigator's astrodome cut-out faired-over: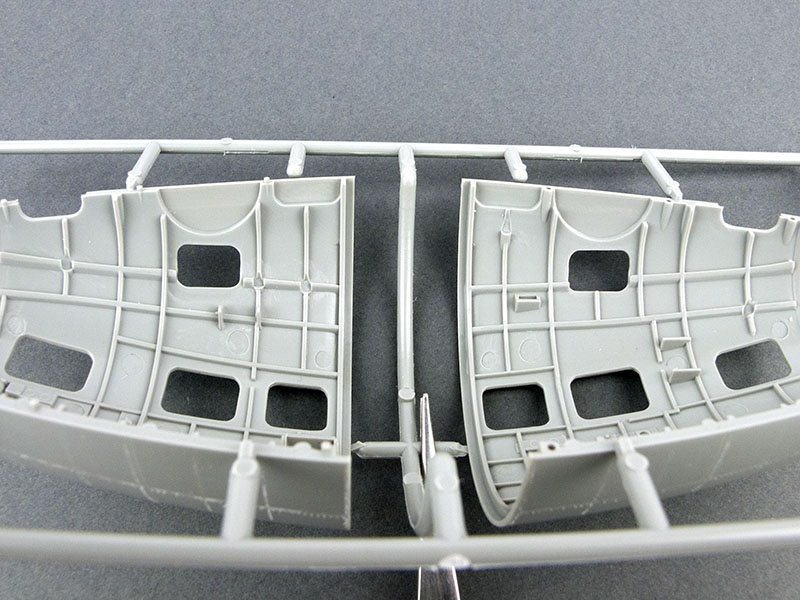 Neither of the supplied markings options for the F variant feature this astrodome, so that makes sense. However, while not mentioned in the instructions, the additional parts required to complete the astrodome (fairing part Gg3, and clear part Mm3) are both included in the kit. (Thanks to Terry Ashley in the forums for pointing this out.)
This is a thoughtful approach from HK, as it allows for a wider variety of aircraft to be modelled than is covered by the supplied markings options. You will of course have to source aftermarket decals or paint masks, and also perform some minor surgery on the kit parts. Given that this kit is really aimed at experienced modellers, this should pose no problem for anyone prepared to tackle a kit of this complexity.
The Clear Sprues
There are four clear sprues in all, consisting of two large examples and one quite small one, as well as a floating sprue containing a single glass nose part.
---
To go along with the two sets of nose parts, the kit comes with no less than three alternative clear nose pieces:
---
The first photo shows part Oo1 for "Chief Seattle", the sole B-17E option in the kit. The next two photos show part Nn1, for F variants like "Knockout Dropper", with a single machine gun extending through the apex of the clear nose cone. The final two photos show part Pp1 for "Memphis Belle", with twin machine guns extending through the upper section of the nose cone.
With the combination of nose parts supplied, and perhaps a little minor surgery to those parts, almost every variation of E/F nose should be able to be modelled from this kit. I think HK Models is to be commended for making every effort to provide the modeller with as many options in this area as practicable.
Bonus Resin Parts
The 14 ammunition feed belts in this kit are actually supplied as resin parts, though there's no indication of their provenance. They are beautifully cast and really finely detailed:
---
The Photo-etched Fret
The supplied photo-etched fret is a no-frills affair, containing four engine grill parts, and some seat belts for the cockpit: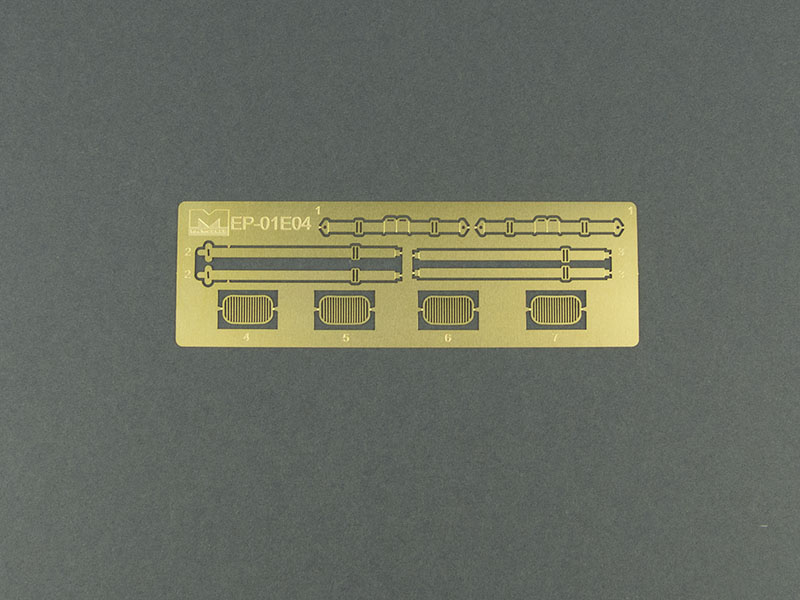 Wall Mounting Kit
As with the previous B-17G kit, this release comes with a wall mounting kit, in the form of an additional sprue of plastic parts. This consists of a mounting plate and some mounting brackets. Also included is a metal screw and wall plug for attaching the mounting plate to the wall itself.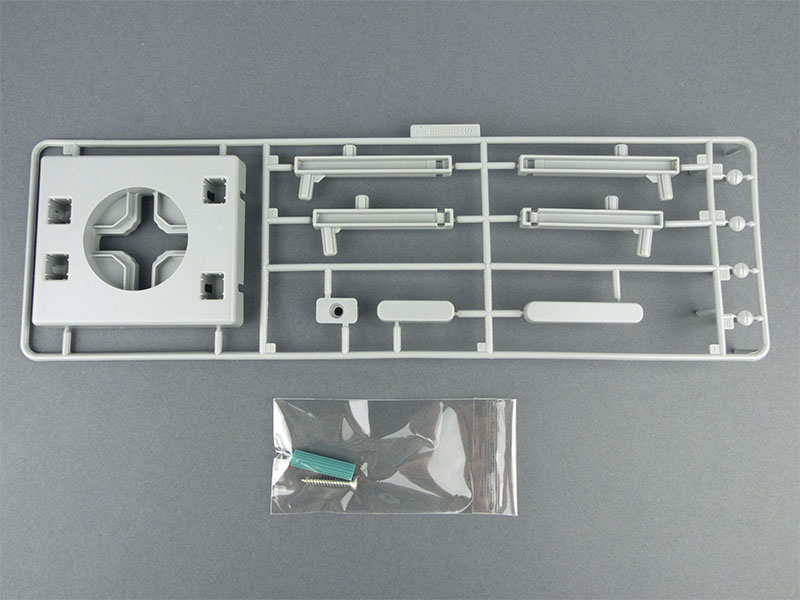 If you're planning to avail yourself of this option for displaying the kit, bear in mind that the instructions warn that you must leave the bomb bay doors in the open position, as the mounting brackets affix into the bomb bay itself.
Decals and Markings
As alluded to above, this kit comes with markings options for two B-17F aircraft, and a sole B-17E:
B-17E 41-2656, "Chief Seattle", 435th BS/19th BG, Australia, spring 1942
B-17F 41-24605, BN-R, "Knock-out Dropper", 359th BS/303rd BG, England, November 1943
B-17F 41-24485, DF-A, "Memphis Belle", 324th BS/91st BG, England, May 1943
The decals themselves are supplied on three medium-sized sheets, and printed by Cartograf. As you would expect, the quality is excellent, with crisp printing, solid colours, and perfect registration.
---
Note that both red and blue versions of the Memphis Belle figure decal are included, as the real aircraft depicted the figure's dress in blue on the port side, and red on the starboard side. Also note that two versions of the text "Memphis Belle" are included: the plain lettering used on the original wartime aircraft, and the cursive script featured in the 1990 movie, Memphis Belle.
Instructions
The instruction booklet is a large-format saddle-stitched affair, printed in greyscale, and featuring traditional isometric exploded assembly diagrams. Colour call-outs are given for Gunze/Mr. Hobby, Tamiya, and AK Interactive paint ranges. Thankfully, each colour is also given its familiar name, so substituting from other brands should be easy.
A particularly welcome feature is that the colour guide on the back page of the instructions is also included as a separate sheet, which means that you don't have to keep flipping to the back page to check the call-outs while you're building the model; simply keep the separate sheet handy, and refer to it as you progress through the build.
---
Just be sure to pay close attention to the correct assembly sequence that applies to your chosen option. The three applicable nose options are dealt with separately, which helps enormously. As with all complex kits, a careful study of the instructions is required, and will help avoid heartache later in the build.
Conclusion
This is undoubtedly a large and complex kit, and it's difficult not to feel just a little intimidated upon opening the box. And there's also no doubt that this kit is not aimed at, nor really suitable for, inexperienced modellers. The high parts-count, complex fuselage breakdown, and sheer size of the parts involved will be a challenge even for more experienced modellers.
Having said that, this kit also represents a major achievement, and will surely reward careful work with a stunning result. There's a high level of moulded-in detail, plenty of optional parts to cover the widest possible number of airframes, quality decals, and plenty of scope for further enhancement.
There was some criticism of the shape of the upper nose forward of the windscreen when the B-17G kit was released, and to the best of my knowledge, this has not been addressed. It has represented a significant issue for some modellers, as it's very difficult to fix, so you'll have to decide for yourself how significant an issue it is for you. The earlier release has proven to be one of the most popular kits on LSP, both in terms of website articles and forum build threads, and these will give you an indication of what this area looks like on the finished model, and also of how the kit itself builds up.
I personally think this is an astounding kit, in terms of ambition, scope, and execution. The minor shape niggles don't bother me at all, but they remain the only caveat to my otherwise wholehearted recommendation of this kit.
Thanks to Neil Yan and HK Models for the review sample.
© Kevin Futter 2016
This review was published on Thursday, December 08 2016; Last modified on Thursday, December 08 2016