AOA Decals | 32-017: Vietnamese Spads: VNAF AD-6/A-1H Skyraiders in the Viet Nam War
Reviewed by Ray Peterson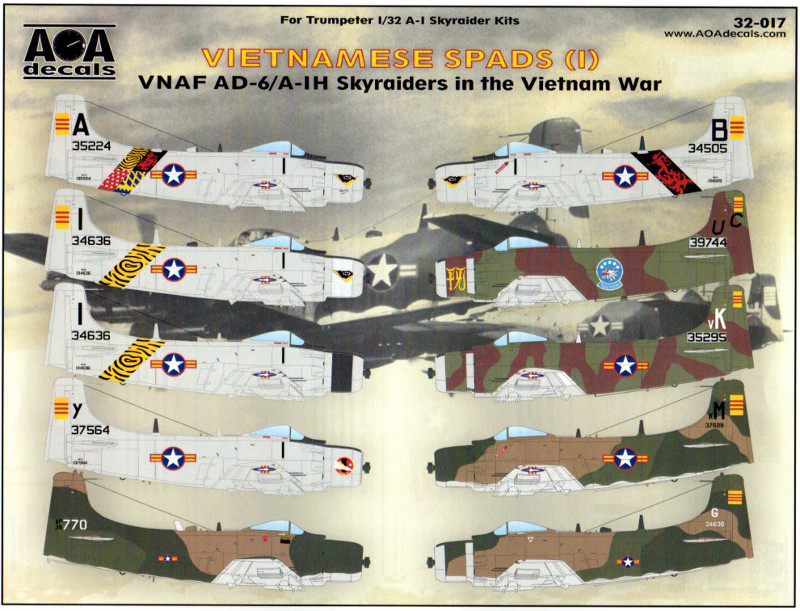 Introduction
A new release by AOA Decals is part one of a two sets of decals for VNAF Skyraiders. The South Vietnam Air Force at its peak was the sixth largest air force in the world. They flew various US type aircraft including F-5s, Dragonfly's, and probably the best known, Skyraiders. This is the first time that I am aware of that an aftermarket decal provider has released decals covering these colorful aircraft.
---
Contents
This set includes markings for 9 different aircraft, plus a second later-date set for BuNo 34636. The markings include AD-6s in their original Navy grey scheme for the 1st, 514th, and 524th Fighter Squadrons, plus camouflaged schemes for the 514th, 518th, 520th, 530th Fighter Squadrons, plus one for the 83rd Special Operations Group (or 522nd Fighter Squadron). A minimal set of stencils are also provided, but the aircraft typically didn't carry many after their repaints. The profiles and notes are included in a four-page A4 booklet, plus another small sheet with typical stencil notes.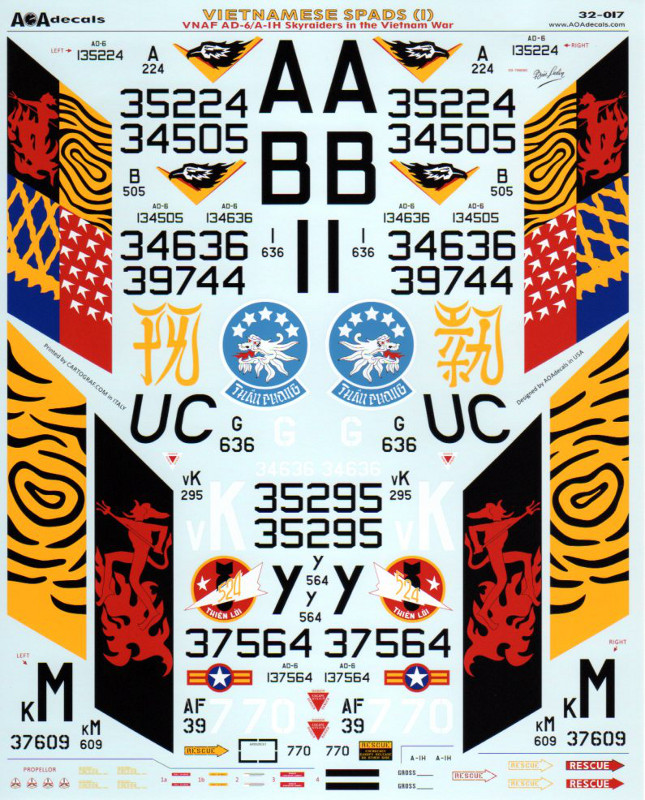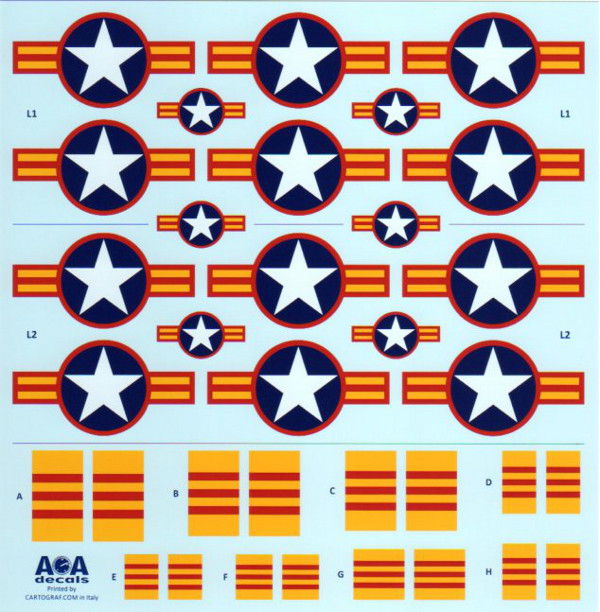 The decals are printed by Cartograf, so have their typical high quality, with excellent registration and vivid colors. One A4 sheet is of all the unit and stencil markings, and a smaller sheet includes two sizes of national insignia. Flipping through pictures on the internet, the insignia colors look good. Some of the fuselage bands in some pics appear in photos to be a lighter yellow than the insignia yellow used, but other photos show the two yellows appearing very close in tone so I am not going to fault AOA with saving costs by using the same shade.
Note the decals have been sized for the Trumpeter AD-6 kit, but AOA made the fuselage bands longer than needed so some trimming may be required.
Conclusion
In summary, I am thrilled to see decals of the colorful and intricate unit emblems of the VNAF. Especially ones of this high quality.
Highly Recommended.
Review decals kindly provided by AOA Decals.
© Ray Peterson 2016
This review was published on Tuesday, December 06 2016; Last modified on Thursday, December 08 2016