DACO Publications | Uncovering the English Electric Lightning
Reviewed by Dan Walker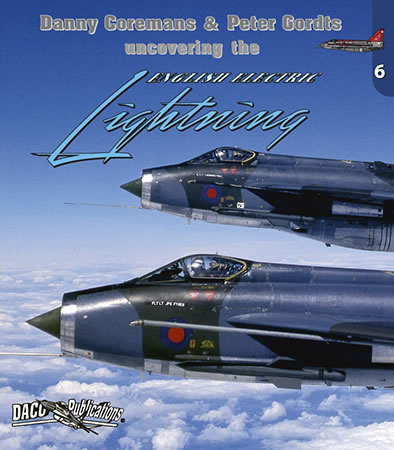 DACO Publications
Uncovering the English Electric Lightning
By Danny Coremans & Peter Gordts
This is the latest book to be released by DACO Publications. Like all the other releases of books by DACO Publications this is a soft cover bound book of 160 pages that has pictures that covers all English Electric Lightning variants starting with the F.1, thru the F.6. Per DACO's website this book has almost 900 plus colored photos in the book it comes with two foldouts in 1/72 and 1/48 scale drawings of the Lightning and various cockpit layouts. Also offered is a DVD you can purchase separately that has 2250 detailed photos which most of them were not used in the book.
---
This is a book that is not only for modelers but for aircraft enthusiasts as well and is a welcome addition to any library. If you have been waiting for a book on the Lightning that covers it on the inside and outside and intend to build a model this is the book to have. I would like to thank Danny Coremans and Peter Gordts for producing another great book.
I also want to thank Danny Coremans for credit for letting me borrow his pictures on his website for this review.
© Dan Walker 2016
This review was published on Tuesday, December 20 2016; Last modified on Tuesday, December 20 2016