Special Hobby | SH32049 1/32 Tempest Mk.V
Reviewed by Iain Ogilvie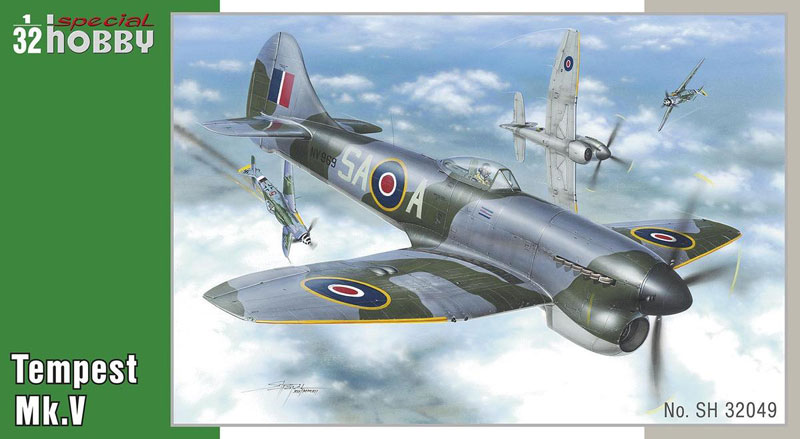 History
The Tempest V first flew on 21 June 1943, with delivery to squadrons commencing in January 1944 with 486 Squadron (RNZAF) at Tangmere. 3 Squadron, was the first to fully equip with the new Tempest, beginning operations in April, by which time 486 had also fully equipped with the Tempest. 56 Squadron began receiving Tempests in June, with their first operation flown on 2 July 1944. The Tempests equipping the Newchurch Wing were known as Tempest V Series I, 100 of which were built, and were indentifiable by the four Hispano Mk II cannons protruding from the wings. The Tempest Mk V Series II, equipped with the short barreled Hispano Mk V cannon and capable of carrying long range drop tanks, began reaching the squadrons during June. During July and August three more squadrons were equipped with Tempests; Nos. 80, 274, and 501 Squadrons, comprising the Manston Wing.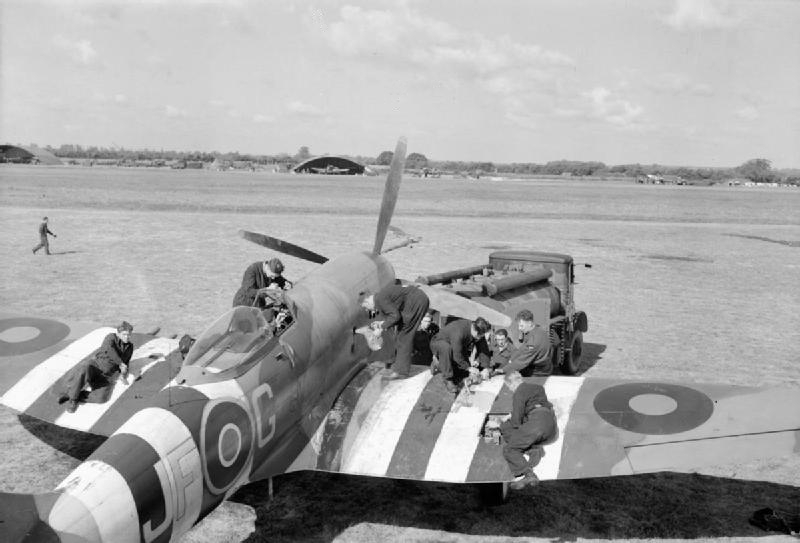 In September the Newchurch Wing tranferred to Grimbergen, Belgium, with 80 and 274 squadrons of the Manston Wing moving to Antwerp in September. By October, after a stint at Grave with 125 Wing, joined 122 Wing at Volkel, Holland to form a five squadron Tempest Wing under the control of the 2nd TAF.
The Tempest's role was that of low and medium altitude air superiority figher, being complimented by, and coordinating with, the medium and high altitude specialized Spitfire Mk XIVs of 125 and 126 Wings. In January 1945 33 and 222 Squadrons converted to Tempests, joining 135 Wing of 85 Group at Gilze-Rijen, Holland in February. 122 Tempest Wing was reinforced during February by the addition of 41 Squadron's Spitfire XIVs tasked with providing high cover for the Tempests. 274 Squadron transferred to 135 Wing in March to better balance the Tempest Wings. In April the Wings moved to keep up with the advancing Allied armies; 135 Wing to Kluis, Holland followed by a move to Quackenbrück, Germany and 122 Wing to Hopsten, Germany. A total of 801 Tempest Vs were produced in total.
The Kit
We've waited some time for the release of the Special Hobby Tempests and, as reported in our Tempest II 'High Tech' review, the wait has been more than worthwhile. This is the more basic, standard, version of the Tempest V without the additional resin, photo-etch and decal options of the Hi-Tech release, which has now sold out at Special Hobby's headquarters. Whilst more basic, this release does provide a pretty complete package and, given the quality of tooling, I think you could just add some seat straps and end up with a model that more than holds it's own. It's a bit of a bargain in comparison too!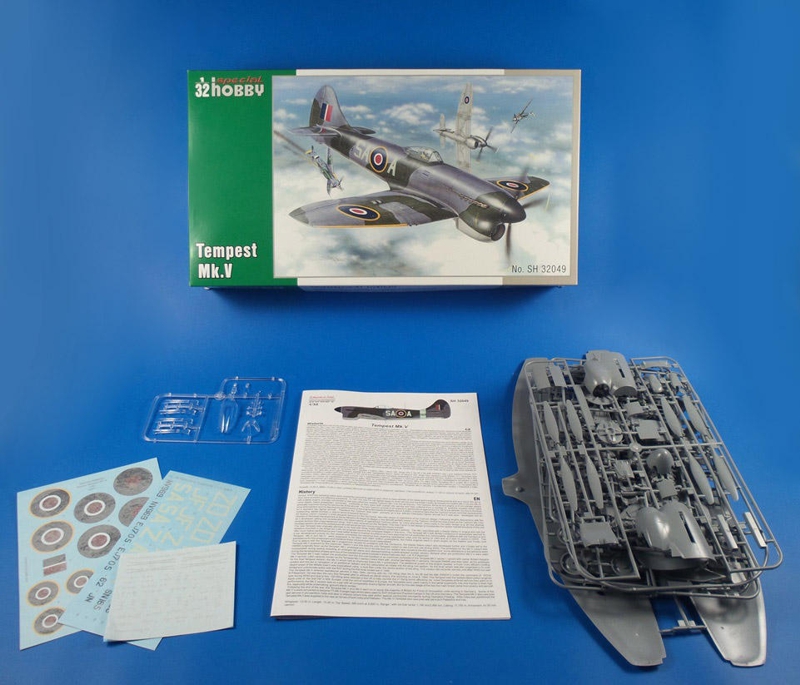 Main Sprues
The main sprues are cleanly moulded in Special Hobby's usual grey styrene, with only a tiny amount of flash on one, or two, parts that will take seconds to remove. Special Hobby have come on leaps and bounds in recent years and the surface detail in these kits really is their finest yet and is testament to the time, research and care the development team have put into creating this model.
Some of the detail on the smaller parts really needs be seen to be believed! Also, very thankfully, items such as the gear doors, with their sharply moulded inner-side detail, are free from those dreaded ejector pin marks. There has been some talk of a slight shape error on the main cowlings with Barracuda planning a correction set - but this reviewer has not yet had a chance to look at this in any detail - certainly the Special Hobby Tempests I've seen built to date really do look superb straight from the box. Common sprues with the other Tempest kits mean that a fair number of parts, including wheels and that radial engine front, are not used and are available to bolster your spares box. You even get alternative spade grips!
I'll leave it to the photos to do the talking:
---
Transparencies
Shared with the other Tempest kits in the range, these are very cleanly moulded and superbly clear, and include the clear drop tank fairings:
---
Decals
This release includes three sheets of decals, all with good colour, perfect register and high quality. A full sheet of detailed stenciling is provided. Instrument dials are included and overall a very comprehensive set of decals.
---
Markings are provided for 4 options:
NV969 SA-A of 486(NZ) Squadron, British Forces of Occupation, Fassberg, Germany April 1945, flown by Squadron Leader Warren "Smokey" Schrader DFC and Bar, in Medium Sea Grey, Ocean Grey and Dark Green
JN862 of 3 Squadron, RAF Newchurch, Kent, August 1944, flown by Flight Lieutenant Remy van Lierde DFC and Bar in Medium Sea Grey, Ocean Grey and Dark Green with full D-Day stripes
EJ705 W2-X of 80 Squadron RAF, B80 Volkel, Holland winter 1944/45 flown by Pilot Officer F A Long (RAAF) in Medium Sea Grey, Ocean Grey and Dark Green with under-fuselage D-Day stripes
SN165 ZD-V 222 Squadron RAF, B91 Kluis, Holland, Holland April 1945, flown by Squadron Leader Emanuel Barnett-Loyns DFC in Medium Sea Grey, Ocean Grey and Dark Green with under-fuselage D-Day stripes
---
Instructions
Now I haven't commenced building yet, but the instructions look superbly detailed and clear - no problems here! Colour call outs for the option schemes are given using Gunze Sangyo and Alclad references.
---
Conclusion
Another superb Tempest kit from Special Hobby - very highly recommended!
Available through usual Special Hobby outlets, as well as directly from Special Hobby themselves, although, like the 'Hi-Tech' version of the Tempest V, this kit is currently showing as out of stock on their site - so if you want one I suggest you get one from you usual supplier now. The Special Hobby range of Tempest kits is proving to be a very popular - and rightly so!
A useful site for all Tempest fans can be found at The Hawker Tempest Page.
Review sample courtesy of Special Hobby.
© Iain Ogilvie 2017
This review was published on Sunday, January 15 2017; Last modified on Saturday, August 05 2017