Revell | 04696: 1/32 Heinkel He 111P-1
Reviewed by Kevin Williams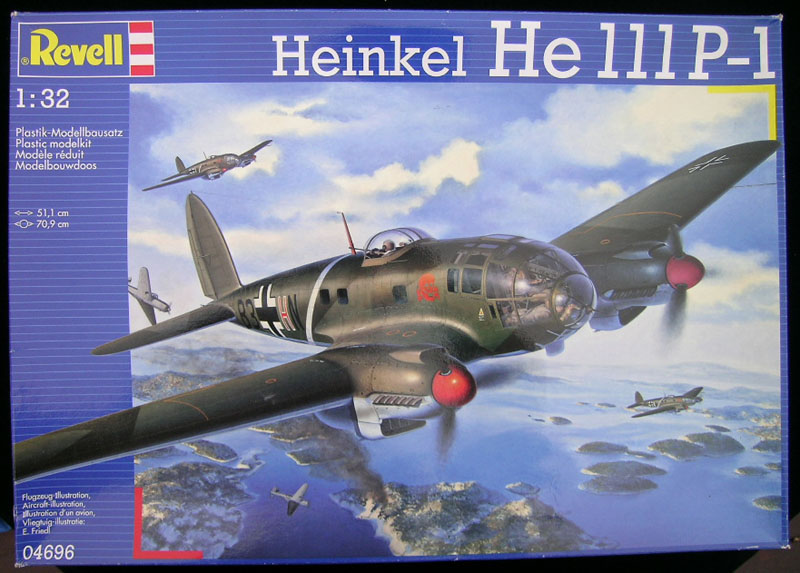 I decided at the outset to remove myself from the somewhat typical and lengthy description of the He 111 technical development and operational history. I will however say that I personally believe that the He 111 is a truly historic and iconic aircraft, playing a significant role in various bombing campaigns launched by the Germans against her adversaries, and performed in that role quite admirably.
My primary, but not sole reference for this review, will be the Aero Detail volume (where and if required), as well as the AirDoc volume (Part 2) specific to the P version of the He 111.
While clearly not a new kit by any definition (first available several years ago now), I just finally got my hands on one, by way of a friend who has graciously allowed me access to review it, so thought I'd provide a look-see as to what's in the box. (Since this is more of an in-box review than a build review, I have no photos of assembled sub-structures, so this look should be considered more of an overview of the various areas I thought might be of interest.)
Instructions
---
Instructions are depicted in typical Revell pictographic way, making assembly a straight forward process. Pretty straightforward stuff here, and should cause no grievous problems for those paying attention.
Note: The scans above do not represent the entire set of instructions, but are instead just a random sampling of them.
Decals
---
Markings are provided for three He 111s:
B3+HN, 5/KG54 "Totenkopf-Geschwader"
1G+ES, III./KG27 "Geschwader Boelcke"
5J+CN, II./KG5 "General Wever"
Decals appear to be in register, quite opaque, with good coloring, well detailed and also includes plenty of stenciling. I'm really not sure who prints these decals for Revell (just says printed in Italy; Techmod maybe?), these do not appear to be the same "thick and chunky" offerings I've seen in the past from Revell.
Fuselage
---
Now that I have the kit "in hand", I can say that the surface detailing (not that I ever had any doubts), is very delicate and refined. Not a lot else to say here really, as the detailing appears to be rather nice, at least from my view. Fuselage interior, while containing some nice ribbing details, also unfortunately has a large portion of ejector pin marks, as can be seen in the photos above.
Wings
---
Wings, as fuselage proper, are very nicely detailed and certainly seem to capture the graceful curves of the real thing.
Tail/Flying Surfaces
---
All of the flying surfaces display the same refined and great looking surface detailing that is common to all other areas of the kit. Many of the flying surface parts have internal strengthening ribs molded in, a nice touch from Revell.
Clear Parts
---
All clear parts are just that, crystal clear, and look just great. Two of the larger parts had broken loose in this sample though, and suffered some nasty scratching from being abraded by other parts. These scratches are not really too bad though, and should be fairly easy to buff out.
Bombs
---
Eight bombs are included, and look quite excellent to my eye.
Miscellaneous Parts
---
There were a few portions of the kit that I photographed, but had no specific category for, so I decided to just lump them all together here, as they are undoubtedly relevant.
Summation
All in all, I think this is a great effort from Revell, with overall proportions looking good to my eye. I am very pleased with what I've found thus far, and anxiously await the opportunity to begin working on my own example (should I ever actually get one). This kit has the capability of some serious shelf "presence", and will undoubtedly command some attention.
My thanks to Ed C. for the opportunity to review this.
© Kevin Williams 2017
This review was published on Monday, February 06 2017; Last modified on Friday, April 21 2017