Eduard | #11103: P-47D Thunderbolt
Reviewed by Kevin Williams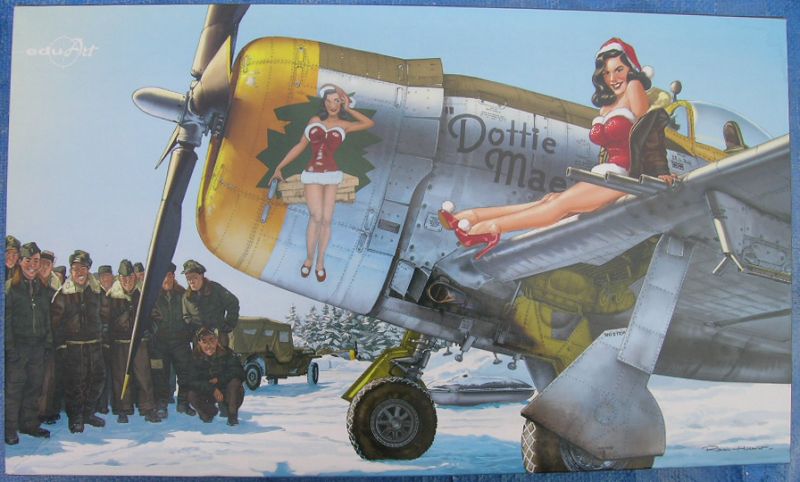 This kit from the folks at Eduard (re-boxing of the Hasegawa kit, with some extras thrown in), comes as no real surprise to many, being discussed at length here in our forums. The following are my impressions of this particular approach from Eduard.
I decided at the outset (as I inevitably do) to remove myself from the somewhat typical and lengthy description of the Thunderbolt technical development and operational history. I will however say that I personally believe that the Thunderbolt is a truly historic and iconic aircraft, playing a significant role in various air to air engagements, train busting and assorted bombing/attack duties, and performed in those roles quite admirably.
My primary, but not sole reference for this review, will be the Aero Detail volume (where and if required), as well as possibly the Squadron/Signal Walk Around book.
While clearly not a new kit by any definition (as a repackaging of a previously existing kit), I just finally got my hands on one, by way of our wonderful Christmas raffle, so thought I'd provide a look-see as to what's in the box. (Since this is more of an in-box review than a build review, I have no photos of assembled sub-structures, so this look should be considered more of an overview of the various areas I thought might be of interest.)
The first thing that struck me when I opened the box, was the rather nice Hasegawa moldings of the Jug. While I don't have the original kit to compare against (always wanted one though), I'm confident that it's not been modified in any way from it's original configuration, just for the sake of this boxing of it, so we'll take a look-see at that first.
There's been a fair amount of discussion regarding the relative "value" of this kit, but I will not address that particular issue, as many factors come into play that I cannot control, so I'll leave that to the individual to determine for himself.
Instructions
---
Instructions are depicted in a sort of typical pictographic way, making assembly a fairly straightforward process. Most of the assembly instructions are done in black/white, with color highlights to denote specific P.E. parts or areas to be removed for said P.E. attachment. Profiles for all three given schemes, are in color, a nice touch that I'd like to see all manufacturers do. Instructions are printed on very nice glossy paper, adding a certain amount of classiness to the overall presentation.
Note: The scans above do not represent the entire set of instructions, but are instead just a random sampling of them.
Decals
---
Markings are provided for three Thunderbolts:
229150, K4*S, 511th FS, 405th FG, 9th AF, December 1944
228382, G9*K, 509th FS, 405th FG, 9th AF, March 1945
229173, 2Z*V, 510th FS, 405th FG, 9th AF, January 1945
Decals appear to be in register, quite opaque, with good coloring and well detailed and also includes plenty of stenciling. Printed by Cartograf, quality is most assuredly excellent. In a sense, what makes one kit release frequently different from another, is different box art and decals/schemes, so while I do see this as a uniquely different Hasegawa Thunderbolt kit offering from that perspective, I also don't really see it as all that unique either.
Air Frame
---
What can be said about Hasegawa tooling, except that it's excellent, at least as far as I am concerned; delicate panel lines and subtle rivet detail, make for a well detailed surface, that should lend itself well to some nice paint and weathering.
Wings/Tails
---
Wings are again, very nicely detailed, and appear to be quite well proportioned.
Cockpit
---
Not a lot to be said here, save for the notion that if one takes his time, the cockpit has the potential to be built into an outstanding representation right out of the box. Two gun sights are provided, with one being marked as not for use. IP is a real work of art, and it might be a coin toss as to whether to use it, or the included P.E. parts.
Engine & Cowlings
---
The Engine is another area that seems to be very well detailed, and will look excellent on those models where the builder decides to leave it exposed (I will not). When all assembled, this will appear to be a very nice rendition of the engine, and should look quite excellent, once painted. Two propeller assemblies are included, one cuffed, the other non-cuffed, and instructions have blotted out the non cuffed version. Note: Owing to the fact that all parts sprues were lumped together in one bag, many of the parts on my example are badly scuffed and scratched. Why Eduard would have chosen this approach for this kit, is anyone's guess.
Clear Parts
---
All clear parts are just that, crystal clear, and look just great. Two different bubble type canopies are provided, one open and one closed, giving the modeler some choice in display methods (mine will be open).
Fuel Tanks
---
Two styles of external fuel tanks are provided, two teardrop style, and one flat version (for centerline), and appear to be of basically correct proportions. I personally don't care for the looks of these tanks, so will omit them from my own model, when that time comes.
Bombs/Pylons
---
Bombs look quite acceptable out of the box, as do pylons, which appear to be of excellent proportions and detailing. Personally, I'd like to see some better and perhaps different bomb fuses, but that's easy enough to take care of.
Landing Gear, Wheels, and Doors
---
Main landing gear bay, see photo No. 20 above, in wing area (and tail wheel bay for that matter) are comprehensively detailed, and should really look the business once assembled and painted. I don't generally find myself being too impressed with wheel bays one way or the other, but I believe these will be way more than satisfactory for me.
Main wheels/tires look to also be molded well, with an acceptable appearance readily captured, though tires are again, another weak point in my opinion, being molded with rather soft details. This is no problem at all, however, as the supplied resin wheels are just excellent.
Pilot Figure
---
Though marked as "not used", the pilot figure really looks good to me, and would make an excellent addition to a display, if one chooses to use it.
Miscellaneous Plastic Parts
---
There were a few portions of the kit that I photographed, but had no specific category for them, so I decided to just lump them all together here, as they are undoubtedly relevant.
Extras
And now, on to the included items that set this kit apart from others, and unique to itself:
Resin Wheels
---
By and large, I have to say that these are the best Thunderbolt wheels that I have ever seen. Detailing is just superb, and I really don't see how they could possibly be any better. Once the "domes" of the outer wheel are removed, the spoked nature of the wheels themselves, should look quite excellent.
Photo-Etched Parts
---
Two P.E. frets (brass and stainless steel, one plain, the other colored) are included, and contain various items to help detail the kit. Items included are: seat, bomb fins, intake louvers and screens, ignition harness assembly, shoulder and lap belts, and gobs of stuff for the IP and other interior details. The IP looks to have the potential to be quite stunning, once assembled.
Canopy Mask
---
Not a lot to be said about a mask set, really; difficult (if not impossible) for me to photograph with any hope of showing what's what, but a nice addition nonetheless, and something that I'm personally starting to rely on more and more.
Poster/Art Print
---
Included in this kit, is a very nice art print (same as the box top illustration) by Romain Hugault. Measuring approx. 16-1/2" x 23-1/2" and on a nice gloss paper stock, it could look wonderful on the wall of any "Man Cave", once matted and mounted. There's little doubt that Hugault is a very talented artist, and this art print attests to that fact.
Summation
All in all, I think this is a pretty nice effort from Eduard. I am very pleased with what I've found thus far, and anxiously await the opportunity to begin working on my example. Thanks very much to Shane (wrbrdmech) for this most excellent gift.
© Kevin Williams 2017
This review was published on Friday, February 10 2017; Last modified on Friday, February 10 2017