Roden | 605: 1/32 Fokker F.I
Reviewed by Kevin Williams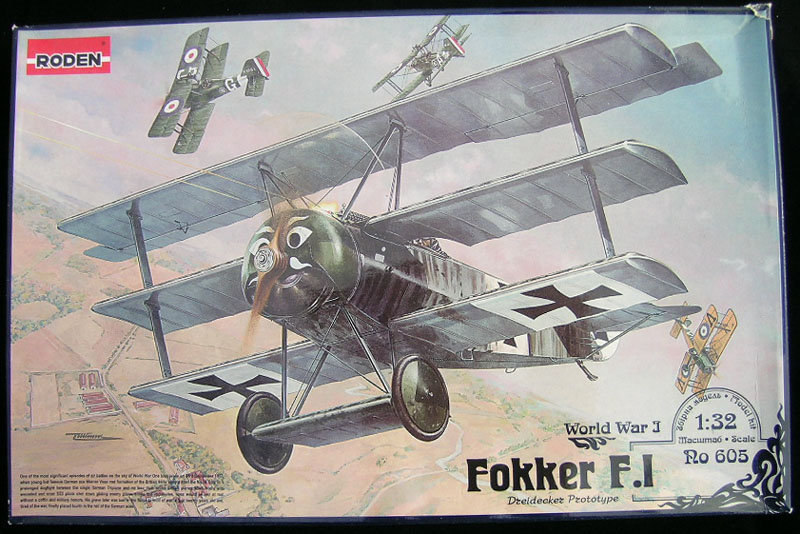 I decided at the outset (as I inevitably do) to remove myself from the somewhat typical and lengthy description of the Fokker F.I/Dr.I technical development and operational history. I will however say that I personally believe that the Fokker triplane is a truly historic and iconic aircraft, playing a perhaps small, but nonetheless significant role in "the great war". To say the aircraft is legend, would be a tremendous understatement.
My primary, but not sole reference for this review, will be the Albatros Productions Fokker Dr.I volume (where and if required), as well as possibly the Squadron/Signal in action book.
While clearly not a new kit by any definition (kit is at least several years old by now) nonetheless I thought I'd provide a look-see as to what's in the box. (Since this is more of an in-box review than a build review, I have no photos of assembled sub-structures, so this look should be considered more of an overview of the various areas I thought might be of interest.)
For many (myself included, having built the Encore example of the kit), it's a bit startling to see exactly how little is actually in the box in the way of parts, but given the somewhat simple nature of the original aircraft, this really is not too surprising. What is provided, while not exactly what I'd refer to as state of the art, still offers up the majority of what will be needed to build a wonderful representation of the F.I or Dr.I, though for the Dr.I, I'd probably recommend chasing down the Encore kit.
Note: Though the parts exist in the box to build either an F.I or Dr.I from this kit, no Dr.I schemes or decals are provided.
Instructions
---
Instructions are depicted in a typical pictorial graphic fashion, on inexpensive pulpy paper. A parts chart is provided, making the finding of specific parts a lot easier, though the kit doesn't really contain all that many parts to begin with.
Note: The scans above do not represent the entire set of instructions, but are instead just a random sampling of them.
Decals
---
Markings are provided for three Fokker F.Is:
Fokker FI 103/17, Lt. Werner Voss, Jasta 10, 48 victories, Pour Le Mérite (Blue Max) recipient
Fokker FI 102/17, Ob. Lt. Kurt Wolff, Jasta 11, 33 victories, Pour Le Mérite (Blue Max) recipient
Fokker FI 101/17, Trials aircraft used by the Fokker company
Decals appear to be in register, quite opaque, with good coloring, well detailed and also include some stenciling (weight tables, data plates, propeller logos, etc.). I'm really not sure who prints the decals for Roden, but quite frankly, I don't really care for them much, and my experiences with them have not been good so far. I'll more than likely substitute the decals for some WNW or Pheon examples, where appropriate, preferably WNW. All three schemes provided, use the earlier German cross.
Note: Much has been written about the specific color of the engine cowl on Voss' F.I, some calling it black, dark green, yellow or even red. The actual color may never be known for an absolute certainty, so the modeler has a certain amount of leeway regarding this specific aircraft. I tend to go with the dark green cowl and wheel covers, if for no other reason than the Fokker company used green a lot in their designs, for the D.VII and Dr.I in particular. One thing seems absolutely certain, and that is that the entire forward fuselage back to the 'pit opening, seemed to be a fairly uniform dark color on Voss' aircraft (103/17), not at all typical of what is presumed to be accurate and correct, at least not for Dr.I's, but in fact does seem typical for the F.I. Roden has captured this darkness (black, very dark green?) on their box top illustration, and are to be commended for doing so, as this particular uniqueness, seems to frequently be overlooked.
---
Generic Sprue Shots
---
Just what the heading implies, an overview of the various sprues present in the kit.
Wings
---
Two different aileron types are included, one for the F.I, the other for the Dr.I. While the reinforced openings for aileron control wire entry/exits are present, they are molded solid, so drilling them out is recommended. No stacking pads are molded onto wing leading edges, so the modeler may want to add these for some additional authenticity.
Horizontal Stabilizer/Elevator/Rudder
---
Again, two different horizontal stabilizers are given, one each for the F.I and Dr.I. While the rudder has some extremely faint representations of the steel tubing framework below, adding to these or faking them up with some paint trickery, is recommended.
The Cockpit
---
Not a lot to be said here, really, save for stating that what is provided for the cockpit and surrounding areas, though basic, is pretty well represented, with decent seat, plywood floorboard, control stick grips, compass, framing, etc., and can look quite splendid once painted up. One glaring omission though, is the reinforced plywood segment that travels from firewall to slightly aft of seat "bulkhead", for lack of a better term. PART from Poland does a splendid P.E. sheet for this kit that takes care of that particular omission, and is highly recommended. There is no ignition switch provided either, but that can easily be added by the modeler. There are no belts of any kind, but either the PART or Eduard set will take care of that.
I've included 'pit surround and guns with this group, just because they're located in the same general vicinity. Guns are a bit of an anomaly, as four are provided, two with and two without cooling jackets, but no P.E. for the non-jacketed guns. Master Model makes drop dead gorgeous Spandaus' anyway, so no real big deal there. Two ammo boxes are given, one for live rounds, the other for spent belts. Ammo shells were of course, jettisoned overboard. These chutes (ammo feed and belt discharge), though acceptable, could really stand some doctoring up, as they are quite visible on the finished model. As I've noted elsewhere, no "Fokker nuts" are depicted anywhere that they should be, so the modeler may want to fab some of these for themselves as well.
Engine & Prop
---
The Engine is another area that seems to be adequately detailed, (though I'll use the Vector Oberursel resin replacement). Two props are provided, one Axial and one Garuda. Axial logos and stamps are provided, but Garuda is not. Cowl shape is generally accurate in proportions, but visibly missing, is the bungee cord and ribbed aft area of cowl, as well as the rivet detail on cowl face. Minor detailing work, will improve this area dramatically.
Wheels/Tires
---
Wheel/tire combination is very acceptable, and can look really good once complete. Valve stem access cover is perhaps a tad overdone, but some .005 or .010 sheet will doctor that right up. I know of no replacement wheels, but I don't see them as necessary anyway.
Additional Recommended/Suggested AM
PART or Eduard P.E. set (I prefer PART), Master Model Spandaus, Vector Oberursel engine. With these additions, this model, though not state of the art, can still be built into a stunning example of the type.
Summation
All in all, I think this is a very decent and acceptable effort from Roden, with overall proportions looking good to my eye. As stated elsewhere, while basic (and in some cases rudimentary) in it's design and engineering, with care, it can be turned into a very respectable representation of the venerable Fokker triplane.
© Kevin Williams 2017
This review was published on Thursday, February 09 2017; Last modified on Sunday, January 07 2018