Revell | #04923 1/32 Tornado ECR: Tiger Meet 2014
Reviewed by Kevin Williams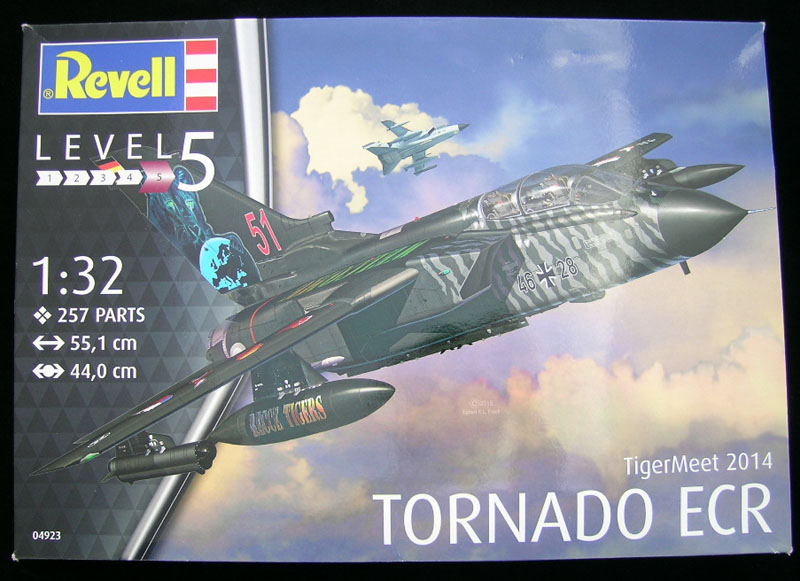 I decided at the outset to remove myself from the somewhat typical and lengthy description of the Tornado technical development and operational history. The Tornado has certainly served very well during its lifetime, and has undoubtedly been a great asset to those who needed it.
Somewhat ironically, most of the better Tornado references I have, deal specifically with the IDS, rather than the ECR (not that I necessarily need them for the purpose of this review), so specific comments regarding technical differences (if any) between this and the IDS, will be ignored.
While clearly not a new kit by any definition, having been re-boxed several times now in other iterations, I just recently got my hands on one, so though I'd provide a look-see as to what's in the box. (Since this is more of an in-box review than a build review, I have no photos of assembled sub-structures, so this look should be considered more of an overview of the various areas I thought might be of interest.) One big plus for me, is that this appears to be the standard IDS kit, but with additional parts being added that are required to make the changes necessary to build the ECR version, and that makes me very happy.
Instructions
---
Instructions are depicted in an interesting sort of pictographic way, the likes of which I've not personally seen before, but very nice, making assembly a fairly straight forward process.
Decals
---
Markings are provided for just one Tornado:
Tornado ECR 46+28 "NATO Tigermeet 2014" Takt LwG Schleswig-Jagel - June 2014
Decals appear to be in register, quite opaque, with good coloring and well detailed, also including plenty of stenciling. I'm really not sure who prints the decals for Revell, but they appear to be reasonably thin. Designed by a company called Syhart (I must confess that I've never heard of them before), they're marked as printed in Italy, is all I know for sure.
While some will undoubtedly find these markings to be very desirable, I must confess that they do absolutely nothing for me at all, so I'll be using some Saudi sheets that I already have.
---
Fuselage
---
Now that I have the kit "in hand", I can say that the surface detailing (not that I ever had any doubts), is very delicate and refined. Trademark on major fuselage component above, indicates 1996 production time frame, whereas additional parts sprue (specific to the ECR), indicates 2003.
Wings
---
Wings are what one might expect, with very nice engraved details, and a geared methodology for allowing wings to be swept, if one chooses to go that route. No provisions are made for extended slats or flaps.
Stabilators
---
Stabilators are also pretty straightforward, being essentially slabs with nice detailing, as per the real deal, and of apparent correct proportions.
"The Fin"
---
Aside from the frequently used "Tonka" moniker (and I have no idea where that came from), the Tornado is also frequently referred to as "The Fin", and for fairly obvious reasons. Here Revell seems to have accurately captured the proportions and geometry of the fin quite well.
Cockpit
---
Not a lot to be said here, save for the notion that if one takes his time, the cockpit has the potential to be built into a very nice representation right out of the box, though I'll undoubtedly replace mine with a Black Box or Aires set, as this portion of an aircraft model receives so much attention at model contests.
Engine Components
---
While there are no engines included as such, certainly the intake and discharge ends are included, and look quite decent to me. No attempt has been made to include any sort of intake ducting, and this will make the "down the throat" view leaving a lot to be desired, so it looks like I'll be slapping some FOD guards on mine.
Clear Parts
---
All clear parts are just that, crystal clear, and look just great, though some of my parts were marred with marks from rubbing against other parts, despite being in their own sealed bag.
Fuel Tanks
---
Basic under wing fuel tanks are provided, and look quite reasonable to me.
Landing Gear, Wheels, Wells, and Doors
---
Gear, wheels wells and tires all look quite acceptable to me, though tires may be just a tad too flat, as these sort of high pressure tires really never look this flat, at least not to me. I don't generally find myself being too impressed with wheel bays one way or the other, but I believe these will in all probability be way more than satisfactory for me.
Miscellaneous Plastic Parts
---
There were a few portions of the kit that I photographed, but had no specific category for them, so I decided to just lump them all together here, as they are undoubtedly relevant. (Note: some of these parts are for the ECR only, whereas others are for either version, but instructions are pretty clear as to what's what, so this should cause no major grief.)
Summation
All in all, I think this is a very nice effort from Revell, with overall proportions looking good to my eye. I am very pleased with what I've found thus far, and if I had any intentions of building an ECR Tornado (I do not), this kit, or one of the other available ECR (Electronic Combat/Reconnaissance) offerings from Revell, would fit the bill rather nicely, I think. (As stated elsewhere, I'll be doing mine as a Saudi IDS machine.)
Many thanks to HobbyLink Japan for the review sample. This kit is available from them at the following link:
1/32 Tornado ECR TigerMeet 2014
© Kevin Williams 2017
This review was published on Saturday, March 25 2017; Last modified on Monday, January 29 2018