Special Hobby | SH 32060 Bristol M.1C "Checkers and Stripes"
Reviewed by Iain Ogilvie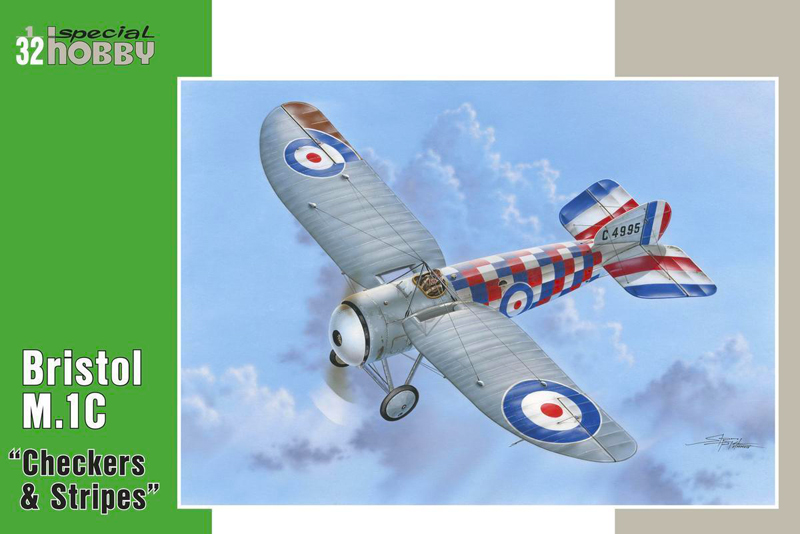 History
In 1916, Frank Barnwell, chief designer of Bristol Aeroplane Company, realising that the performance of existing fighter aircraft was inadequate, designed a new single-seat tractor monoplane fighter as a private venture, the Bristol M.1.
The first prototype, the M.1A made its maiden flight on 14 July 1916. It was of conventional wood and fabric construction, with a carefully streamlined circular cross-section fuselage. The wing was shoulder mounted and was braced with flying wires running from the wing to the lower fuselage and landing wires from the wings to a cabane made of two semi-circular steel tube hoops positioned over the pilot's cockpit. A 110 horsepower (82 kW) Clerget rotary engine drove a two-bladed propeller fitted with a large hemispherical spinner to reduce drag. It was purchased by the War Office for evaluation, and demonstrated impressive performance during official testing, reaching a speed of 128 miles per hour (206 km/h) and climbing to 10,000 feet (3,000 m) in 8 minutes 30 seconds, although the forward and downward view was criticised by test pilots.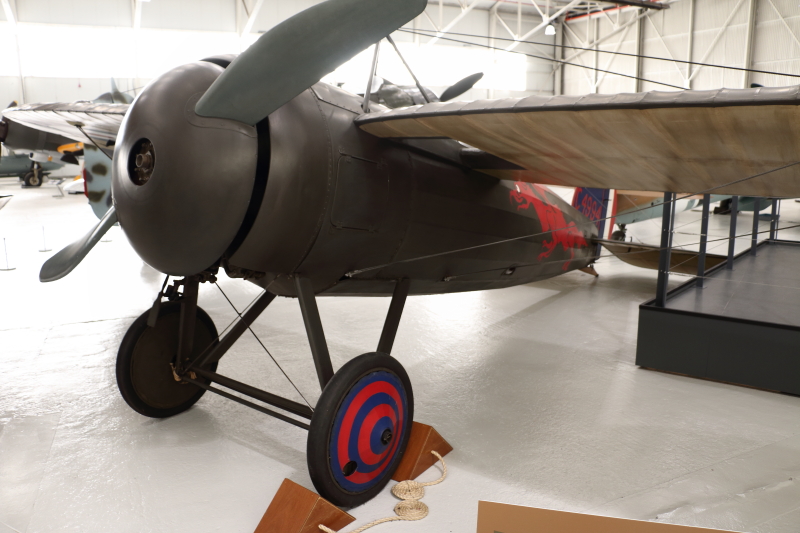 The War Office ordered four modified aircraft, designated M.1B, in October 1916. These differed from the first prototype in having a more conventional cabane consisting of a pyramid of four straight steel struts, a large clear-view cut-out panel in the starboard wing root to give improved view for landing and a single .303 in (7.7 mm) Vickers machine gun mounted on the port wing root.
Despite excellent performance - it had a maximum speed some 30-50 mph (50–80 km/h) higher than any of the contemporary German Fokker Eindecker and French Morane-Saulnier N monoplanes - it was rejected by the Air Ministry for service on the Western Front, ostensibly because its landing speed of 49 mph was considered too high for small French airfields, but more likely because of a widespread belief that monoplane aircraft were inherently unsafe in combat. The RFC had imposed a ban on monoplanes after the crash of one of the Bristol-Coanda Monoplanes on 10 September 1912, and despite the subsequent 1913 Monoplane Committee clearing the design type there persisted a deep-rooted suspicion of monoplanes. This suspicion may also have been re-inforced by the RFC's underwhelming experience with various Morane-Saulnier monoplanes, especially the Morane-Saulnier N, which was also criticised for its high landing speed.
Nevertheless, a production order for 125 aircraft was placed on 3 August 1917. Designated M.1C, this version was fitted with a Le Rhône rotary engine and had a Vickers machine gun centrally-mounted in front of the pilot.
Historical notes from WikiPedia.
Details
A few shots of the M1.C at the RAF Museum Cosford collection. If I get a chance in the near future I'll try and get some more photos and publish here.
---
The Kit
Whilst not exactly new I picked this kit up at the RAF Cosford Museum show the other week and realised we hadn't reviewed it here yet! So, here goes...
---
Main Sprues
The main sprues are cleanly moulded in Special Hobby's usual grey styrene, with only a tiny amount of flash on one, or two, parts that will take seconds to remove. The main airframe parts are based on hand crafted patterns and moulded to a (very high) short-run standard, whilst the smaller detail parts have been designed using CAD technology.
As with all recent Special Hobby kits the quality keeps on improving and the detail really is very nice. I'll leave it to the photos to do the talking:
---
Resin
A small bag contains two resin castings - a generator prop and a beautiful wicker seat. Designed using CAD technology these parts are beautifully cast and add nicely to what is a pretty complete package.
---
Transparencies
OK, so not 'transparencies' in the normal moulded sense, the kit includes a small sheet of clear material printed with alternative shapes for the windscreens.
---
Etch
Tucked away in the same bag as the decals, the kit includes a nice sheet of photo-etch components that includes seat belts, control horns, throttle quadrant, windscreen frame, various surface details and lots of turnbuckles. All the builder needs to add is the flying wires which, for the main wires, will need to be of the RAF Airfoil type - suitable items can be found in the RB Productions range.
---
Decals
This release includes two large sheets of decals, all with good colour, perfect register and high quality. Instrument dials, as well as tyre manufacturers printed stencils, are included and overall a very comprehensive set of decals. Extra red and blue material is supplied in case any touch-ups are required when adding all those fuselage checks! My only query is the tail markings - all red on the decals - red and blue on the box art. At the time of writing I haven't worked out which is correct.
---
Markings are provided for 4 options:
C4995, No.2 Fighting School, Marske, 1918 in a primarily silver doped finish, with red, white and blue checks and stripes. This is the subject of the box art
C4994, No.2 Fighting School, Marske 1918 in a brown PC12 and linen scheme. This is he scheme illustrated in the detail photos above
C5107, No.1 School of Aerial Fighting, Turnberry, 1918 in overall silver dope
C5017, South Eastern Area Flying Instructors' School, Shoreham, 1918 - in silver dope with red and blue nose stripes
---
Instructions
As with other Special Hobby kits the instructions look superbly detailed and clear - and include full rigging information. Colour call outs for the option schemes are given using Gunze Sangyo references.
---
Conclusion
Another lovely kit of a great subject from Special Hobby. Special Hobby kits do take a little more basic modelling work than Tamiya, or Wingnut Wings, but the subject matter always makes it worthwhile!
Very highly recommended!
Available through usual Special Hobby outlets, as well as directly from Special Hobby themselves.
Review sample courtesy of my wallet.
© Iain Ogilvie 2017
This review was published on Saturday, April 15 2017; Last modified on Sunday, April 16 2017