Wingnut Wings | 30022: 1/32 4 Colour Lower Lozenge Decals
Reviewed by Kevin Futter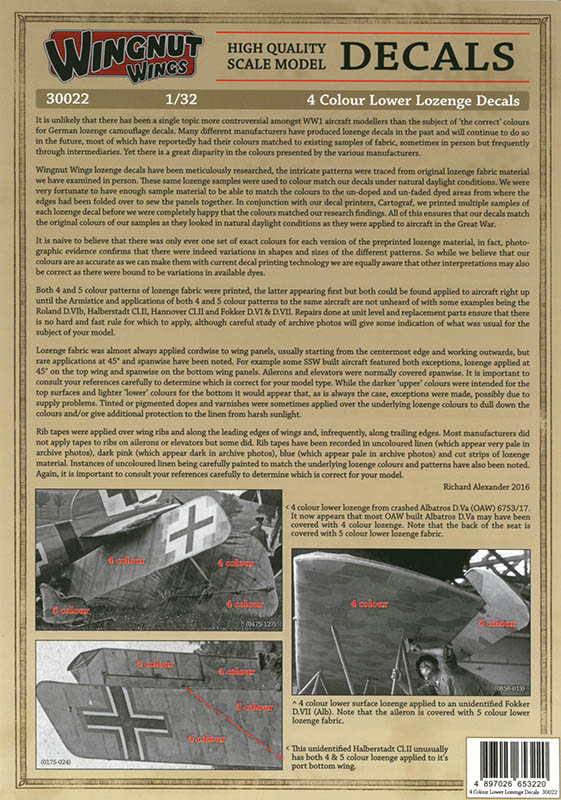 Though famous for its world-class model kits of WWI aircraft, New Zealand firm Wingnut Wings also has a range of specialist decals to complement its Great War subjects, and has now released two new sets of generic lozenge decals. The subject of this review is sheet 30022, which features 4-colour lower lozenge patterns.
The decals are accompanied by a single, double-sided sheet of informational material regarding the use of lozenge-patterned coverings on German WWI aircraft. The text is accompanied by captioned period photos, and makes for a useful primer on the subject.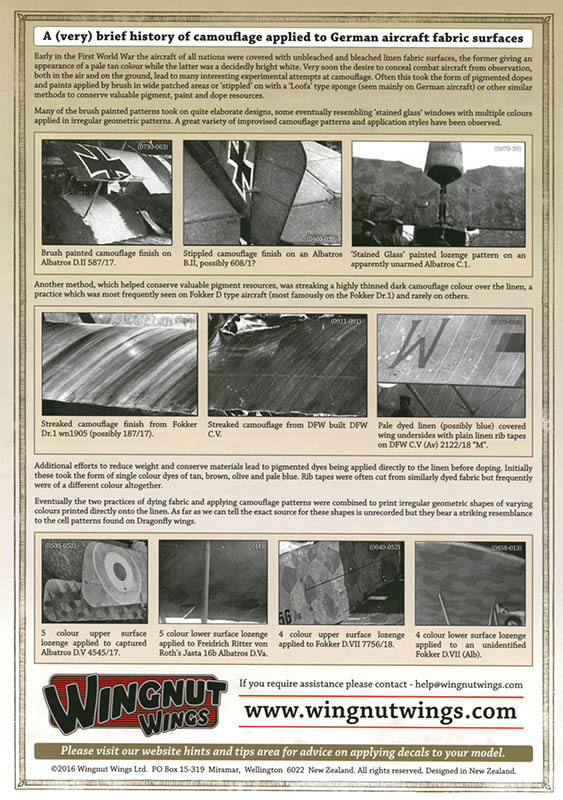 You can read more about this on the company's product web page.
The decals themselves consist of seven rows of 4-colour lozenge patterns, each approximately 35mm high. The printing is flawless, though there's no mention of a printer's name. Wingnut Wings' usual decal supplier is Cartograf, and this is generally noted on sheets supplied by them, so I can only assume this is an in-house production. Whatever the source, they do look excellent. You will, however, have to cut them to fit whatever kit or part you're working on, as they're not pre-cut or shaped to fit any particular subject.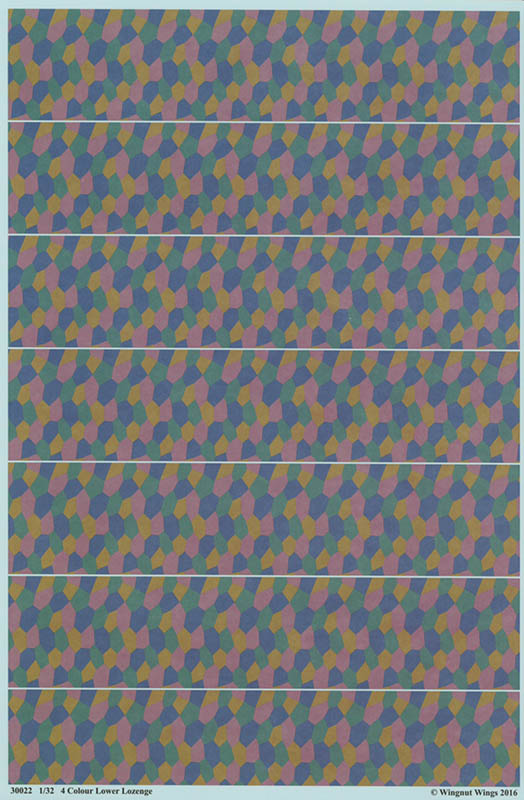 Please note that my scanner hasn't necessarily captured the true colours of these decals, so it's best not to judge their colours from the image I've provided. I can say, however, that they're close.
Conclusion
Wingnut Wings never fails to release a quality product, and these decals are no different. The accuracy of the colours involved in any lozenge decals is always the subject of debate, and it's fair to say that Wingnut Wings' well-researched guess is as good as anybody else's. How these decals are used is totally up to the modeller, whether it be to provide lozenges for a scheme not available in the kit, or to supplement what comes in a kit. Either way, these should fit the bill nicely.
Many thanks to Wingnut Wings for the review sample.
© Kevin Futter 2017
This review was published on Thursday, June 08 2017; Last modified on Thursday, June 08 2017