Aviattic | ATTRES 031 German Pilot Standing, Hands On Hips
Reviewed by Mike Swinburne
Continuing a series of resin pilots and ground crew figures for WWI displays in recent years, Aviattic has just released their latest figure, German Pilot Standing, Hands On Hips. The mustached pilot has been sculpted by Doug Craner, and I'm at a point where I buy Craner-scuplpted figures sight unseen if the topic is one I'm interested in.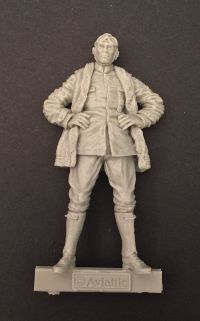 ---
This figure was no exception and arrived to me in Aviattic's standard translucent white plastic box, with the single-piece resin casting inside a zip-lock bag and surrounded in bubble wrap. Short of being run over by a truck, I doubt anything would damage the contents of one of these packages. As mentioned, the pilot is cast as a single piece, depicted wearing what appears to be a wool-lined jacket over gray dress uniform, with leather flying cap and goggles. There are no casting imperfections at all on the figure - no mold mismatches, no air bubbles, nothing.
The level of detail is superb, and details are all very crisp. There's an iron cross or similar medal on the left chest pocket, with what appears to either be a round medal or pocket watch below the cross. The goggles even appear to have a small knot tying the cords together at the back of the flying cap. I'm not familiar enough with uniforms to say if the pilot is more suitable for early-, mid-, or late-war; I'm not even sure if there were changes throughout the war. For what it's worth, the box photo shows the figure standing with a Fokker D.VII in the background so you can assume it's at least appropriate for 1918.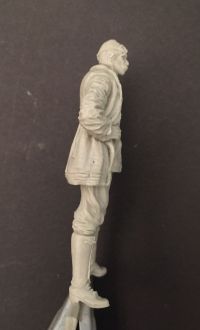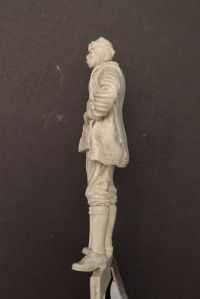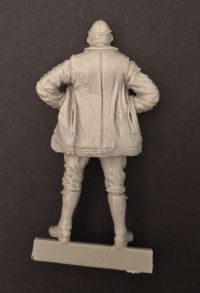 ---
No long and drawn out conclusion is needed with this release. It's plain and simple - if you want to add some life to your Wingnut Wings / Roden / Avis / Mikro Mir kit, pick this beauty up without thinking twice. It's like Mary Poppins - practically perfect in every way! ATTRES 031 German PIlot, Hands On Hips is available directly from Aviattic. Review copy is courtesy of my wallet.
© Mike Swinburne 2017
This product is available from the following LSP sponsors
This review was published on Wednesday, June 14 2017; Last modified on Friday, June 16 2017