Sparmax | MAX 4 Airbrush
Reviewed by Mitko Nikitov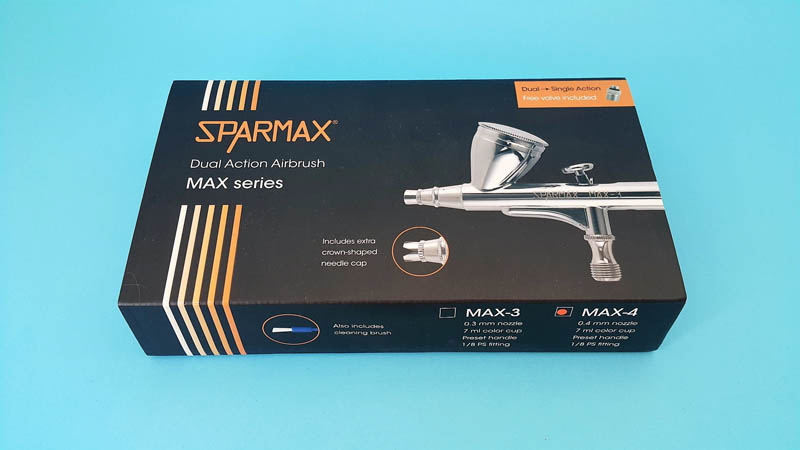 Introduction
Sparmax is a company from Taiwan, producing airbrushes under their own name but also for other brands too. They gained popularity after year 2000, mostly because of the low prices that they offered on the market. Their first airbrushes proved to be trustworthy, comfy and long lasting. Many people started using them as a secondary or spare airbrush, but stuck with them because of their qualities.
Sparmax MAX 4 is continuation of their DH line, which Sparmax improved based on the experience. MAX 4 features faster paint flow and with its qualities is suitable for our hobby but it is not limited to it. Arts and crafts are well within its range, meaning that for larger scale models this will be very adequate gun.
Packing
MAX 4 comes in a plastic clamshell, wrapped in cardboard box. The box is in black, with description of the add-ons included, as well as the airbrush inside of it. There are two options: MAX 3 and MAX 4. They are pretty much similar to each other, with the sole difference that the nozzle of -3 is .3mm and respectively, .4mm on the MAX 4. They do have a 7ml color cup, 1/8 fitting, both being more or less a standard in that range of airbrushes. The cup has a cap and among the add-ons there is an adaptor, that makes this dual-action airbrush into single-action one.
---
MAX 4
---
The airbrush itself is sitting very well in the hand, being heavy enough to keep your paint writing straight to the point. Its weight is distributed properly, and the outer layer of the metal is coated nicely for quick and painless cleaning.
There is a trigger stopper at the tail, which is something that does not corresponds to the price of the airbrush. In that range, we have Iwata Revolution series for example, where there is no such feature, but the price is still a bit higher. Other competitors are either obsolete designs or at higher cost.
The trigger movement is stiff enough to give you a steady work even if you are not having the best finger actions and it is very comfortable too. I have experienced some troubles getting used to Harder & Steenbeck trigger action. If you are like me, and don't own the perfect hand control, you will find the Sparmax a bit more easy to use and mistakes will be avoided from the start.
The cup is big enough for large scale models so if you use the airbrush for priming or varnish layers it will be enough even for 24th scale birds. The nozzle fits in that category too. It is .4mm which is big enough to suit the basic needs for both of the upper applications mentioned.
For painting I found it to be precise enough so to draw free-hand camouflages in 48th scale without any hassle. For 32nd scale planes which is my preferred scale, it suited my needs perfectly.
Add-on Included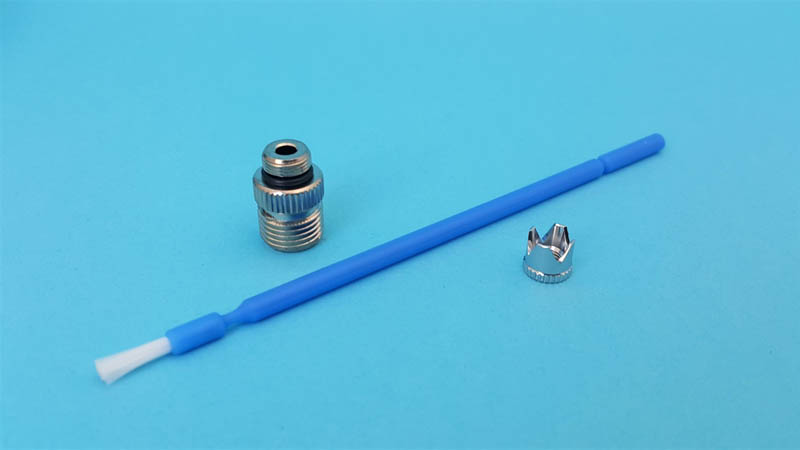 In the box there are couple of add-ons included, useful both for the first airbrush owners and for experienced painters. There is a single-action adapter, transforming this dual-action spray gun and making it perfect for clear coats or metalizer paints, where application needs to be equal.
There is a cleaning brush, for those who buy this for their first spray gun. For the rest I believe, you already know your game and are equipped with a nice cleaning tools. Nevertheless, a nice gesture from Sparmax adding this to the set.
There is a crown cap included, for precision work and finer applications. Many tend to spray with bare needle and you probably know from experience how unhealthy for the needle that procedure might be. So the solution is a crown cap, where the air can go out but there still be a protection for the tip of the needle. This sole add-on on other brands usually cost a lot just because it is indispensable. Here it is a bonus.
Conclusion
Working with Iwata mostly, I must admit that this airbrush impressed me and changed my view a bit. There are many features that for that price are simple unreachable with the major brands. Besides the spare parts which are also at a very good price, Sparmax airbrushes have proven to be sturdy workhorses which can be used as a main gun for the better part of their lifespan.
Small compliments as those add-ons included in this set are not an essential factor /maybe the crown cap is/ but they are there to tempt you and for me I gotta say – it is working!
For most of the modelers, this airbrush will be very well suited, especially if you work on the larger scales, where the nozzle size will suit most of the work done with an airbrush.
Check out Sparmax website for additional info and other variants of their airbrush line. You won't be disappointed!
© Mitko Nikitov 2017
This review was published on Friday, June 16 2017; Last modified on Friday, June 16 2017