Aviattic | ATTKIT004 1/32 WW1 RAF/RFC Towing Trailer
Reviewed by Mike Swinburne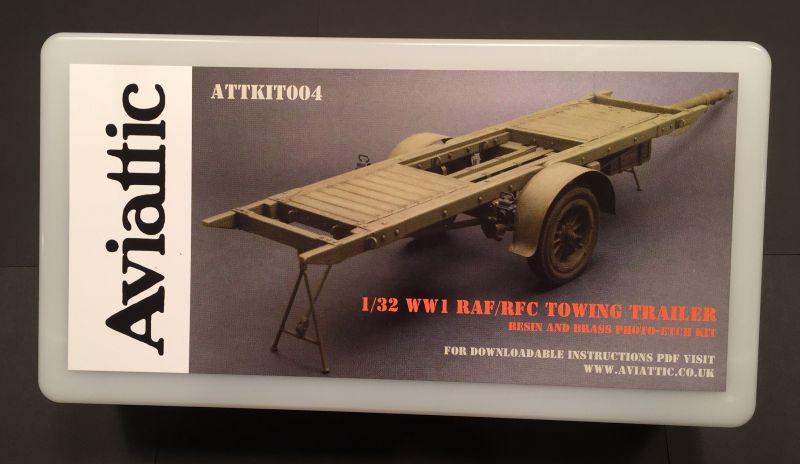 Late in 2016, Aviattic released a model of a WWI Royal Flying Corps / Royal Air Force towing trailer in 1/32 scale. The trailer was a common sight at aerodromes and during transport of crashed, and captured aircraft, and now WWI modellers have a resin kit to create or enhance displays with their aircraft.
The trailer has been mastered by Szymon Grzywocz, and cast by Ron Kootje. The approximately 23 resin parts and photo-etch fret arrived carefully packed in zip-lock bags, in a white plastic box similar to the ones used to package Aviattic's smaller resin offerings. A sheet of firm foam filled the bottom of the box to minimize vibration in transit. A printed insert on glossy paper contains a copy of the box art on one side, and wartime photograph of a captured Albatros D.III being transported on the reverse. An assembly manual is not included in the kit but rather, a series of detailed photographs are available on Aviattic's website showing each step of assembly very clearly. Additional wartime photographs showing various methods of transporting aircraft are also shown with the assembly photos.
---
Examining the parts, everything appears to be well detailed and cleanly cast. With the exception of the wheel spokes, there is little cleanup that will be needed once parts are removed from their pour stubs. I've already started to clean up one or two of the spokes before taking the review photos. A nice touch that I've not seen before is that part numbers for smaller resin pieces are cast into the pour stub.
The main largest casting is the frame of the trailer with the bed (floor? base?). Raised rivets and bolts are featured throughout, and flanges for pieces are cast into this one piece where appropriate. There are pilot holes cast into the frame and separate cross-braces that will need to be enlarged to attach photo-etch hooks, tail lights, and the like. Metal rods are cast into the axle and tow bar for strength and to eliminate warpage; I suspect they are also included in the trailer frame due to the rigidity but I cannot confirm this. Either way, all pieces in my kit are without any hints or warping.
---
The remaining resin parts include the leaf springs, stowage box, tail lights / lanterns, and a collapsible tripod stand which mounts underneath each end. Detail on the smaller parts is equally as shape as the larger pieces, and all parts on pour stub "sprues" appear very clean. The two separate resin "A" frames for the tripods appear a little rough around the edges but should be able to be cleaned up in 10-15 minutes.
On the photo-etch fret, the builder finds the fenders, tie-down hooks, bracing for the underside of the frame, and the spring steel rest for the tow bar. The fenders and tow bar rest will need to be curved to shape. The builder will need to supply something to curve the pieces, I recommend a paint bottle or something similar in size with a diameter slightly smaller than the desired final curve.
For modellers who want to display captured or damaged aircraft being transported, or simply have items of interest sitting near parked aircraft, Aviattic's trailer is a great option. For those wanting to show aircraft being towed, track down a 1/32 Crossley Light Tender from Tommy's War (note - discontinued in 2016 with a small re-release run in 2017). Construction will be fairly straightforward and little parts cleanup is needed, so this wouldn't be a bad option for a first all-resin kit also.
ATTKIT004 1/32 WW1 RAF/RFC Towing Trailer is available directly from Aviattic for £55, review sample is courtesy of my wallet. Very highly recommended!
---
© Mike Swinburne 2017
This review was published on Wednesday, June 21 2017; Last modified on Wednesday, June 21 2017