Jim Brown | 1/32 Spitfire Mk IIa Correction Set (for Revell)
Reviewed by Mike Swinburne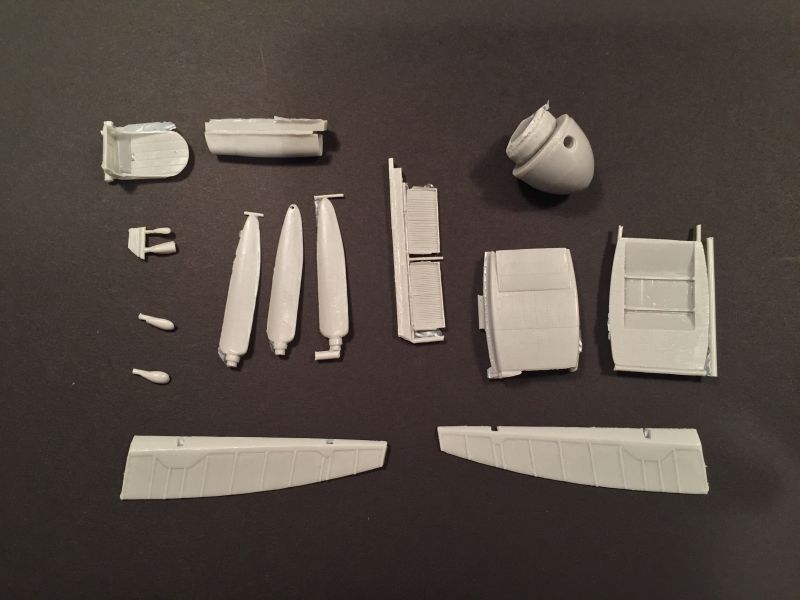 Jim Brown has released a set of resin pieces designed to correct certain details of Revell's 1/32 Spitfire Mk IIa kit. The corrections include sixteen parts cast in grey resin and address the dead, propeller blades and spinner, ailerons, radiator, oil cooler, and several small fairings and scoops. I do not have a Revell kit to compare to the parts, so I won't be able to comment on what's actually been corrected in these parts.
Ailerons feature raised ribbing that while sharp, may be a bit overstated and the builder may wish to sand down a bit to a more realistic look. The radiator and its grilles look good, although I find it interesting that the oil cooler has it's grille cast in one piece. The front end of the oil cooler should be thinned out for a more realistic look, but with something this size, you're looking at less than five minutes work to do this well. I don't know what the small bumps/fairings and scoops are or where they get attached to the plane, but they are all well cast and devoid of any air bubbles.
My first thought with the spinner was that it's too rounded, but I'm not very familiar with early Spitfires and may well be perfect in cross section - check against your preferred references if you're unsure. One of the propeller blades has an air bubble at the tip that will need attention, otherwise the blades looks nice with only minor flash needing cleaning up. The final component in the correction set if the pilot's seat. I believe the seat may be a copy of one from another kit; the detail on it is quite nice and includes backrest padding, but there are two air bubbles in the casting that will need to be filled also.
As stated at the start of the review, I can't comment on the accuracy and what details are being correct in these pieces, but once you fill and sand a few air bubbles, you've got some nice resin parts to stick on your Revell Spitfire. Head on over to Jim's eBay store to purchase this and his other resin sets. Thank you to Jim Brown for the review sample.
---
© Mike Swinburne 2017
This review was published on Tuesday, July 11 2017; Last modified on Tuesday, July 11 2017