ICM | 32001: 1/32 Polikarpov I-16 Type 24
Reviewed by Andrew Birnie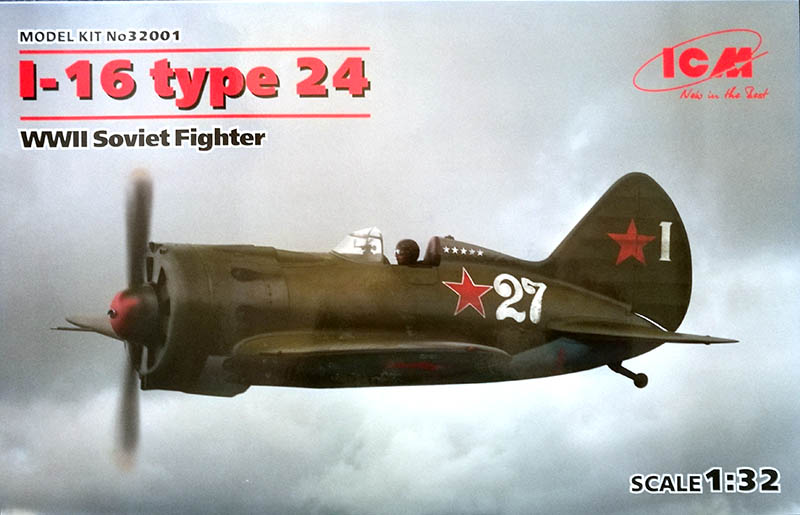 I hadn't heard of ICM of The Ukraine before reading of their first foray into 1/32 with the Polikarpov I-16, which wasn't an aircraft, truth be told, which set my pulses racing, but after reading a favourable post by Tony Thornborough of this parish, I took the plunge and ordered one, which arrived this mighty fine very wet Mancunian summer's day.
I don't think I've been as impressed on viewing a new, to me least ways, manufacturer's product since my first Wingnut Wings purchase. Inside the sturdy box are four sprues, three grey, one clear, together with instruction booklet and a decal sheet with four options.
Sprue A contains parts for the fuselage, control surfaces, and wheels.
Sprue B provides parts for the wings, cowl, fuselage panels, prop, and undercarriage.
Sprue C has the engine, cockpit, and sundry other parts.
Sprue D the windscreen, instrument panel, gun sight, and wing lights.
---
The decals provide the following options:
67th Fighter Regiment, South Front, Summer 1941
72nd Mixed Regiment of the Northern Fleet Aviation, Summer 1941
4th Guard Fighter Regiment of the Baltic Fleet Aviation, Winter - Spring 1942
254th Fighter Regiment, Leningrad Front, Summer 1943.
---
The quality of the parts is utterly superb, right up there with Tamiya and Wingnut Wings in my humble opinion. Have you ordered one yet? You really should!
© Andrew Birnie 2017
This review was published on Wednesday, August 02 2017; Last modified on Wednesday, August 02 2017