Special Hobby | SH 32011 Yakovlev Yak-3 "Onward to Berlin!"
Reviewed by Iain Ogilvie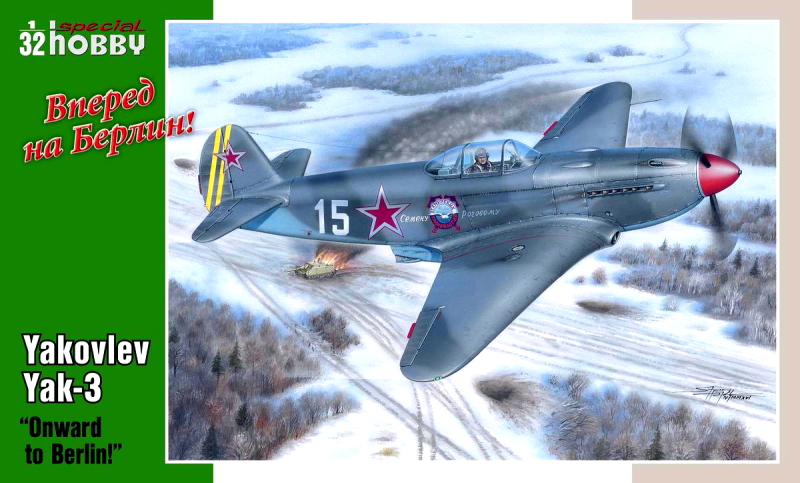 History
From Wikipedia:
The origins of the Yak-3 go back to 1941 when the I-30 prototype was offered, along with the I-26 (Yak-1) as an alternative design. The I-30, powered by a Klimov M-105P engine, was of all-metal construction, using a wing with dihedral on the outer panels. Like the early Yak-1, it had a 20 mm ShVAK cannon firing through the hollow-driveshaft nose spinner as a motornaya pushka, and twin 7.62 mm synchronized ShKAS machine guns in cowl mounts ahead of the cockpit on the fuselage, but was also fitted with a ShVAK cannon in each wing. The first of two prototypes was fitted with a slatted wing to improve handling and short-field performance while the second prototype had a wooden wing without slats, in order to simplify production. The second prototype crashed during flight tests and was written off. Although there were plans to put the Yak-3 into production, the scarcity of aviation aluminum and the pressure of the Nazi invasion led to work on the first Yak-3 being abandoned in late fall 1941.
In 1943, Yakovlev designed the Yak-1M which was a lighter version of the Yak-1. It incorporated a wing of similar design, but with smaller surface area and had further aerodynamic refinements, like the new placement of the oil radiator, from the chin to the wing roots (one of the visual differences with the Yak-1, -7, -9). A second Yak-1M prototype was constructed later that year, differing from the first aircraft in that it had plywood instead of fabric covering of the rear fuselage, mastless radio antenna, reflector gunsight and improved armor and engine cooling. The chief test pilot for the project Petr Mikhailovich Stefanovskiy was so impressed with the new aircraft that he recommended that it should completely replace the Yak-1 and Yak-7 with only the Yak-9 retained in production for further work with the Klimov VK-107 engine. The new fighter, designated the Yak-3 entered service in 1944, later than the Yak-9 in spite of the lower designation number.
Production accelerated rapidly, so that by mid-1946, 4,848 had been built.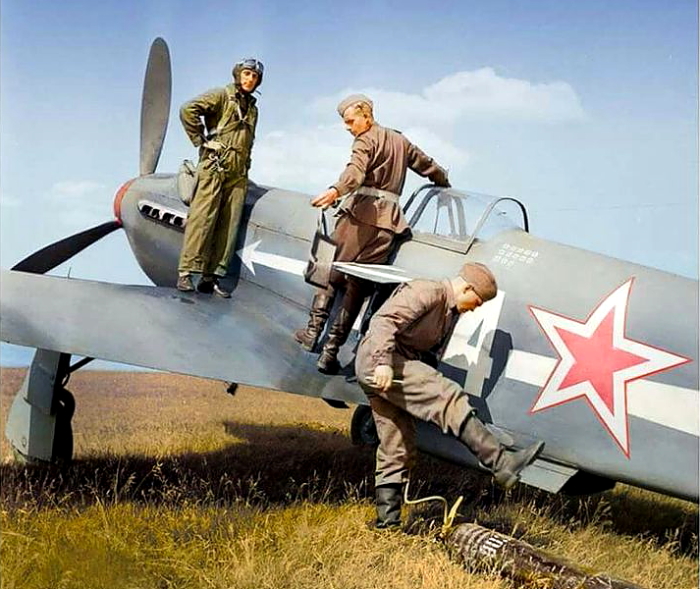 The first 197 Yak-3 were lightly armed with a single motornaya pushka-mount 20 mm ShVAK cannon and one 12.7 mm UBS synchronized machine gun, with subsequent aircraft receiving a second UBS for a weight of fire of 2.72 kg (6.0 lb) per second using high-explosive ammunition. All armament was installed close to the axis of the aircraft (cannon firing through the engine crankshaft and synchronised machine guns in the fuselage above the engine), adding to the accuracy and leaving wings unloaded.
Lighter and smaller than Yak-9 but powered by the same engine, the Yak-3 was a forgiving, easy-to-handle aircraft loved by both novice and experienced pilots and ground crew as well. It was robust, easy to maintain, and a highly successful dog-fighter. It was used mostly as a tactical fighter, flying low over battlefields and engaging in dogfights below 4 km (13,000 ft).
The new aircraft began to reach front line units during summer 1944. Yak-3 service tests were conducted by 91st IAP of the 2nd Air Army, commanded by Lt Colonel Kovalyov, in June–July 1944. The regiment had the task of gaining air superiority. During 431 missions, 20 Luftwaffe fighters and three Ju 87s were shot down while Soviet losses amounted to two Yak-3s shot down. A large dogfight developed on 16 June 1944, when 18 Yak-3s clashed with 24 German aircraft. Soviet Yak-3 fighters shot down 15 German aircraft for the loss of one Yak destroyed and one damaged. The following day, Luftwaffe activity over that section of the front had virtually ceased. On 17 July 1944, eight Yaks attacked a formation of 60 German aircraft, including escorting fighters. In the ensuing dogfight, the Luftwaffe lost three Junkers Ju 87s and four Bf 109Gs, for no losses to the Yaks. Consequently, the Luftwaffe issued an order to "avoid combat below five thousand metres with Yakovlev fighters lacking an oil cooler intake beneath the nose!" Luftwaffe fighters in combat with the Yak-3 tried to use surprise tactics, attacking from above.
Unresolved wartime problems with the Yak-3 included plywood surfaces coming unstuck when the aircraft pulled out of a high-speed dive. Other drawbacks of the aircraft were short range and poor engine reliability. The pneumatic system for actuating landing gear, flaps and brakes, typical for all Yakovlev fighters of the time, was problematic. Though less reliable than hydraulic or electrical alternatives, the pneumatic system was preferred owing to significant weight savings.
In 1944, the Normandie-Niemen Group re-equipped with the Yak-3, scoring with it the last 99 of their 273 air victories against the Luftwaffe.
Special Hobby's Yakovlev Yak-3 "Onward to Berlin"
This is the second release of the Yak-3 from Special Hobby, our review of the earlier 'High-Tech' release can be read here.
---
The Plastic
The main components are cleanly moulded in Special Hobby's typically fairly soft grey styrene - and are a mixture of CAD designed parts (details such as interior and undercarriage) and more traditionally mastered components for the main airframe. Moulding is sharp and crisp with nicely realised surface detailing.
---
Resin
Just a single component in this release - used to block off one of the cowling gun ports and applicable to one of the markings options.
---
Clear Components
These look superbly thin and clear, with very little distortion, and include both open and fully closed options.
---
Decals
Supplied on two separate sheets, these are beautifully printed by Cartograph, with good colours, density and perfect register. As well as stencils and individual instrument guages, the sheet inludes some nice silver overlays for the white areas of the Soviet Stars on one of the options.
---
Markings are provided for 3 options:
Yak-3 "15" flown by Lieutenant Semyon Rogovol of the 64th Guards Fighter Regiment, 4th Guards Fighter Division, 2nd Baltic Front, Autumn 1944. This airframe was presented to Rogovol by sailors of the Alum River Flotilla located in the Far East.
Yak-3 "114" flown by Senior Lieutenant Valentin Gregoryevich Ernokhin of 402nd Fighter Regiment, 256th Fighter Division, 1st Belorussion Front, Spring 1945.
Yak-3 "10" flown by Colonel Boris Nikolaevich Eryomin, Deputy Commanding Officer of the 6th Guards Fighter Division, 2nd Ukrainian Front, Spring 1945. This aircraft, Eryomin's second, was paid for by Ferapont Petrovich Golovatyi and was an early production airframe with one cannon and one machine gun.
Instructions
In typical Special Hobby style of late these are clear, concise and easy to follow:
---
Conclusion
I've become a bit of a fan of Special Hobby kits over the years; they've supported 'our scale' by releasing some superb subjects and now have a very extensive range of kits in 1:32. OK, some releases have had their share of challenges, but their builds are always hugely rewarding and the quality of their kits just keeps on getting better and better. Value-wise, this kit represents superb value and is very highly recommended indeed!
Available through usual Special Hobby outlets, as well as directly from Special Hobby themselves.
Our thanks to Barbora and the Special Hobby team for the review sample.
© Iain Ogilvie 2017
This review was published on Saturday, August 05 2017; Last modified on Saturday, August 05 2017