Italeri | 2503: F-86F Sabre Jet "Skyblazers"
Reviewed by Mitko Nikitov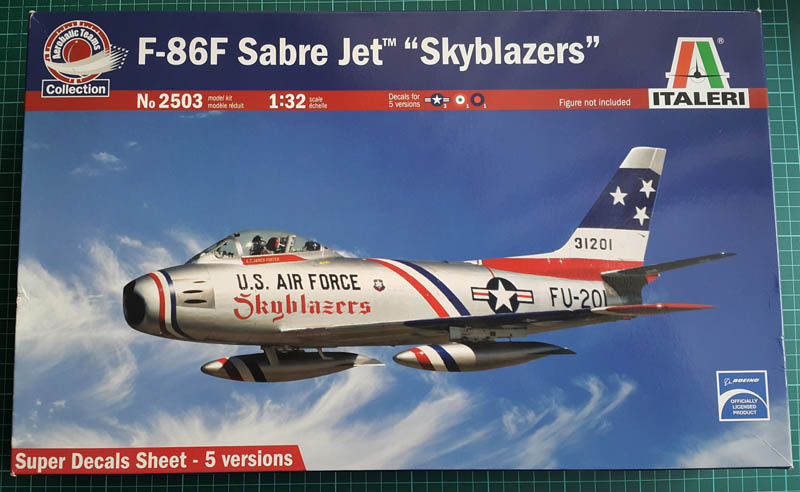 Introduction
The F-86 Sabre is one of the most legendary aircraft ever made. It is a symbol, no less important than the P-51 and F-100, but often obscured by those two, due to its relatively short-term concept. With that said, it is important to note the fact, that even designed in the late '40s, quickly pushed back from the newer designs in the early '50s, F-86 Sabre stood against time for more than 40 years. Even though in its home country was forgotten within a decade or so, it served well into the late 80s and even early '90s with other countries.
With the constant tension in Korean peninsula last couple of years, many often remember the beginnings of the conflict there and its most important hero – the Sabre. F-86 was the cutting edge technology in the Korean War, fighting against MiG-15 and gaining fame and respect.
For large scale plane fanatics, there is one very decent choice to reproduce the legendary aircraft, and this is what we will discuss here. It is a kit that originates from Kinetic, but In this case it is a repack from Italeri. It was also re-released from Wolfpack and this isn't an accident.
The Box
Dark blue Italeri box is what holds the Kinetic sprues. It is a bit flimsy, but that is typical. The price of the kit is relatively low, Italeri are not among the top model makers and after all, this is a repack.
The box art is nice, featuring something like a collage, with one demo F-86 flying through a clear sky. A number of info patches are visible, such as Super Decal sheet, Boeing Licensed product and such.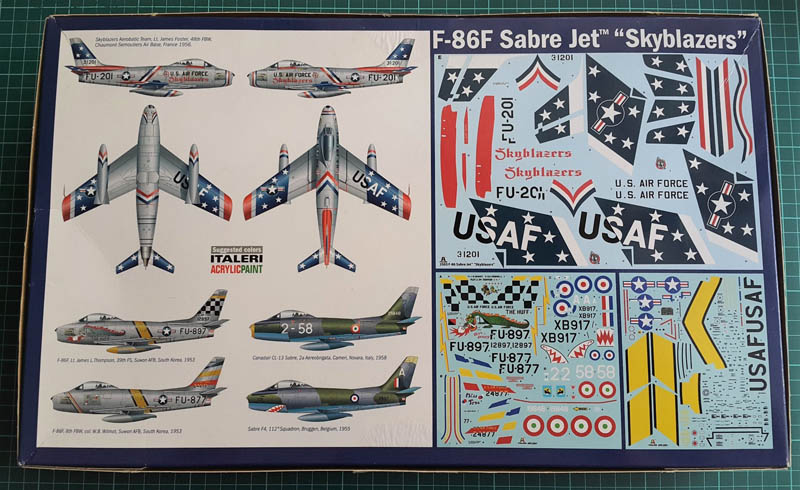 On the back of the box, we have more colorful depictions. It is split into two halves. One features the decal sheets and the other, version that are doable with the set. Focus one is Skyblazers F-86F Sabre, with 4 profiles of the rest included. Of course, Acrylic paints from Italeri are mentioned as a suggested product.
Despite not being a posh one, the box is looking very attractive and tempting, even without one knowing the contents.
Instructions
Instructions are rather simplified. They are black and white and far from the quality of the ones we've seen in the most modern companies that fight for their spot under the sun. Maybe for being cost-effective and keep the price of the kit low, Italeri chose that option.
There is an additional sheet – B&W again, with the Skyblazers Sabre on it. Slightly crispier depictions, but overall the same basic quality.
With that being said, I want to emphasize on the fact that the instruction sheet isn't the most important thing in a kit. Yes, it is a helpful tool and if it is one with higher quality, one will enjoy building and reading through it more.
However, simple instructions as this one will allow for newcomers to handle things more easily and especially with such large scale plane it is a basis for a great start.
Sprues
---
Bags that holds the sprues are yellow-ish in color. They look worn and have quite an user-unfriendly look. It was the same with the Kinetic Sabre that I saw almost decade ago. I assume that it was due to the materials that Kinetic used back then and I assure you, the quality here has nothing to do with the kit quality itself.
We have limited number of sprues, but all the part are detailed greatly. It is true, that the kit is far from comparable with new Tamiya and Zoukei-Mura in terms of part number and detailing, but it is very good.
The whole plane is riveted and some minor oil-canning is visible. Or maybe it was my imagination. But I believe that the detail is great and crisp. There might be issues with the thickness of everything, but remember that this isn't a new tooling and in its defense I have to admit that it is quite acceptable.
There is an engine included, as well as some interesting decisions as splitting the fuselage in half to show of the jet engine. There is also removable gun bay doors, positionable control surfaces and flaps, air brakes and more.
Surprisingly for the relatively low number of parts on the sprues here.
Clear Parts
This sprue caught my attention for being very nicely done. It left me with a feeling that it somewhat superior to the rest of the sprues that are made from dark grey plastic. Here, we also have the rivets and nice edges, in the same time showing relatively clean and pleasant view through the glass parts.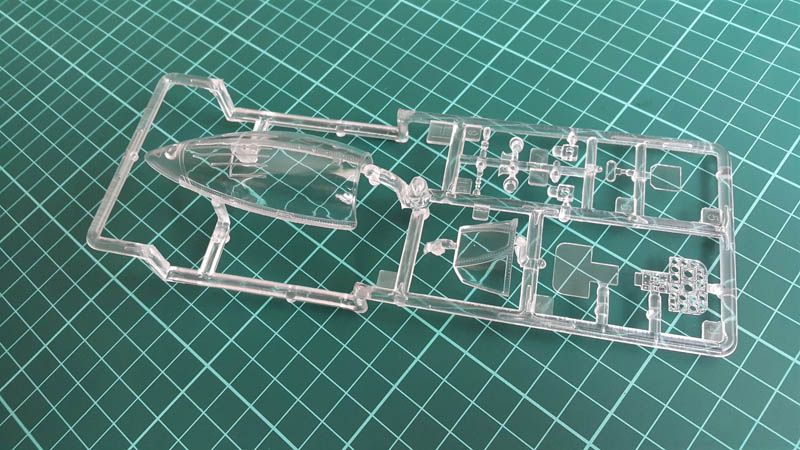 I haven't noted serious bending of the objects when you look through it and even though old tooling, this seems to be a good product. Especially if you compared it with the newest toolings from companies of that level. Take new Me 262 from Revell for example. A big letdown with the clear parts there.
Decals
We have three sheets of decals made by Cartograf. The company is probably the best on the market and it doesn't need any introduction. There is one A4 sheet featuring the Skyblazers Sabre distinctive markings and two smaller ones, with Italian, Belgium and USAF markings plus technical stencils.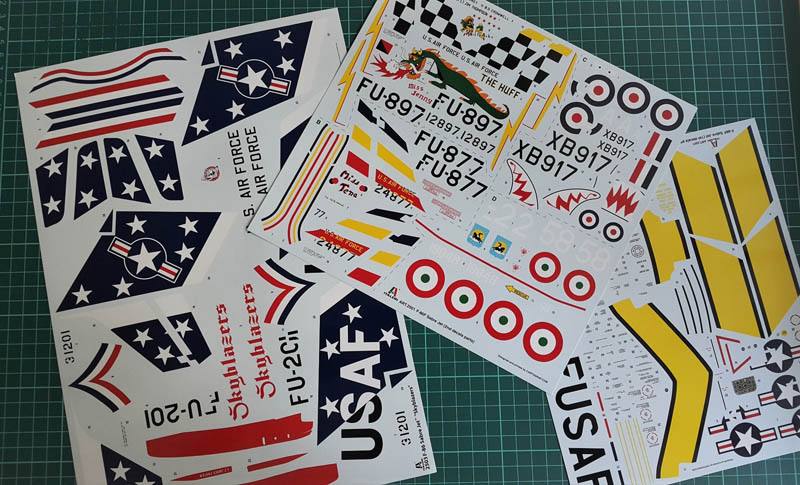 The Sabre comes from an era, when USAF were using jets painted like they were part of a circus show or whatever and there is a lot of decaling here. Not the European birds though. They are camouflaged.
In case you go for the US versions, I would suggest to try and paint as much as possible and leave the decals aside, since the natural metal finish of the Sabre will look better when painted, especially if you use Alclad2 paints combined with something like MRP paints.
I do believe that this is the best way to go for any natural metal finish plane and minimize the use of decals to the absolute lowest.
However, even if you don't go that road, with Cartograf you should be just fine. Whatever the method you might be using, in the end this plane will look very attractive no matter what.
Detail and Conversion Sets
Since the Sabre from Kinetic/Italeri is dating back from 2007, the level of detail isn't at its highest. Aires have some parts to offer to spice up things here, like cockpit, wheel bays and air brake sets, and AMS resin has some parts for Canadian fans, plus some drop tanks.
Eduard used to make BigEd sets, which are out of production as far as I know, but probably still available over eBay and with some of the distributors.
There are also other offerings, from Quickboost, Matech and Scale aircraft conversions, depending on how deep you want to go into the subject.
In my opinion cockpit is vital, since there is a huge canopy, showing of the beauty of the old-school steam-gauged control deck of the plane, so I would invest in that.
Conclusion
Ten years after the original release, this F-86 is still the leading option on the market. There is also old tooling from Hasegawa available, but it isn't comparable at all. Also, many might suggest that Kitty Hawk have Sabre to offer, but that isn't the case too. Sabre Dog is a different breed of animal.
I recently heard that Italeri are about to stop the production of this particular kit which is pity, since it is a great one. It might be old tooling, but it is competitive with the new 32nd scale kits and it is still the best Sabre available. Especially for the dawn of the jet planes era.
There is room for delicate and more complicated work and for reference of such you can check KLP's very first book, featuring one such kit turned into a very intriguing project. That is a perfect example of what level you can get to, if you invest time and effort into Italeri's Sabre.
With the features it has, the Italeri kit offers a superb base for modeling and expanding the detail work to a very great extent. It is in the same time very suitable for a new comers in the hobby and for those who want to keep it simple. As a basis is hardly beatable.
All In all, one very good kit, for a small price, with different color options and probably soon – a vintage kit on the market.
© Mitko Nikitov 2017
This review was published on Wednesday, August 23 2017; Last modified on Wednesday, August 23 2017