Kagero | 3048: Henschel Hs 123
Reviewed by Kevin Williams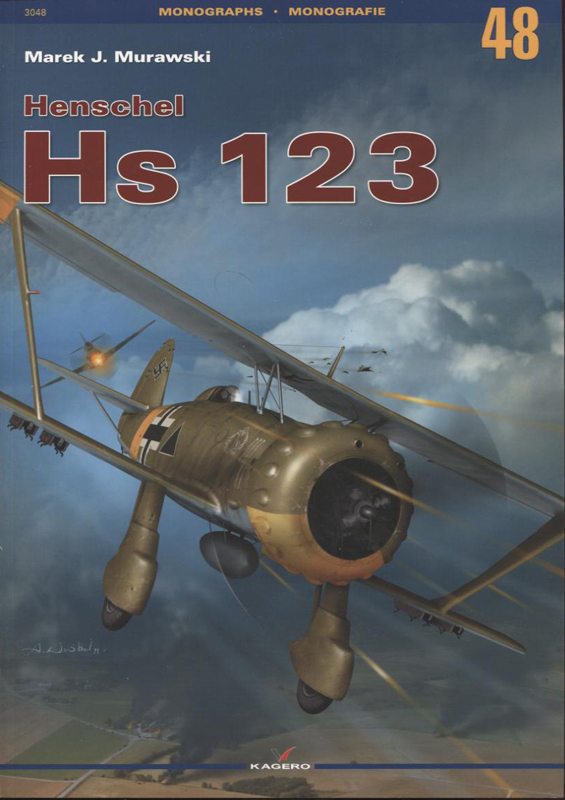 Publisher: Kagero
Author(s): Marek J. Murawski
Publishing date: 2012
ISBN: 978-83-62878-15-4
General
Kagero has offered up here, volume #48 in the "Monograph" series, a series generally devoted to specific aircraft, and this one is no exception, dealing specifically with the rather interesting (to me), Henschel Hs 123.
Though I'm not generally drawn to early war aircraft types, the Hs 123 is a unique exception for me. There have been a few 1:32 kits of this machine over the years (vacs, resin), but never anything from the mainstream manufacturers, and I think that's a real shame, but one that hopefully be rectified somewhere down the line. (Looks like I'll have to stick with the Esci/Revell/Italeri/Tamiya 1:48 kit(s) for the time being.)
A technical description covers various aspects of the air-frame, engine, and weapons.
Photos
---
For the most part, I'll just let the pictures do the talking here. I've offered up a general overview of the photo types that you can expect to encounter, but don't expect to be overwhelmed with detail shots, as there really aren't any to speak of.
Included in this volume, are a fairly decent variety of period photographs; as well as some text with written accounts; detailed drawings in 1:72, 1:48 and 1:32 scales; as well as color profile drawings of 9 different airplanes, are also provided.
Drawings
---
Profiles
---
There is a pull-out drawing (very nice) that features 1:32 scale drawings which deal with both the Hs 123A-0 and A-1. Some frame cross sections have also been included.
(Note: Perhaps I'm just spoiled by certain other Kagero publications, but I'm rather sad to see no decals in this book (rather common for the Monograph series to not include them, actually, at least from what I've seen so far), whereas I've grown to consider the inclusion of such decals, as a hallmark of many other Kagero offerings, making them quite desirable as a consequence.)
Rear Cover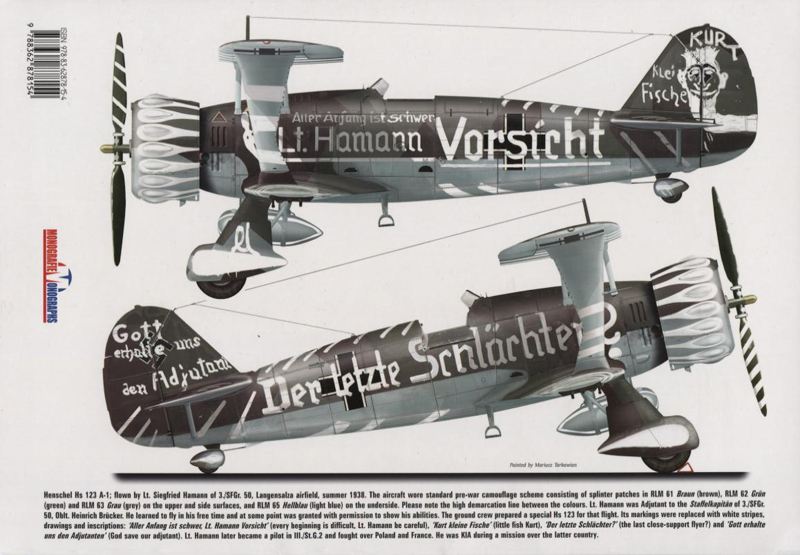 Summation
For me to loudly proclaim that these books are a desirable addition to the aviation library, is nothing more than an honest appraisal of what I feel is the great value these books bring to the table, even with the limitations of the approach. If you like slick drawings, this book is a must. If you're looking for much more historical content and/or details, you're probably better off seeking that elsewhere.
Even if you have only a passing interest in this unique airplane, you can't go wrong with the purchase of this book, all things considered. You might just even become a fan.
On a scale of 1 to 10, I'd rate this book as a 10, given the overall apparently high quality of the paper stock and nice drawings. While perhaps not everyone's cup o' tea, it's still a viable additional reference for the aircraft, at least as far as I am concerned, and given the general paucity of books specifically dedicated to this machine, is a most welcome addition to my own personal library.
© Kevin Williams 2017
This review was published on Tuesday, October 10 2017; Last modified on Wednesday, March 16 2022