Trumpeter | 02408: 1:24 Messerschmitt Bf 109G-6 (Late Version)
Reviewed by Kevin Williams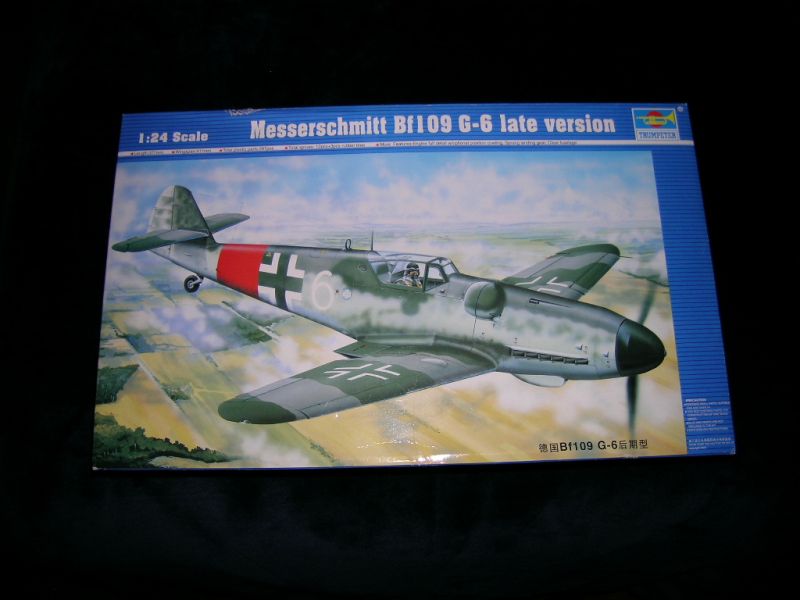 I decided at the outset to remove myself from the somewhat typical and lengthy description of the "109" technical development and operational history. I will however say that I personally believe that for all the work the 109 squadrons performed, from the early Spanish civil war campaign, all the way through to the closing days of the war, the 109, in all of its various iterations, still stands as a truly iconic and legendary fighter plane, and a design that will undoubtedly continue to withstand the test of time for many, many more generations of historians and enthusiasts to come.
While clearly not a new kit by any definition (first available somewhere around 2003, I believe), I just finally got my hands on one, so thought I'd provide a look-see as to what's in the box. (Since this is more of an in-box review than a build review, I have no photos of assembled sub-structures, so this look should be considered more of an overview of the various areas I thought might be of interest.)
Instructions
---
Instructions are depicted in a sort of typical pictographic way, making assembly a reasonably straightforward process. Instructions have a few minor errors (such as flaps and ailerons being referred to as ailerons and flaps), but are generally well illustrated, and while not stupid proof, should prove more than adequate. A nice parts chart is also given, something I'm quite fond of, as it makes looking for parts, especially the small ones, far less tedious.
Parts Trees
---
Pretty self explanatory here, just a basic overview of the parts trees that are provided in the kit.
Decals
---
Markings are provided for two Bf 109s:
Bf 109G-6/U3: I/JG302 "Wild Sau", piloted by Willi Reichke
Bf 109G-6/U3: I/JG53, piloted by Erich Hartmann, the "Ace of Aces"
Decals appear to be in register, quite opaque, with good coloring, well detailed and also include plenty of stenciling. Decals are an Aeromaster product, but printed by Cartograf, so should be splendid to work with. While it's somewhat tempting to do the winter white G-6 that Hartmann flew (the Ace of Aces, with an astounding combat record (352 confirmed victories), that will never be surpassed), it's already been done to death by others, so scrounging through some spare 1:24 Luftwaffe decals, should provide many other options.
Miscellaneous Documentation
---
Trumpeter has also seen fit to include some interesting additional color documentation with this kit, in the form of an Aeromaster color chart, with color profile illustrations of the two included schemes, as well as smaller partial plan, and partial inverted plan views depicting wing colorings and national marking locations. The reverse of this graphic insert, also highlights different colors that are an apparent match for typical Luftwaffe RLM colors, from the Model Master Acryl, Model Master II enamels and Floquil/Polly Scale lines, a nice touch, as far as I am concerned.
Air-frame/Wings
---
Now that I have the kit "in hand", I can say that the surface detailing, not that I ever had any doubts, is very delicate and refined. Main wheel wells look acceptable, shape and proportion wise, OOB, but well detail, in particular, is sorely lacking, as there is no canvas liner/shield depicted in well proper. Barring the inclusion of that liner/shield, well walls would have many rivets and lightening holes, whereas kit well walls are bare & smooth. Well roof detail, however (molded on interior of upper wings), really looks the part to me, though locating holes for wheel/tire blisters (to be installed on upper wing), will need to be addressed, preferably before joining upper and lower wings, as they'll be much easier to access at that time. While an attempt has been made to depict the lightening holes in leg well area, the oval hole representations themselves are solid. If these were to be ground away from the back side to open them up, this would be an easy way to lend more authenticity to those areas.
Flying Surfaces
---
All of the flying surfaces display the same well refined and great looking surface detailing/proportions that is common to all other areas of the kit, and after a coat or two of paint, should still be readily visible, unlike some kits (think Hasegawa here). Designed to be operational, using pins and P.E. parts, I think I'll just skip all that silliness and glue mine in a fixed position. As is unfortunately all too common with this manufacturer, the mad ejector pin designer, has seen fit to add pin marks all over the place, especially noticeable in the radiator cooling flaps, both lower and upper, the upper in particular. This is certainly not an insurmountable problem by any means, just more of a minor irritation.
Cockpit
---
Not a lot to be said here, save for the notion that if one takes his time, the cockpit has the potential to be built into a very nice (and seemingly accurate) representation right out of the box. While some AM belts, gauges, and a few wires here and there, will certainty add to the overall effect, I personally believe it's not an absolute necessity. More poorly placed pin marks again, naturally.
Engine & Related
---
The Engine is another area that seems to be nicely detailed, quite "busy" and will look excellent on those models where the builder decides to leave it exposed (I will not). When all assembled, this will appear to be a fairy accurate rendition of the DB engine. Not perfect by any means, but with a few added details here and there, I believe it could look just swell. The ejector pin marks on the interior of the supercharger intake, will, of course, definitely need to go away. Kit provides one propeller/spinner assembly, and certainly seems to look the part, catching the curvature and proportions of the spinner very nicely, while chord proportions, along with blade twist also look good, at least to my eye. There have been any number of observations that Bf 109 spinners in kits, seldom seem to capture the subtle curvature of the 20mm cannon opening, and Trumpeter missed it too, but given that so few folks are actually even remotely aware of the realities, I don't really see this as any real big deal, but that's just me.
One will also take notice the very prominent slide mold marks on both cowl inserts, but a few swipes with a sanding stick and some Scotch-Brite, and they'll be as good as new.
Somewhat typical of Trumpeter, it would seem, are the included rubbery, vinyl like "J" parts accessories; engine wiring harness, brake lines, as well as all three tires. I'm not at all wild about these rubber tires, but at least for the mains, Barracuda has come to the rescue with a drop dead gorgeous set of resin wheels (BR24325), reviewed here by Kevin Futter.
Clear Parts
---
In addition to the entire fuselage sprue being offered in clear plastic (an anomaly in its own right, given that the only cowl inserts, are molded in gray plastic), not one, but as has become standard practice with many of their 1:24 sale kits, two complete and identical ("I") clear parts sprues have been included, and I think this is just an excellent idea, as many a modeler has irreversibly mangled a canopy or windscreen (or both), and this practice offers up a solution to that particular dilemma, so kudos to Trumpeter for their thoughtfulness here. All clear parts are just that, crystal clear, and look just great.
---
Note: one part that should be clear, or at least partially, is the head armor for the pilot. Trumpeter has molded this as a solid piece, whereas the bullet proof glass should, of course, be clear.
Fuel Tank/Pylon
---
Not a lot to be said here, really, one standard German drop tank, and one CL pylon, both simplified a bit, but in 1:24 scale, still a bit large and impressive looking. Some may choose to go all nuts here, adding salient details, but quite frankly, I think it looks pretty good "as is".
Stores
---
The only external stores provided, as such, are the two under-wing (R6) 20mm gun packs. Gun itself is somewhat simplified and basic, but since it's tucked up inside the gun shroud anyway, this, to me, is somewhat irrelevant. I'd certainly recommend chopping off the barrels and using small diameter tubing instead though, and that should enhance the look considerably. If guns are installed properly within shrouds (there are alignment pins for that purpose), cannon discharge ports line up well with the ports in the shrouds themselves. Somewhat mystifying to me, is the fact that the ammo magazines and feed chutes for the cannons are included for installation within the wing, though no one will ever see them. (I'll be building mine as a Bf 109G-6/R6, so the inclusion of these gun packs, is a welcome addition indeed.)
Landing Gear and Doors
---
Main wheels/tires look to be molded excellently, with authenticity readily captured, though tires are again, another weak point in my opinion, being molded in a soft rubbery material, that quite frankly, is probably the weak link in this entire kit. Thankfully, Barracuda has come to the rescue here, with the main wheel/tire set referenced above.
Interior area of inner wheel well doors in particular, look quite nice, and should really be visible on the finished model, enhancing greatly the appearance of this area. Door interiors, once again, are just peppered with ejector pin marks (7 per door), and will need to be carefully filled/sanded smooth.
Photo-Etched Parts
---
One P.E. fret (stainless steel) is included, and contains the crazy, and somewhat jury rigged flight control articulation pieces. Personally, I see this as a major disaster waiting to happen, and will just glue everything into place, opting to not use these parts, and thereby maintain my sanity.
Miscellaneous Plastic Parts
---
There were a few portions of the kit that I photographed, but had no specific category for, so I decided to just lump them all together here, as they are undoubtedly relevant.
Miscellaneous Bagged Parts
---
One small bag of parts is included, with the coil springs for the (functional), MLG, as well as an assortment of steel rods, that along with the P.E., form the basis for the articulated flying surfaces.
Summation
All in all, I think this is a great effort from Trumpeter, with overall proportions and detailing looking pretty good to my eye, despite being somewhat simplified here and there (the cockpit, in particular, comes to mind). Despite the usual overly passionate ejector pin designers efforts, which after all just require some filler and sanding, a pretty straightforward model, with tons of "stage presence" is definitely possible, if one wants to make the effort. Several additional AM items are available for this kit, MGs, decals, photo-etch, belts, wheels, etc., so enhancing it somewhat, should be a snap. I am very pleased with what I've found thus far, and anxiously await the opportunity to begin working on my example.
My review copy compliments of a really good forum pal, Mark (dodgem37), and now..."it's mine, all mine"!
© Kevin Williams 2017
This review was published on Wednesday, October 04 2017; Last modified on Wednesday, October 11 2017