Videoaviation | 141832: 1/32 MHU-12 Munition Trailer
Reviewed by Ray Peterson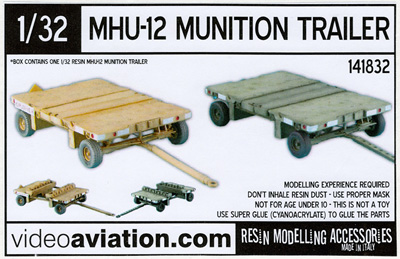 VideoAviation offers the MHU-12 in this well done model. They give you optional parts for your choice of two versions: the early Viet Nam-era version and the modernized version, the /M, with a solid tubular tow bar and wider tires. Note this model can be built either as a flat platform utility trailer as per the boxtop illustration, or set up to carry ordnance as they show in the instructions. Also, the ordnance supports are provided individually so they can be spaced for whatever ordnance you want to place on the trailer.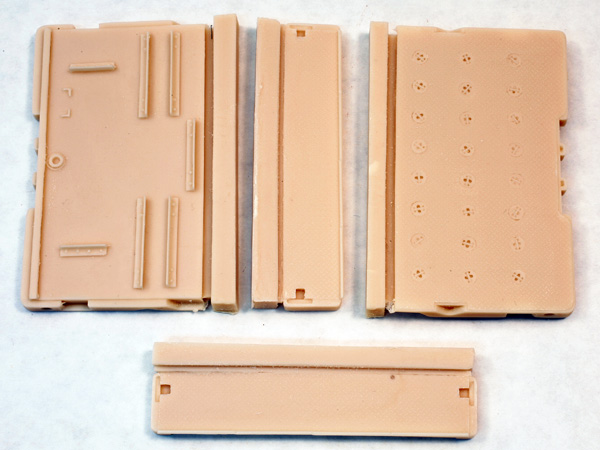 ---
The kit has 54 resin parts (you will only use 49 parts once you decide early or late) and includes a small decal sheet of stencils and a short length of styrene strip. Ordnance isn't included, but several different options are available separately from Videoaviation. All the resin parts are well detailed, beautifully cast, and exhibit no air bubbles or distortion even along long thin lengths. The platform has petite tie-down detail on top and crisp reinforcement angles underneath. Axles have wires cast within. The parts come very well packaged in a sturdy box with instructions on three 8" x 11 3/4"(A4?) pages. Construction diagrams are well-drawn exploded view style drawings and make construction look relatively straight forward. A few photos of real trailers are also on the sheet. Two view drawings provide decal placement.
Decals consist of the ordnance warning diamond and white strips and look well printed. Note the two warning decals are meant to be placed on what on real life would be removeable pieces. The red diamond is normally on a plywood square which in the kit is provided as a resin square, part #24, and the red on white 'EXPLOSIVE A' which would typically be a thin sign is provided as a decal to be placed on a piece of paper or plastic card stock. These would not be attached to the trailer if it was unloaded.
The MHU-12, built as an early version, would suit Viet Nam era bases, and as the later version they soldiered on into Iraq at the least. Instructions suggest a basic yellow color for the early type, and the standard green for later in life.
It is nice to see the aftermarket providing some airfield support equipment for those of us who like to place their aircraft in a diorama setting.
Highly recommended!
Many thanks to VideoAviation for the review sample.
© Ray Peterson 2017
This review was published on Saturday, September 30 2017; Last modified on Wednesday, October 04 2017