AOA Decals | 32-024: VA-65 Tigers (2) USN A-6E TRAM Intruders in the Cold War & Desert Storm
Reviewed by Kevin Williams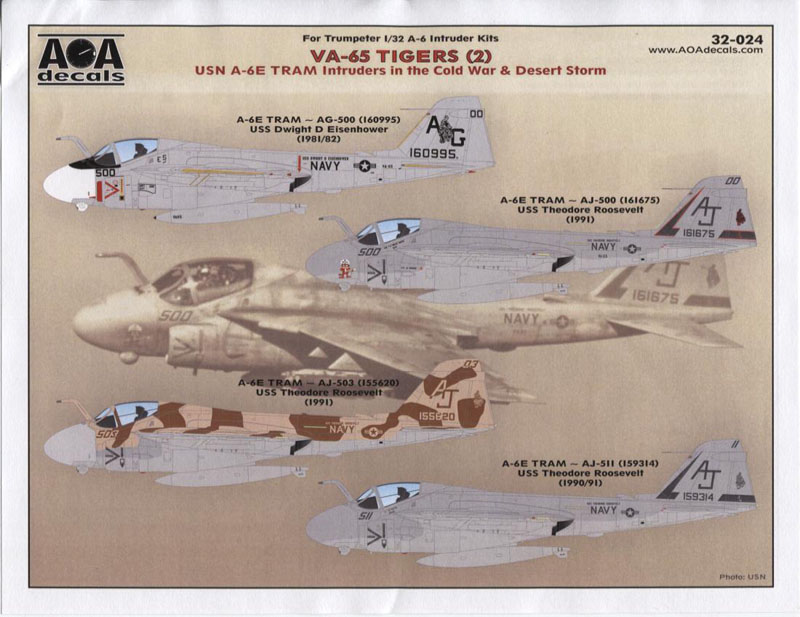 Introduction
A new release by AOA Decals is dedicated to the Grumman A-6E Intruder, specifically, in this case, the TRAM (Target Recognition and Attack Multi-sensor) model of Navy Attack squadron VA-65 (Tigers). The Intruder, certainly a well known attack aircraft, here receives an expansive set of decals that represent several TRAM Intruders that served during the Cold war era, as well as Desert Storm, and I would think should be well received by the many, many Intruder fans out there.
Schemes & Placement Directions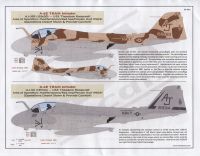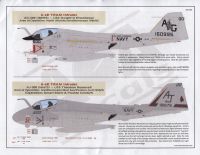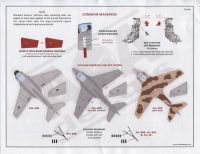 ---
This set includes markings for 4 aircraft. Instructions state that stencil decals are not included, as generally, these specific aircraft did not have them applied.
As stated above, no less than 4 different air-frames are depicted on this set, and all depicting one particular VA (Navy Attack) squadron, and all are A-6E Trams, those being (in no particular order):
160995 VA-65, "Tigers", 1981-82, nose number 500 (AG-500)
161675 VA-65, "Tigers", 1990-91, nose number 500 (AJ-500)
155620 VA-65, "Tigers", 1990-91, nose number 503 (AJ-503)
159314 VA-65, "Tigers", 1990-91, nose number 511 (AJ-511)

The Meat Of The Set

---

The decals are printed by Cartograf of Italy, so have their historically typical very high quality (perhaps the best there are), with excellent registration, opacity and vivid colors. One rather large sheet (7-7/8" x 10-1/2") is provided, comprising national insignia (4 positions), carrier names, unique aircraft art, as well as intake warning markings, and various smaller bits. The main sheet, is really a sight to behold, being very busy, with all manner of interesting squadron insignia, etc. All aircraft are to be painted in various combinations of colors, dependent on the individual aircraft, to include FS36440, FS36320, FS36375, and a brown/tan color (no FS equivalent specified), so nothing really all that unusual there. Notes are thoughtfully provided that point out unique features of each machine/time-frame, and seem to quite comprehensibly address all pertinent visual differences.

Small stencil decals are also provided for both ejection seats, something I see as a very nice touch, as the seats are really quite prominent in the open canopy position.

Note: The decals have obviously been designed specifically for the Trumpeter A-6 kit, the only serious game in town, really, and are specified as such.

Hints & Tips

---

A small (5-1/2" x 8-1/2") sheet is also provided here, offering up suggestions for correcting/modifying certain features, to reflect the realities of the specific aircraft.

Conclusion

In summation, I see these as a very worthwhile and impressive effort from the folks at AOA, and seems consistent with the overall quality and research that they have come to be known for. I've already now added a Trumpeter A-6 kit to my "wants list", based upon my receipt of this set, as well as 32-023, a review of which, will shortly follow this one.

Highly Recommended.

Review decals kindly provided by AOA Decals.

© Kevin Williams 2017

This product is available from the following LSP sponsors

This review was published on Thursday, October 19 2017; Last modified on Thursday, October 19 2017