Kagero | Curtiss P-40 Warhawk (Tomahawk/Kittyhawk)
Reviewed by Kevin Williams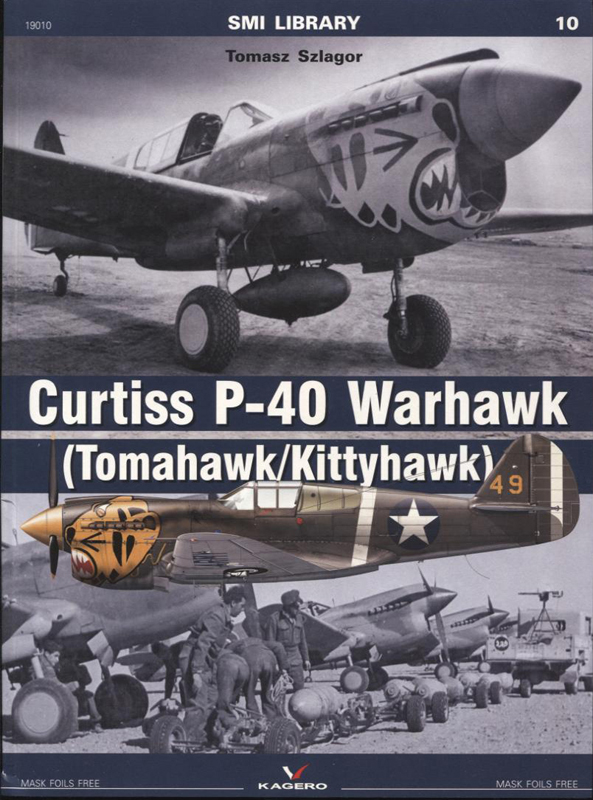 Publisher: Kagero
Author: Tomasz Szlagor
Publishing date: 2015
ISBN: 978-83-64596-31-5
For me, the SMI Library series books from Kagero, represent great value for money, featuring excellent archive imagery from WWII regarding the chosen subject, as well as several marvelous illustrations of chosen and representative subjects, along with a choice few color photos.
This particular book (No. 10 in the series), depicts the ubiquitous Curtiss P-40 Warhawk, Tomahawk and Kittyhawk, and it's chock full of representative material;… live in air shots, as well as many photos on the ground. Not at all a new book (published in 2015), it's still quite a viable addition to my references collection. I've been collecting this series since it's inception, and have every intention to continuing to do so. Rounding out this volume, is a rather nice collection of profile color illustrations. Several notable detail shots appear, mostly incidental I suspect, but nonetheless add greatly to the overall sense of general coverage.
One disappointment: no decals are included in this particular volume, which is something that I've grown rather fond of, and was yet another selling point for the series. Included instead, is a masking set (not foil, more of a vinyl/paper type material) for US national insignia, in this specific case, for 1:72, 1:48 & 1:32 scale.
Typical Photo/illustration Quality to be Found Throughout
---
The photos and illustrations pretty much speak for themselves, and in my opinion, are the best selling point of the series (along with the decals, when present).
Rear Cover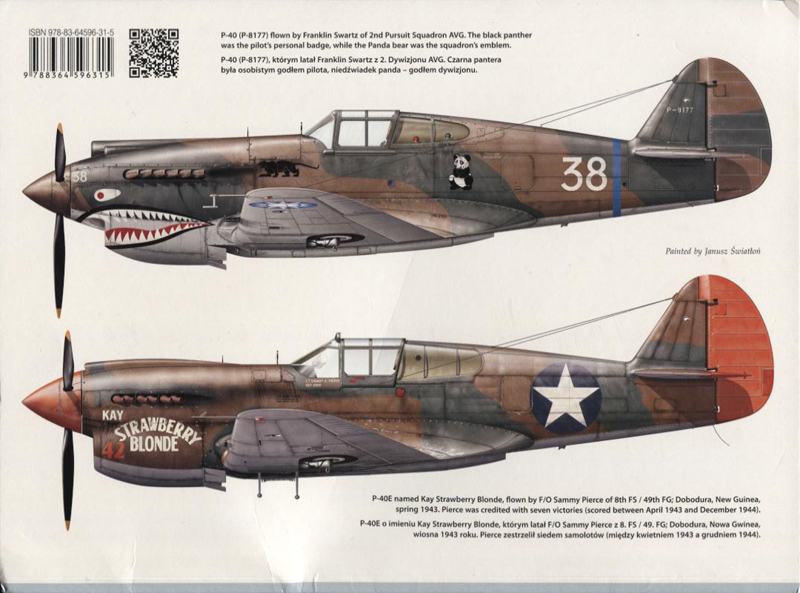 For me to loudly proclaim that these books are a desirable addition to the aviation library, is nothing more than an honest appraisal of what I feel is the great value these books bring to the table, given the overall quality of the paper, great photo selection (many of which I've never personally seen before), and terrific illustrations.
Even if you have just a passing interest in The P-40, you can't go wrong with the purchase of this book. You may just become a follower. As a bit of a diehard fan of the iconic P-40 myself, I was thrilled to get my hands on this book, and it will join the ranks of the other delightful SMI Library books already in my collection.
On a scale of 1 to 10, I'd rate this book as a 10, no question about it. There are currently a few more volumes in the series that I don't yet have, but I'll be adding them all to my personal library as soon as I'm able, I enjoy them that much.
© Kevin Williams 2017
This review was published on Thursday, December 21 2017; Last modified on Sunday, December 05 2021