Wingnut Wings | 32085: 1/32 Jeannin Stahltaube (1914)
Reviewed by Kevin Futter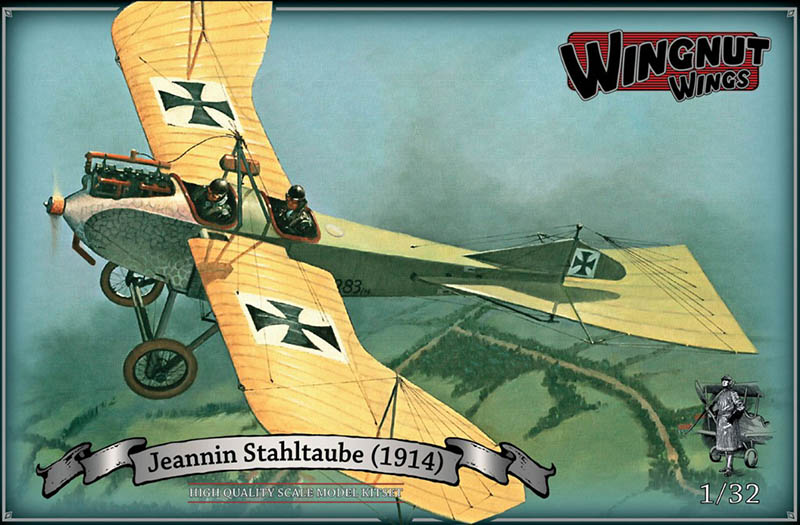 When New Zealand firm Wingnut Wings announced this kit earlier in 2017, it seemed a rather surprising subject choice, and one that could potentially be difficult to replicate in injection-moulded plastic. I saw a set of test sprues in June, and it was clear then that the company's experts had indeed managed to capture the delicate and somewhat agricultural nature of this early military aircraft.
The kit has now been officially released, so let's take a look at what's in the box. Quoting from the Wingnut Wings website:
43cm x 30cm - High quality Cartograf decals with markings for 5 aircraft - 165 high quality injection moulded plastic parts including very fine 0.3 to 0.5mm thick wing warping control surface areas - Optional propellers, exhaust manifolds, engines, header tanks, gravity fuel tanks, wire wheels in injection moulded plastic or photo-etched metal, 20kg Carbonit bombs and Luger pistol armament - Highly detailed 100hp Daimler-Mercedes D.1 and 120hp Argus As.II engines - 21 photo-etched metal detail parts including optional wire spoke wheels - Fine in scale rib baton detail - Full rigging diagrams.
The Plastic Sprues
The aforementioned 165 injection-moulded parts are contained on five large sprues—six, if we consider that sprues D and E are joined.
---
Much has been made of the wafer-thin moulding of the wing-warping sections of the outer wings, and with good reason: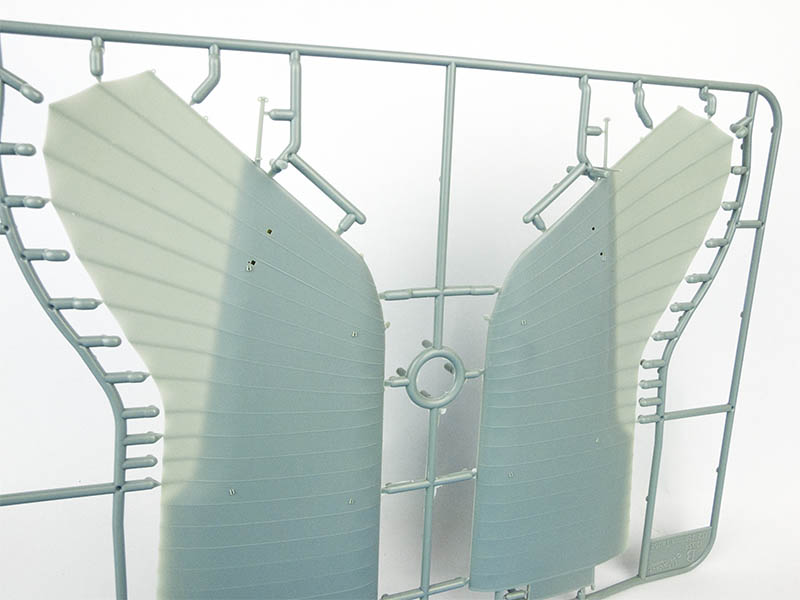 As you can see in the photo above, these sections are so thin as to be translucent, and will in fact require some careful handling if they're not to be damaged during construction. I recommend always handling the wings by the larger, thicker sections, and ensuring the that the former never has to take the weight of the latter.
Aside from that rather impressive feat of injection moulding, the rest of the kit meets the already high standards that Wingnut Wings sets with its kits. For example, the lettering on the tyres is not only crisply moulded, but clearly legible with enough magnification: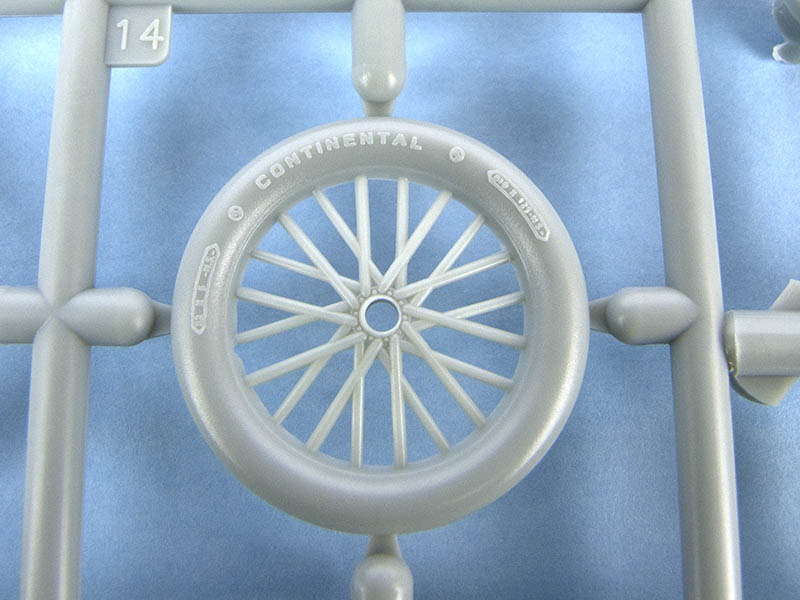 Likewise, the detail moulded into the radiator faces is very crisply done, as is the pipe-work itself: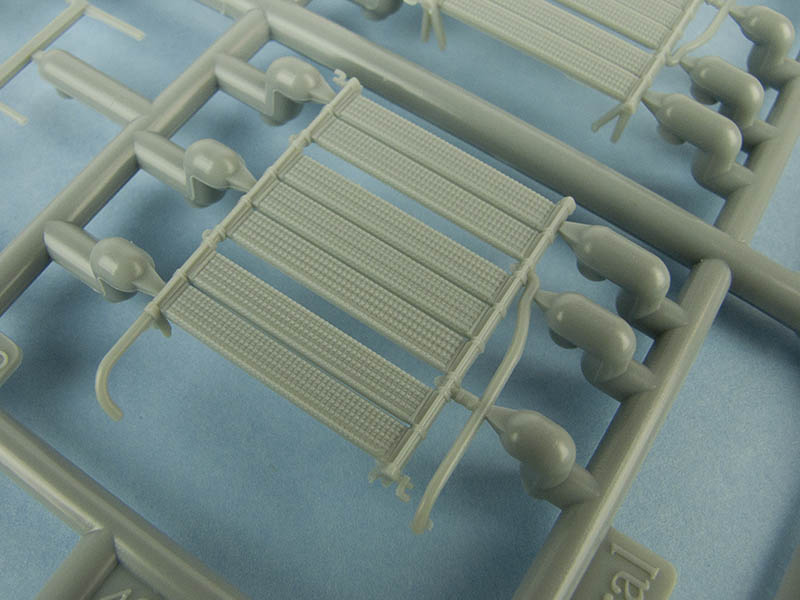 Speaking of pipes, the injection-moulded exhaust pipes feature hollowed-out ends: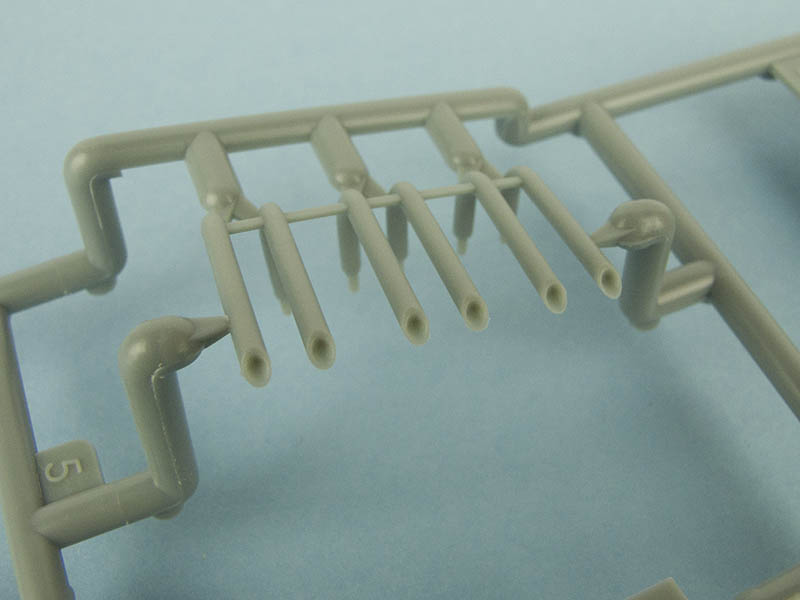 Another little surprise found lurking on the sprues is a set of injection-moulded turnbuckles: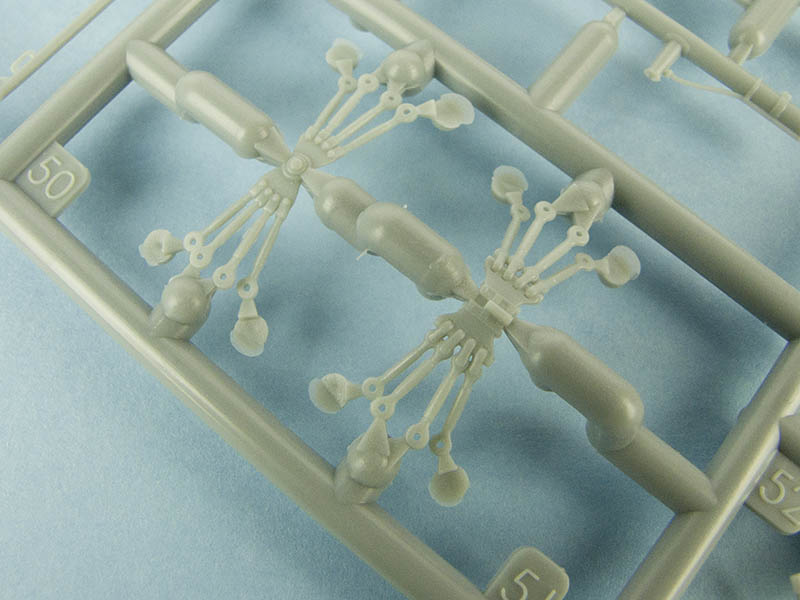 Turnbuckles are not normally included in model kits, but in this case they form an integral part of the structure of the aircraft, and it would be difficult for the average modeller to replicate this particular arrangement using available aftermarket parts. While they're not as refined as their aftermarket cousins, they will certainly scrub up handsomely with some careful painting.
A pair of flight crew seats is provided, but as is standard practice with Wingnut Wings kits, no figures are included. They feature some neat moulded-in detail to represent seat padding and a hint of structure: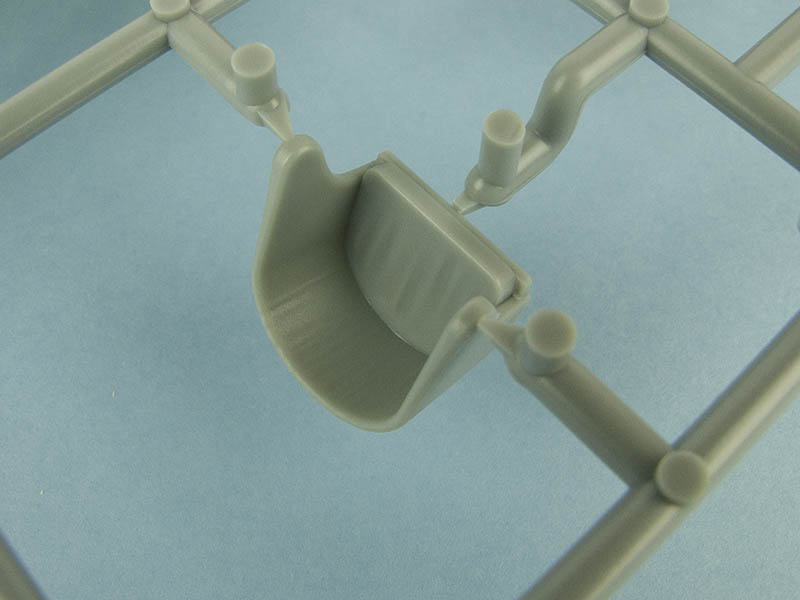 The interior sidewalls of the fuselage are largely devoid of detail: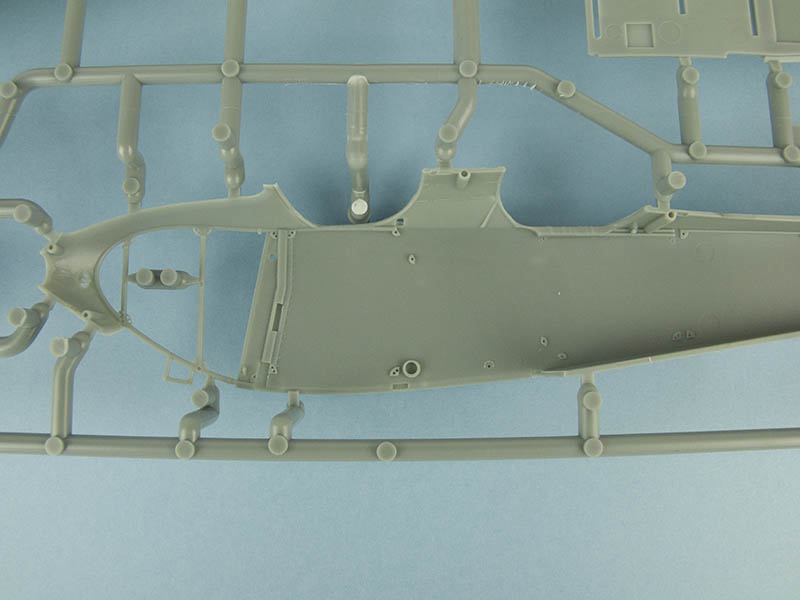 That said, there's no shortage of delicate framing and piping that contributes to the various sub-assemblies of this model, so there's plenty of detail on offer, as well as plenty of challenges: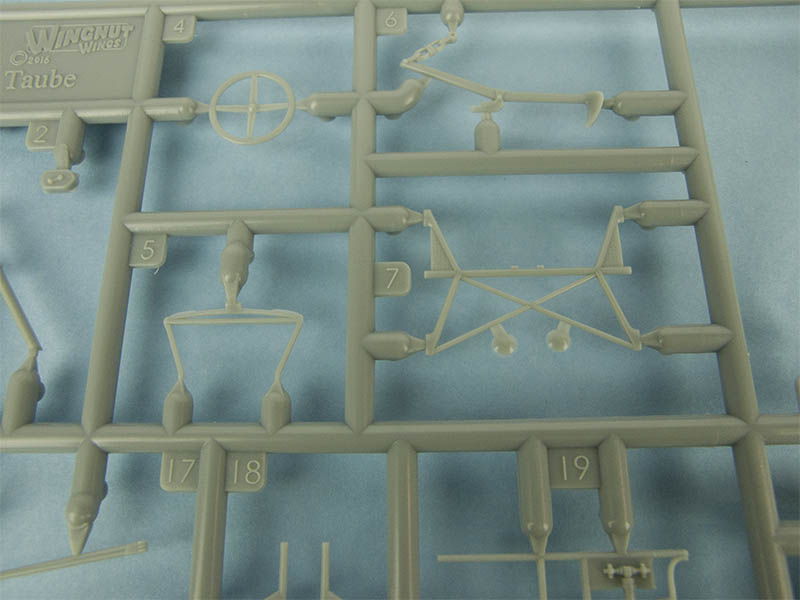 Removing some of those parts will require a great detail of care!
The Clear Parts
There is in fact only one small clear sprue, and it contains a mere two parts: a forward windscreen, and a tiny clear fuel gauge to suit four of the five options on the decal sheet: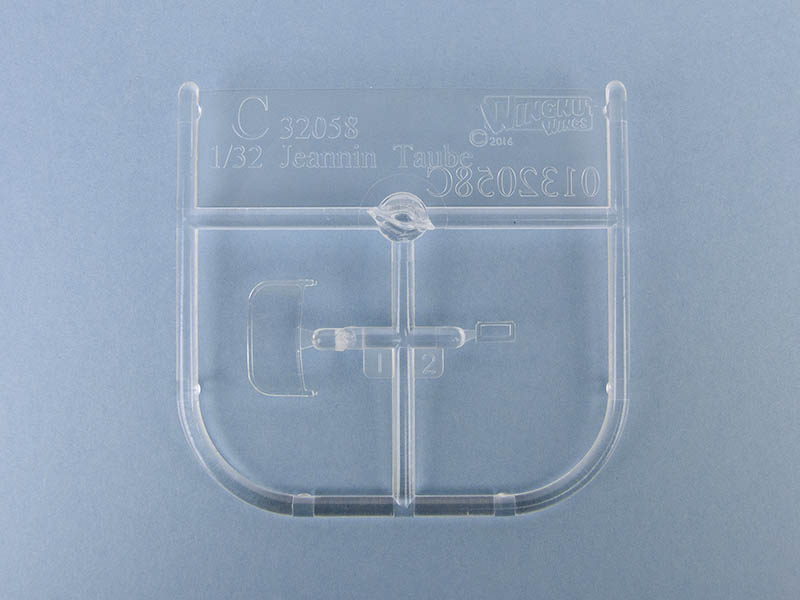 Photo-etched Fret
The photo-etch fret supplied in this kit is relatively substantial compared to the minimalist offerings in most Wingnut Wings kits, containing not only the usual seat belts and buckles, but also a full set of spoked wheel hubs: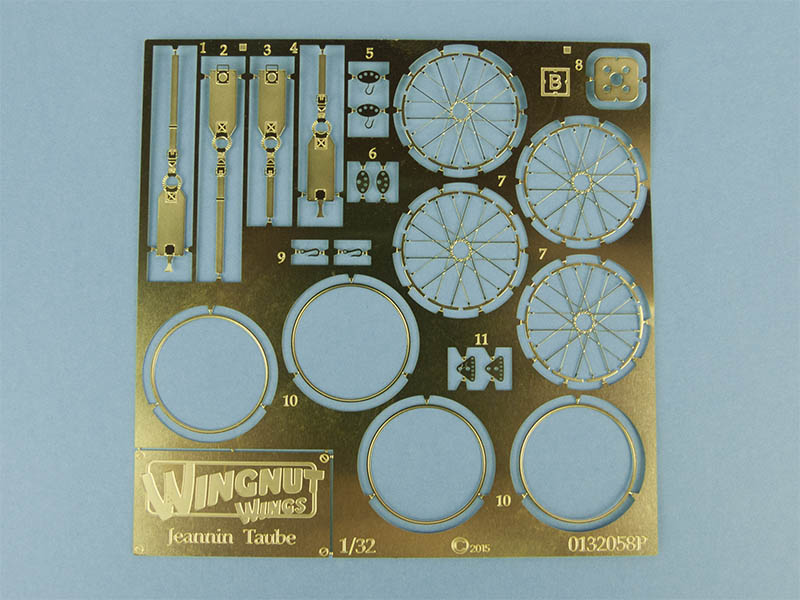 Wingnut Wings has thoughtfully provided a pair of spokeless wheels to accommodate the photo-etched parts, but as noted in the instructions, this exercise is for experienced modellers only.
Note that part 8 on the fret is actually a template to assist with fashioning an X-shaped cut-out that exists under the nose of some aircraft.
Decals and Markings
A single large decal sheet is provided, which houses the entirety of the relatively simple markings for each of the five provided options: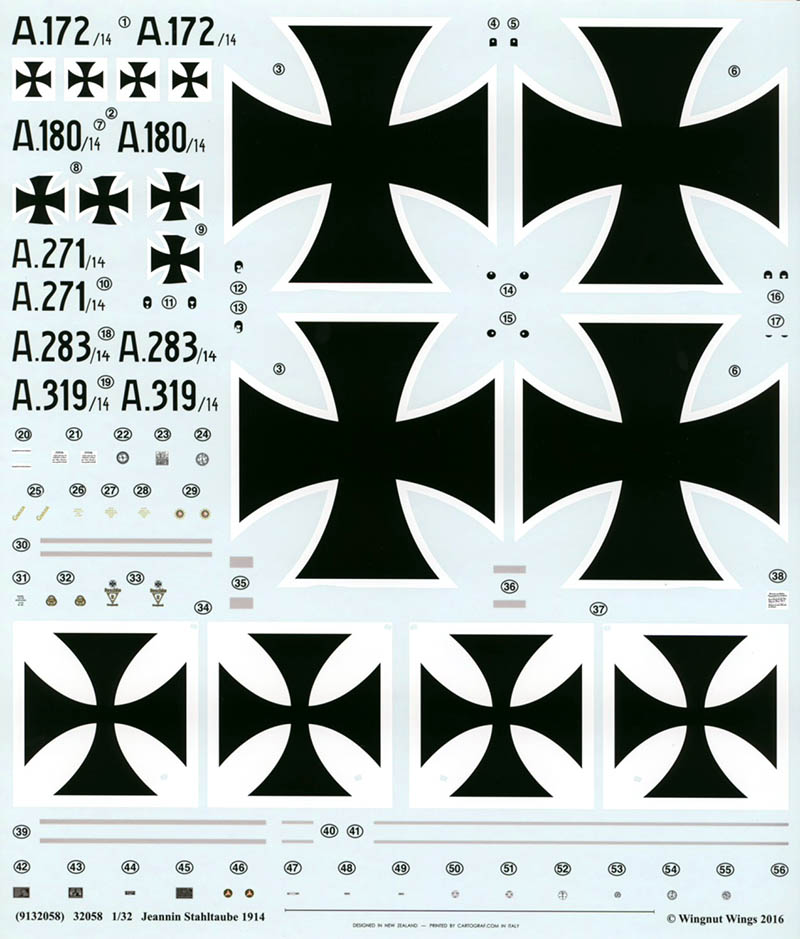 These are exquisitely printed by Cartograf in Italy, and exhibit perfect registration, finely-printed details and no obvious signs of translucence.
The five included schemes are as follows:
Jeannin Stahltaube 172/14, Lt. Fritzlohn (?), Adlershof-Johannisthal, late 1914 to early 1915
Jeannin Stahltaube 180/14, Deutches Technikmuseum Berlin
Jeannin Stahltaube 271/14, Emil Wendler, Adlershof-Johannisthal, late 1916 to early 1917
Jeannin Stahltaube 283/14, Adlershof-Johannisthal, 1915
Jeannin Stahltaube 319/14, Armee-Flug-Park 9b, early 1915
---
The Instruction Booklet
The instruction booklets supplied in Wingnut Wings kits have become legendary, and with good reason. The production values are equivalent to a glossy magazine, and to refer to them as mere instruction booklets does them a grave disservice.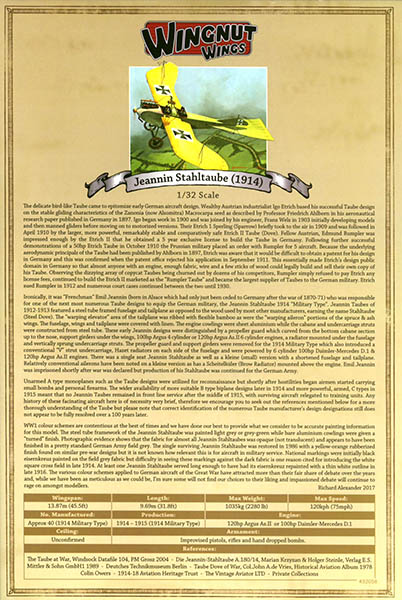 ---
The cover features a potted history of the type, including a specifications table. This material is also available on the Wingnut Wings webpage for this kit.
Conclusion
While this might not have been the most obvious subject for Wingnut Wings to work its magic on, it is magic nevertheless, and ardent fans of WWI aircraft will already be rejoicing. Being a monoplane, the build should be relatively straightforward, but there are still some challenges to contend with—especially if you plan to utilise the photo-etched wheel hubs. The multitude of delicate frames and pipes will also require some very careful handling, lest the whole thing end in tears.
That said, Wingnut Wings has produced yet another gorgeous kit, and has done everything it can to minimise its complexities. And if you have the requisite desire and a modicum of experience, Wingnut Wings kits practically recommend themselves.
Thanks to Wingnut Wings for the review sample.
© Kevin Futter 2017
This review was published on Friday, October 27 2017; Last modified on Sunday, November 05 2017