Mr. Hobby | PS-270 Airbrush
Reviewed by Mitko Nikitov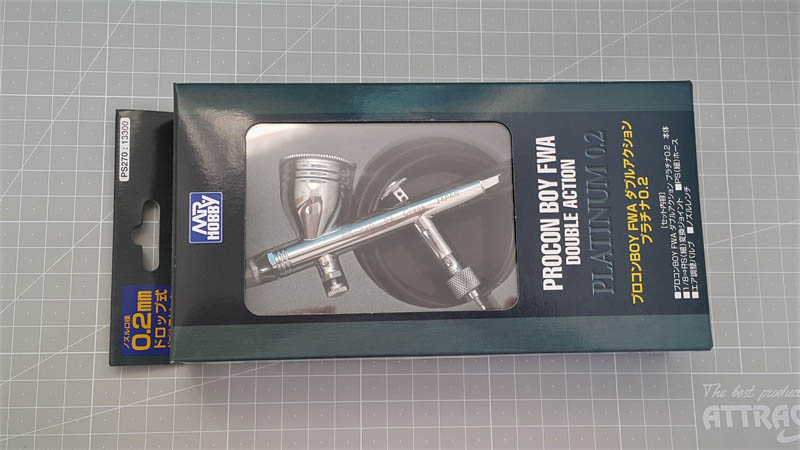 Introduction
Every once in a while, one must buy a new airbrush. It is not the most desired purchase, but after couple of years, tools of every artist must be renewed. Many might disagree, but the truth is that after decent usage, the airbrush starts showing signs of wear and elevating the level of the gun is never a bad thing.
Since I am using mid-range airbrushes for some time now, I decided to test a new brand, different design and abstract approach to airbrushing. I have tested DeVilbiss, H&S Infinity, higher-end Iwatas and even though they are different, I never kept any of them for constant usage.
I choose to stick with Sparmax, Iwata HP-C Plus and from time to time dual-action Chinese cheapos, latter one airbrushes that you cannot truly rely on, but in the same times expendable. So in time, I wanted to make a step up, mainly in precision and comfortability but never found the suitable airbrush for me. The one I will describe here made some difference.
Boxing
The box that PS-270 comes in, is wrapped in a thin cardboard packing, with translucent opening on top, to show the airbrush partially and featuring some, but not complete information about the tool. It is the Platinum .2mm Procon Boy FWA and it is a high-precision tool that comes from Japan.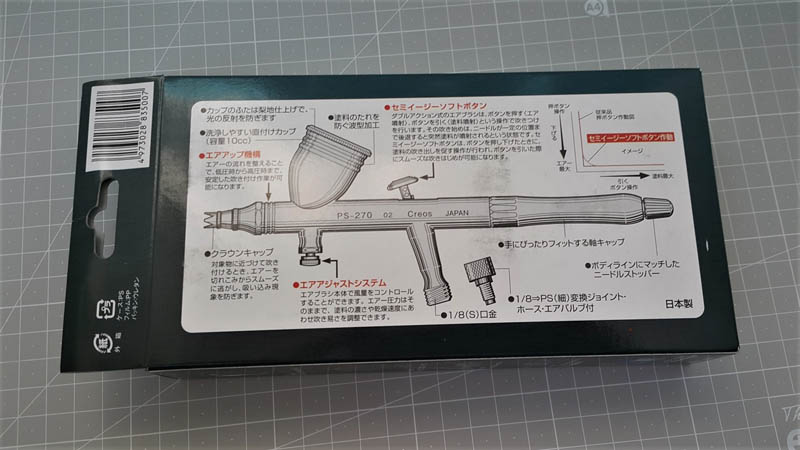 On the back of the box there is a profile drawing of the airbrush, with abundant description of its features, unfortunately in Japanese. And since I am not fluent in that language, although I respect it a lot, I will try to give my own perspective about PS-270 led by experiencing it.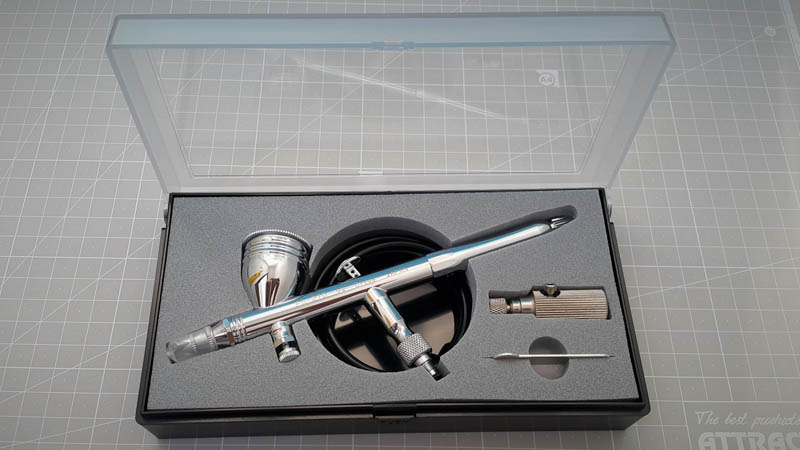 Instructions
Once you open the box the first thing that you get your hands on are the instructions. There are two sheets inside yet again – in Japanese mostly. The first one is the troubleshooting and maintenance guide which is in Japanese only. Fortunately, there are very cute drawings of a boy who does stuff with the tool and explanations how to cope with everything. The numerous drawings makes it self-explanatory though.
The other sheet is a leaflet-like instructions, with English translation of most of it. Here things are more serious. Installation for example, depending on what air supply you are using made great impression at first glance. If you are supplying with a can (something that I doubt anybody will want), there is a connection included in the set. If you are using compressor – there is another way. The one we all know.
The regulator beneath the color cup is explained thoroughly enough, for those who are stepping up and are using such airbrush for the first time. Nicely hinted is that if you are using metallic paints for example, you might want to play with it before you apply on your model.
There are also some hints about how to dilute the paint, what to expect and suggestions for using Mr. Hobby paints properly, which actually goes almost the same for Tamiya paints. For the rest it is to be learned by testing and experience.
---
Airbrush
The airbrush itself is very very comfy. It Isn't heavy, the trigger is soft-ish, but with just the right amount of force needed. At least judging from my personal perspective. Needle stopper is very light to operate with, which you might think can be an issue if you accidentally move it unwillingly. However, I found that this isn't the case with PS-270.
The airbrush itself feels a bit longer in a hand than usual. Well balanced, a bit pointed in the front and definitely different than the most-widely used airbrushes. One thing I need to point out is, that if you are used to painting with both hands (when supporting the front while precise work is done), the fine regulator at the bottom of the airbrush might be an issue. But that goes for most of the higher-precision airbrushes and it is a matter of time and habit.
The trigger is round and a pleasure to be operated, somehow leaving you with a feeling of precision. Actually the whole airbrush does that, probably because of the quality of the tool itself. It reminds me a lot of old Olympos airbrushes, but here everything is refined.
---
The Crown Cap
The only needle cap available in the set is a crown cap. That screams precision of course and the whole look, with that sharp and pointy front end creates that feeling overall. The .2mm needle/nozzle combo is evidence that that was the main idea behind the PS-270.
I love working with crown caps, since they let the air go away and high precision work can be done without removing the cover of the needle completely. In some cases that is needed, but mostly, crown shaped cap does the job just fine.
In Action
I tested the airbrush with enamels, acrylics and Alclad2 metalizers. Enamels I won't mention, since every single attempt with them is trouble-free for me. I love them, and if it wasn't the smell, that would've been the sole type of paints on my bench.
Acrylics tested were Mr. Aqueous diluted with IPA which is my preferred method. No troubles using that and cleaning with IPA and ammonia based window solutions did the job perfectly. The needle remained clean, but here I have to add that the spray session was rather short.
Alclads are great, although .2mm I found to be useful more for shades or panel works, while for larger areas I wouldn't use that PS-270. Not that airbrush is not suitable or anything of that kind, but the precision that PS-270 shows is enviable and I would rather do mottling with it instead.
The lines when spraying close and with fine precision are consistent, flow is gradual and atomization is above what I expected.
Check out the video version of the review below to see this airbrush in action:
Conclusion
Being a rather inexpensive tool, this airbrush performs quite well. Actually, I can compare it mostly with H&S Infinity, maybe a bit lower in quality. Just a bit. Most definitely, way above HP-B Plus that I am using mostly. Still, the price is tempting, which comes as a surprise.
I would suggest picking up some spares alongside the airbrush, just in case, since Mr. Hobby airbrushes are not that widely spread like Iwata, Sparmax and H&S. However, that is in case you kill a decent amount of needles regularly, or you are using harsh cleaners (like I love to do).
Overall, I found it to be the perfect step up from what I used so far. It is not a tool that will bankrupt you, just the contrary. You will be surprised by how much you will get for your buck. In the same time the precision that it shows and the quality of the product are at a very high level. Something that becomes harder-to-find every other year with all the cheap substitutes available on the market.
This isn't that kind of a product. It has the famous flawless Japanese quality and will satisfy most of the needs of almost every experienced modeller. Probably, one can quickly get used to its precision and ergonomics, which can easily turn it into your main gun for a time to come. After trying it, PS-270 have a spot guaranteed on my bench and it will stay a while there, doing the job on my most demanding paint jobs.
Be sure to check Mr. Hobby dealers nearby you for PS-270 and their other models. You will be pleasantly surprised with the prices and the quality of the tools they have to offer.
© Mitko Nikitov 2017
This review was published on Wednesday, November 01 2017; Last modified on Saturday, November 11 2017