Pheon Decals | 32063: Pfalz D.IIIa Decals Volume 3
Reviewed by Mike Swinburne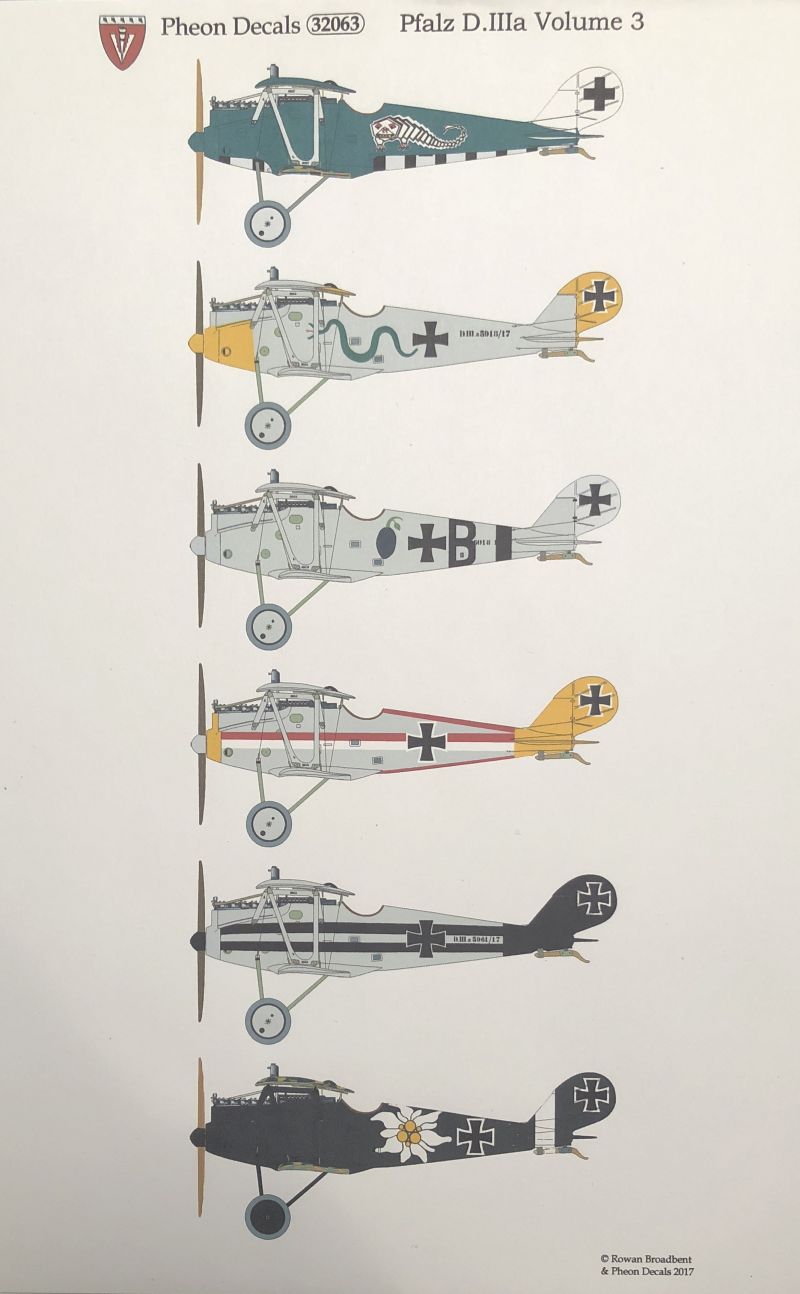 Pheon Decals has released a third collection of 1/32 scale decals with some rather interesting marking options for the Wingnut Wings Pfalz D.IIIa kit. All of the six aircraft featured appear in photographs in the two recent Windsock Centenary Datafiles #173 and #174, "Pfalz D.IIIa At War!" volumes one and two, and all six of these aircraft appear to never have seen the light of day in publications or decals prior to 2017. In addition to the main decal sheet, a tiny correction decal sheet is included along with full-colour profiles of all the aircraft printed on glossy card stock and an eight page printed booklet with brief aircraft history and historical notes on the aircraft and their markings when possible.
Included Aircraft
#8327/17, Ltn. d.R. Eugen Siempelkamp, jasta 29, May 1918. This aircraft is painted in Jasta 29's dark green with black stripes on the lower fuselage painted over the silver Pfalz paint/dope. Wings were 5-color lozenge with lozenge rib tape, with the upper side of the top wing also painted in the Jasta's dark green. A large stylized Tatzelwurm (mythical clawed worm) is painted on the sides of the fuselage.
#5918/17, Pilot unknown, Marine-Feldjagdstaffel (MFJ) II, March 1918. This aircraft was painted in pfalz silver (or silver-gray) with yellow nose, rudder, ailerons, and full horizontal tail assembly. A green snake on the center fuselage completes the unique markings of this aircraft.
#6018/17, Vzfw Hermann Behrends (likely), Jasta 61, March 1918. Overall silver / silver-grey with large "B" on the rear fuselage and brown fruit/nut of some kind painted in front of the fuselage crosses.
#5927/17, PIlot unknown, MFJ II, March 1918. Also painted in Pfalz silver or silver-grey, this one features a yellow nose and all tail surfaces, as well as bold red and white stripes running the length of the fuselage.
#5961/17, Pilot unknown, Squadron uncertain but possibly Jasta 16b, Spring 1918. Another in overall silver / silver-grey paint, with all-black tail surfaces and large parallel black stripes running down the length of the fuselage.
Serial unknown, Oblt. Otto Kissenberth, Jasta 23b, March 1918. One to complete the Kissenberth trifecta with is similarly-marked Roland D.VIa and Albatros D.Va (his decals in both of these sold-out WNW kits). Black-painted fuselage with large Edelweiss flower and wide white stripe across tail and horizontal stabilizer. 5-colour lozenge fabric on the wings.
---
Decal Sheet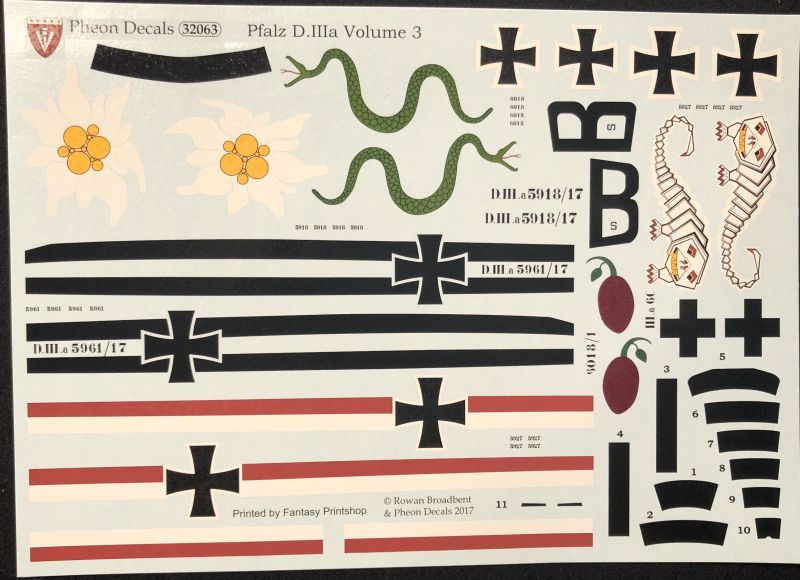 Pheon has again tapped Fantasy Printshop to produce the decal sheet; great as FP has a reputation for superb quality decals. All artwork is printed perfectly in register, and a small supplemental decal sheet is included containing two black triangles. These triangles are outlines for one fang of the Tatzelwurm that somehow missed printing on the initial sheet. It speaks to Pheon's attention to detail and quality when a release is delayed to add such a tiny correction. When markings are not 100% certain, possible alternatives are explained in the aircraft notes and leave the decision to the builder's preference and/or interpretation of the photographs in the two Windsock Datafiles.
Black stripe decals are included for the belly of aircraft #1, as well as a template in the booklet for masking the rear belly of the plane. There's not a template included for the silver area under the nose, but it should still be quite easy to mask and paint without this. The snake decals have some rather nice-looking scales printed on, as does the Tatzelwurm with fine double-lined outlines of the body sections mimicking the multiple photos of this aircraft. Fuselage crosses are printed with the stripes of the two aircraft where appropriate, and other fuselage/tail crosses are included as well. Wing crosses will need to come from the kit decals.
---
No complaints here! Everything appearing perfectly printed, well researched, and quite eye catching. Pheon's Pfalz D.IIIa Volume 3 decal setis available directly from Pheon Decals for GBP15.50. Review sample kindly provided by Rowan and Sabine at Pheon Decals.
© Mike Swinburne 2017
This review was published on Thursday, November 23 2017; Last modified on Wednesday, December 06 2017