Pheon Decals | 32064: Sopwith Camel in Belgian Service
Reviewed by Mike Swinburne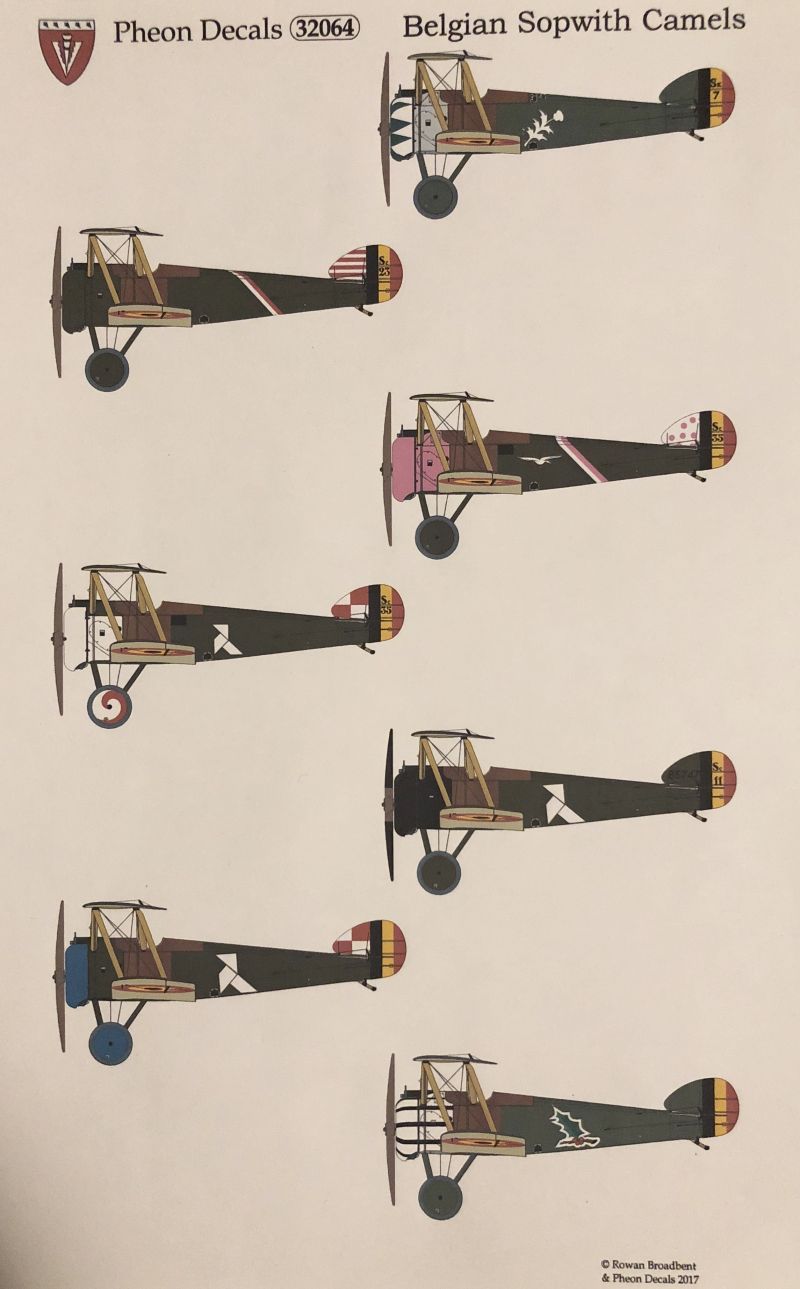 Pheon Decals recently announced multiple decal sets to cover a myriad of Sopwith Camels in 1/32 scale, taking advantage of the new Wingnut Wings kit. The first of these sheets has just been released, focusing on seven Clerget-engined Camels flying with Belgian forces. I'm delighted to be able to add this sheet to my collection, as the markings add some rather unique colours and artwork to the contrast of the PC10/PC12 dope so common on British aircraft.
Aircraft Included
Sk 7 Lt.Jean Olieslagers, 9me Escadrille. White cowl and horizontal tail, both with green triangles. White thistle on sides of fuselage.
Sc 23 Lt.Edouard Tollet, 4me Escadrille. Red/white striped tail and diagonal fuselage band.
Sc 35 Capt. Ernest Mantel, 2me Escadrille. Pink cowl and nose panels, white tail with pink polka dots, white/pink diagonal fuselage band, with white seagull painted on fuselage sides.
Adjutant Léon Cremers, 11me Escadrille. White cowl and nose panels, white/red checkered tail, red/white swirl on wheel hubs, white "paper bird" painted on side fuselage.
Sc 11 (ex B5747) 11me Escadrille. Black cowl and nose panels, large white "paper bird" painted on fuselage sides.
Adjutant Jean van der Voordt, 11me Escadrille, Les Moeres, October 1918. Blue cowl and wheel hubs, red/white checkered tail, large white "paper bird" on fuselage sides.
Serial not known, Capitaine-Commandant Robert M.G.H.Dhanis, 3me Escadrille.White cowl and nose panels with black stripes. Painted holly leaf and branch with bold white outline on fuselage sides.
---
Decal Sheets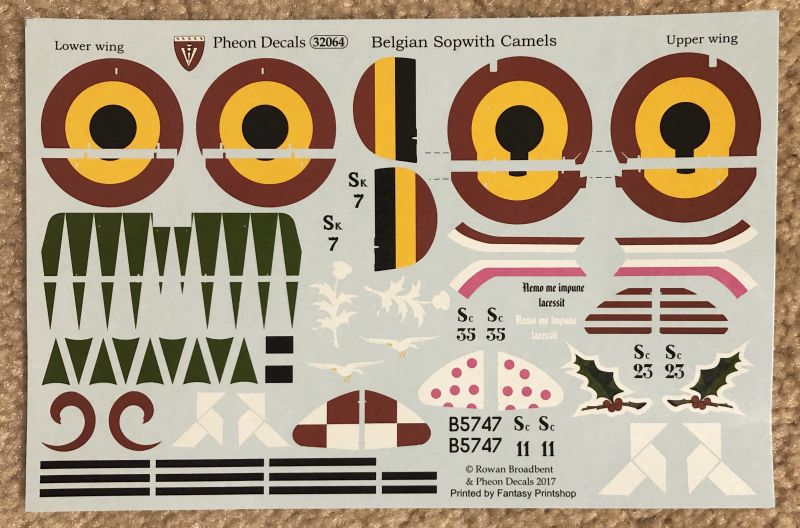 Pheon includes along with the main decal sheet two correction sheets, as well as their standard multi-page booklet with history and colour notes on the depicted aircraft and full-colour profiles printed on glossy card stock. The first supplemental sheet contains replacement cowl and tail triangles for option #1, printed in a darker green than the same decals on the original sheet. A second supplemental decal sheet simply contains two black dots - tiny eyeballs for the seagull decals featured on aircraft #3. It almost seems like it'd be easier to dot some black paint for the eyeballs than maneuver a tiny decal, but this way the builder has the option if they choose to use it. All decals have been printed perfectly in register, and all artwork looks superb to my eyes.
---
One full set of Belgian wing roundels and tail stripes are included, none of these aircraft featured roundels on their fuselages although it is noted in the booklet that the doped-over British roundels and tail stripes sometimes shows through. Rowan has noted in the paint notes for the specific aircraft where photos show this see-through evidence. I find it interesting that of the decals included for the various white tails, two feature a complete tail decal but one contains just the red stripes to lay over a white-painted tail. The phrase painted on the top fuselage of option #1 behind the cockpit is a two-part decal, with the builder needing to place the white decal and then align the black text over it.
---
Pheon has once again delivered a thoroughly-researched and well designed product, filling a void in Belgian military aviation that I believe has never been available in 1/32 scale, and I can highly recommended the product. The Belgian Sopwith Camels decal sheet is available from Pheon Decals for GBP 15.50. My sincere thanks to Pheon Decals for the review sample.
© Mike Swinburne 2017
This review was published on Thursday, November 23 2017; Last modified on Wednesday, December 06 2017