Pheon Decals | 32060: Polikarpov R-1 (Post-War Soviet-Built DH.9A)
Reviewed by Mike Swinburne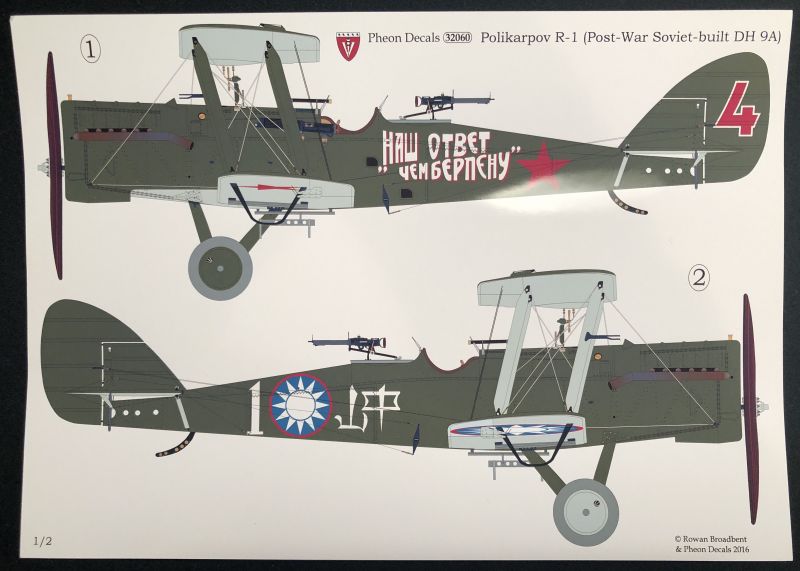 Wingnut Wings released their Post-War variant of the DH.9a "Ninak" kit in late 2015, which offered marking options for four somewhat bland silver-doped British aircraft and one dark green Polikarpov R-1, an unlicensed Russian-built copy of the aircraft. Polikarpov reportedly manufactured well over 2,500 of these copies in the 1920s, and some made their way to fly with Chinese National Revolutionary Army. Within a few months of the late Ninak kit having been released, Pheon Decals brought out two decal sets to give builders some rather interesting marking options, including #32060 which addresses just the Polikarpov R-1 copy.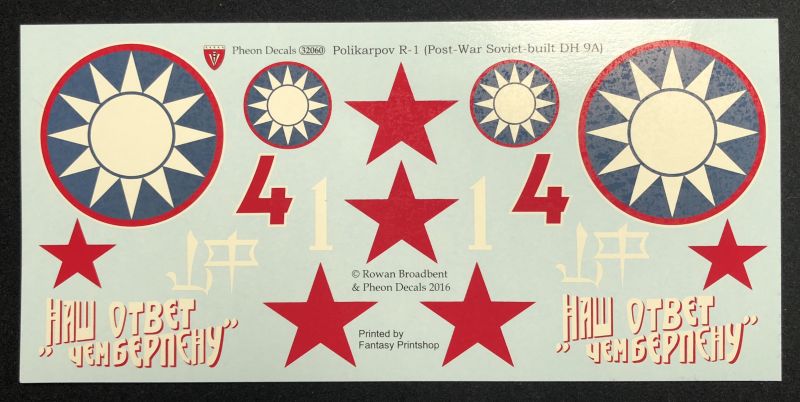 Two R-1s are featured in this decal sheet, and while the wartime Ninak kit could be used, you'll need the Post-War kit to make an accurate depiction of these planes with the additional parts included in that boxing. The first aircraft featured in this set is Red 4, serving with Soviet forces circa 1927-28. Many of the Soviet R-1s featured slogans painted in large red and white Cyrillic text on sides, and Red 4 is no exception. The text reads "Our Answer to Chamberlain", explained in the booklet as a jab at then British Foreign Secretary Sir Austen Chamberlain. This aircraft features red stars on the fuselage sides and on the tops of both upper wings, bottom of both lower wings, and would have been painted with a dark green dope common on Russian aircraft of the time - not WWI British PC10 or similar.
Next up in the decals is an R-1 flying with the Koumintang Forces, Northern Expedition, China, 1926. The Chinese characters are "Ming Te" ("Brilliant Virtue" in English), which was the formal name for the revolutionary leader Sun Yat-Sen. There aren't many markings on this airframe either - simply the Ming Te text, white #1, and Chinese nationalist insignia on both fuselage sides, as well as the Nationalist insignia on both sides of the lower wing underside. There is no insignia on top of the wings and like the Soviet airframe, apparently no stencils on the airframe.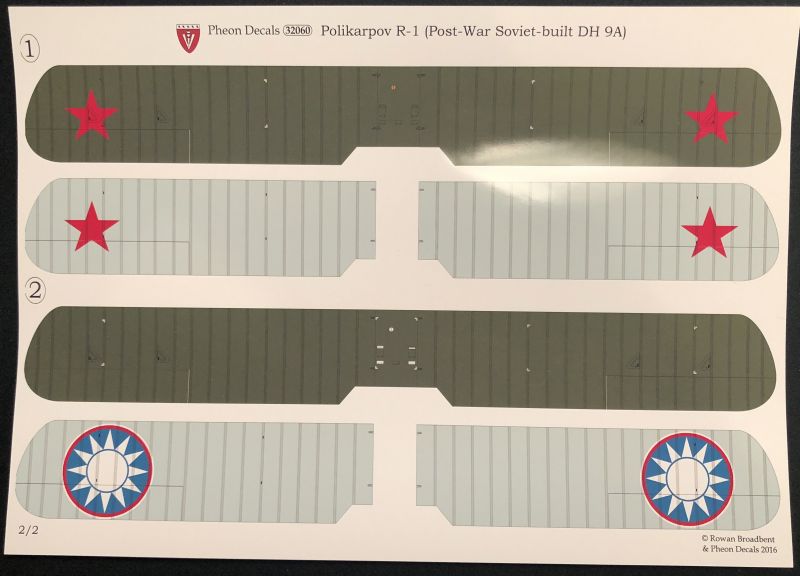 Pheon has used Fantasy Printshop to print the decal sheet as they have with many of their releases. Common with Pheon decal sets, a printed booklet with detailed and thoroughly-researched text on the depicted aircraft is included, as are full color aircraft profiles printed on glossy card stock. The presentation of the product and depth of information is superb, and it's something noticeably lacking by comparison with many other decal manufacturers. Examining the decals on the sheet, everything appears to be printed perfectly. The sharply printed details all seem in register, with all decals have only an extremely fine border of carrier film to help minimize any changes of silvering.
I'll recommend this sheet without hesitation to anyone looking to do something a little different with their post-war Ninak kit. The decal sheet is available directly from Pheon Decals for GBP 7.75 plus postage; review sample is courtesy of my own wallet.
© Mike Swinburne 2017
This review was published on Thursday, November 23 2017; Last modified on Wednesday, December 06 2017