Mr. Hobby | PS-275 WA Pistol-Grip Airbrush
Reviewed by Mitko Nikitov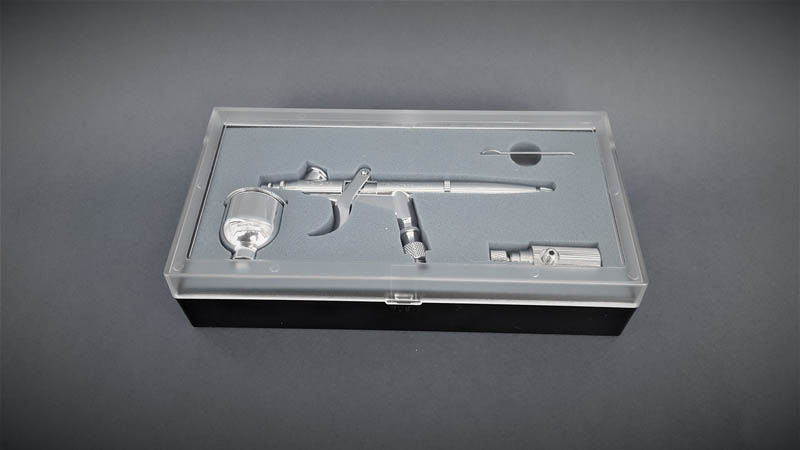 Introduction
Pistol-grip airbrushes are extremely comfortable. They spare you the hassle of execute extreme caution while working with your finger in case you don't have steady hands. They also help you get your coffee before any delicate spray session, without having to worry that you will mess up a good camouflage pattern. But jokes aside, they truly provide you with more comfortable and steady grip, allowing you to be not-so-precise while working and in the same time achieve similar fine results.
Pistol-Grip airbrushes differ from one another though. In general, they look alike, but they feature different nozzles, side- or gravity-feed cups, handles or no-handles and so on. The airbrush that we're going to look at today is slightly off of what I have tested so far. It is again pistol-grip but it is smaller in size and weight and it is gravity feed one. Compared to what I tested, it might look the same, but it is not.
The Set
The boxing is the well-known Mr. Hobby case, with open top and designed to be hung on a hanger in your display board, most likely for store display. On its back there is a profile drawing of the PS-275, Procon Boy WA, trigger-type airbrush. That is .3mm set up, with 15cc color cup featuring lid.
---
As with other Mr. Hobby airbrushes that I tested, PS-275 WA comes with a wrench a hose in the set. The hose is with smaller fittings on both of its sides and to fit the 1/8 on the airbrush, Mr. Hobby added a transition fitting, looking like the one you will have on your quick release valve. That is in case you decide to use Mr. Air can air supply. And for that last one there is another transition, with regulator and the fitting suitable for the hose too.
Luckily, this isn't the sole option here.
Inside one can find a standard airbrush case with transparent top, rectangular and displaying the contents. There is a blue foaming material with a very good grip, holding the wrench, color cup, Mr. Air connector and the PS-275. There is also thorough instructions, featuring a lot for those who are getting this as their first airbrush and more than enough for the veterans.
Size
Procon Boy WA PS-275 comes in a size smaller than what I expected. It doesn't have a handle in the box, like you get with Sparmax GP series or NEO TRN by Iwata, which makes it look even smaller. Last ones are bigger than a conventional airbrush, while with PS-275, we have a size even smaller, due to its length and very delicate appearance because of the trigger.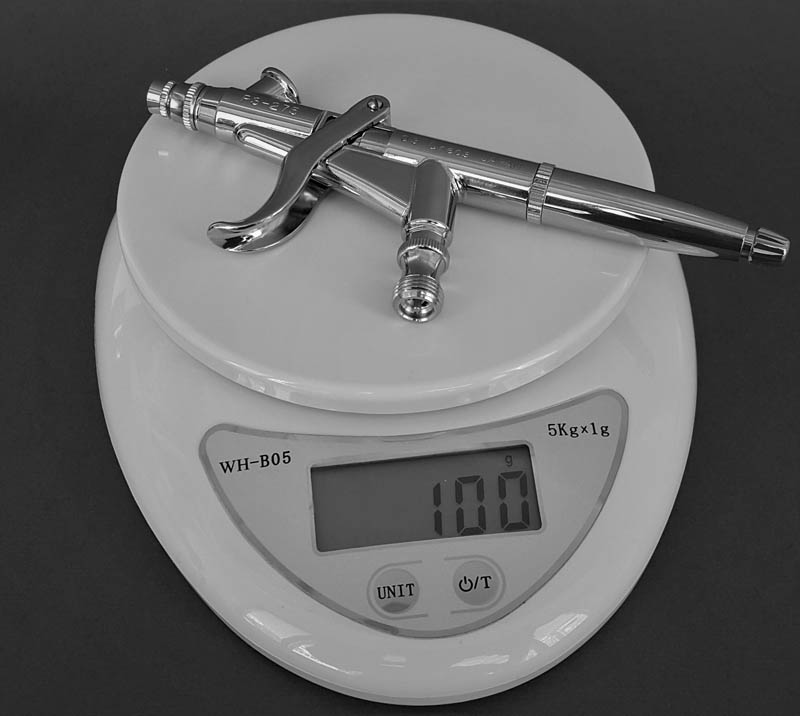 The weight of the airbrush without the color cup is 100 grams and with the cup 128 grams – grams. It can be used without it, in case only small areas are to be painted. The cup can be screwed in to the airbrush, but the bed holding it still allows for couple of paint drops to be used without the cup attached.
The other reason for the small size is the relatively shorter tail, featuring the trigger stopper. Most definitely, that was a decision based with the smaller appearance in mind, because making that part longer is one of the easiest thing to be done. Even if the weight increases, a cutaway still can solve that problem.
Performance
PS-275 comes with a nozzle typical for conventional airbrushes and that is .3mm. Probably the one that is most widely used. Performance-wise it is comparable with the other airbrushes featuring similar nozzles and that isn't something unexpected.
The trigger here is what adds to that. If one struggle with the top-index finger control, here mastering the sole backwards movement of the trigger will be easier. First comes the air, than the paint and pretty much that limits the amount of errors that can be allowed. That is, not limiting the performance but still keeping it and that is the magic of the trigger style airbrushes.
Of course, handling primers, varnishes, acrylics and lacquers doesn't make much of a difference due to the good design of the PS-275, but that is self-explanatory, since it comes from Mr.Hobby and they are a major player in the hobby business.
Ergonomics
The best way to hold PS-275 is to use your index finger and thumb to aim at the painter area, while using your middle finger for trigger action. At least this is what my own experience says. That is way different than the regular pistol-grips like GP-35 for example, where I can hold the hand like I am holding a gun, and using my index or middle finger to do the trigger action.
Now I am not saying that this is bad in any way. Just different. There are people with large hands that might not enjoy this and for them, other pistol-grips might be more suitable. On the other hand there are people who find the regular pistol-grip airbrushes bigger than needed and if you work on something smaller, it might be useless to have a big airbrush while the model itself is smaller. PS-275 comes at a size that corresponds to a conventional airbrush and even though not best suited for your palm, it is comfy enough.
Compared to Others
I've tested .2mm and .35mm on pistol grips, and Procon WA comes with .3mm. That makes it closer to .35 GP-35 from Sparmax and I believe that is the one that I should measure it next to. I had trouble-less sessions with both GP-35 and PS-275 and if you expect to read about any performance differences, well, you will be disappointed. Nozzles are very good in quality and size on both airbrushes and I believe one can do exactly the same using any of these. It is true that Sparmax is a bigger gun, but that gives more control which makes the .05mm difference insignificant.
Compared to a conventional airbrush, PS-275 gives more control and there is no doubt about it. But that is only for those who haven't mastered high precision guns and they do not intend to. For people who do not enjoy the airbrushing process and still want to have a lot of control without being extra cautions, the Procon WA is very good choice.
PS-275 keeps the size and the usual nozzle setup from the conventional airbrush, while giving more with the trigger, without growing to the size of Iwata Revolution TR or GREX Tritium. Interesting and unusual combination, one that I believe will gather a significant fan base.
Conclusion
If you read my other airbrush reviews, you would know that I am a pistol-grip lover and even though I have no troubles airbrushing with whatever gun, I still find trigger types to be the best. I found them to be somewhat suitable for everybody, never mind an experienced modeler or a novice. So this Mr.Hobby here doesn't go in a different direction. It does combine small stature with trigger qualities, which is a bit from the both worlds.
At the same time, we keep .3mm which is pretty much the standard and we are very low in price here, something that trigger-actions are not famous for. So, with .3mm you can do basically everything and you can buy it for less than Tritium or Revolution, but still get the action of the pistol instead of the conventional dual-direction movement top index trigger.
As my end thoughts: very interesting combination between size and design, unusual but useful and promising, last one especially - knowing that Procon WA comes from Japan.
© Mitko Nikitov 2017
This review was published on Tuesday, November 28 2017; Last modified on Tuesday, November 28 2017