Revell | 03944: P-51D-5NA Mustang Early Version
Reviewed by Andrew Birnie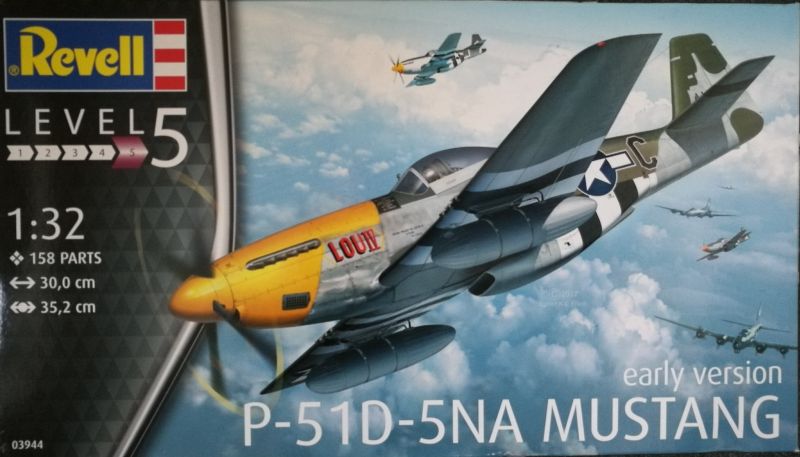 The P-51D marked a significant development of the Mustang, introducing a bubble canopy bringing much improved visibility for the pilot, six 0.50 calibre machine guns, and a supercharged liquid cooled V-12 Packard V-1650-7 Merlin engine.
It's apt that Revell's initial release of their all new tool 1/32 P-51D is the -5NA version, the first to see service, readily distinguished from later D's with its lack of fin fillet, introduced to counter directional problems with the -10NA, though to muddy the waters somewhat the fillet was retrofitted to some -5NAs.
On to the kit which comprises of 158 parts, 11 clear, 147 in the familiar Revell light grey plastic. The panel lines are fine and restrained, details sharp, and just a couple of shrink marks on the main fuselage parts just behind and below the exhaust opening and the under wings near the two rearmost openings, though these will hopefully be solved with applying primer then sanding.
The two clear sprues H & J contain not only the two canopy parts, but a variety of small lights, and the gunsight.
Sprue A contains the forward fuselage parts, undercarriage legs, cockpit parts, and nose cooling vent parts; standard perforated - as used exclusively on this release, solid, and the louvred version used on RAF and Commonwealth Mustangs.
Sprue B supplies a number of sundry items such as the undercarriage doors, which come as one to be detached with a knife.
Sprue C comes with cockpit sides, interior, and ailerons.
Sprue D has the upper wing in one part.
Sprue E the lower wing also in one part, which at its centre rear has a strange recessed short shot type shape, but this is all part of the design, so worry not.
Sprue F provides amongst others, the prop - very nicely moulded albeit with a wee bit of flash, spinner, exhausts, flaps, seats - two types, instrument panel coaming - also two types, rudder pedals, inboard wing leading edges.
Sprue G of which there are two, contains two types of drop tanks, main wheels, 500lb bombs, exhausts - which will need drilling out if so required, and a few other bits and bobs.
Sprue I contains the rear fuselage, rudder, instrument panel, lower rear cowl, and bomb racks.
The decal sheet, printed in Italy, provided markings for two aircraft: Athelene/Lou IV, a familiar -D5NA, and Desert Rat, decals for which haven't been previously produced in 1/32. Also supplied are a great many stencils for the aircraft exterior, and also the cockpit interior, including those for the instrument panel dials. The decals are thin and have a matt finish.
The instruction booklet is a vast improvement on previous Revell kits, nice semi gloss paper, full colour throughout, clear illustrations, the paint references are just limited to the required colous, no FS numbers or product codes.
Sprues
---
Decals
---
Instructions
---
Conclusion
This is a fantastic kit of the Cadillac of the Sky, very well designed, wonderful details, lovely decal sheet, and at a price which makes it hard to resist.
© Andrew Birnie 2018
This review was published on Wednesday, January 10 2018; Last modified on Wednesday, January 10 2018