Wingnut Wings | 32073: Sopwith 5F.1 Dolphin
Reviewed by Kevin Futter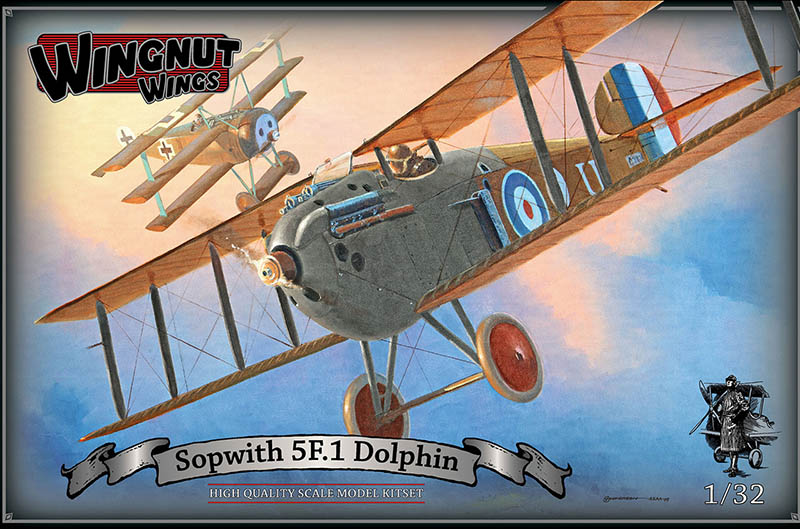 It's fast becoming something of a tradition that Wingnut Wings releases a previously unheralded surprise kit on the cusp of Christmas each year. This year the company has not disappointed, with the relatively unlikely release of a Sopwith Dolphin; a surprise indeed, but a welcome one.
Quoting from the Wingnut Wings website:
High quality Cartograf decals for 5 aircraft - 144 high quality injection moulded plastic parts - Optional propellers, 20lb Cooper bombs & carrier, Holt flares & lights and Lewis gun armament - Optional early and late production radiators, centre sections, tail skids and front cowls - Highly detailed 18 part 200hp Hispano-Suiza engine (originally available in 32003 1/32 SE.5a "Hisso") - 12 photo-etched detail parts - Fine in scale rib tape detail - Full rigging diagram.
That page also contains a potted history of the Sopwith Dolphin, so if you're not familiar with the type, then it's well worth checking out.
This is a rather modest release compared to some of the company's more elaborate kits, with only three major sprues in grey plastic, plus a small one for the engine. The full contents breakdown is as follows:
4 grey plastic sprues;
1 clear plastic sprue;
1 small photo-etched fret;
1 large decal sheet;
1 instruction booklet.
The Plastic Parts
The plastic parts are comprised of only three major sprues (plus a small one for the engine), moulded in the familiar mid-grey plastic. This is the fewest I've seen in a Wingnut Wings kit. Nevertheless, the level and crispness of detail is well up to the expected standard from this company, which is among the best in the business.
I did note, though, some unexpected flash on the runners, which is not normally something you see at all in a Wingnut Wings kit. That said, I failed to detect any flash on the kit parts themselves, so this is really only a cosmetic issue.
---
Detailing is well up to the usual standard we expect to see in Wingnut Wings kits:
---
While there are some ejector pin marks on the section between the lower wings, note that the largest and most obvious one is in fact not an ejector pin mark, but part of the moulded detail: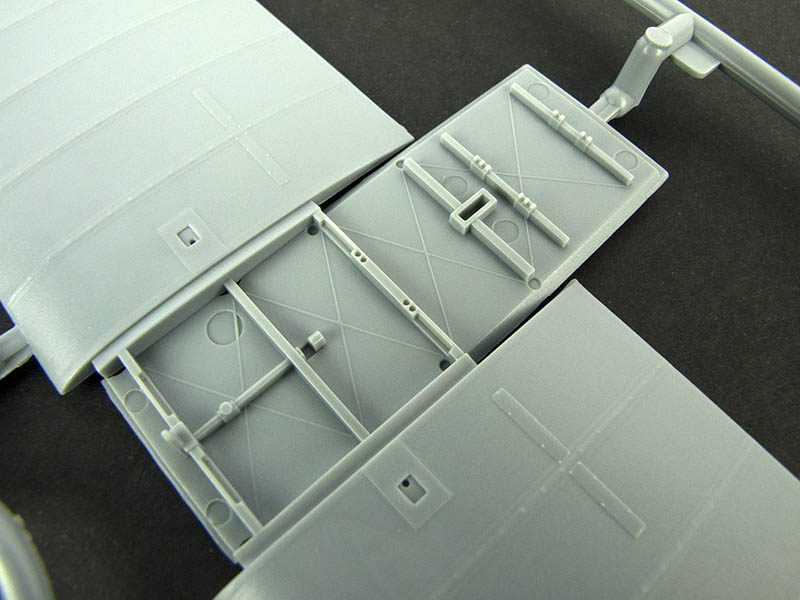 The others are unlikely to be visible on the final model.
While examining the close-up photos, it suddenly occurred to me that there's one element to Wingnut Wings kits that typifies the company's attention to detail and thoughtful approach to kit design, but also something that I'm sure we all take for granted. I'm referring to the large, clearly-moulded part number tabs. This is a small, almost trivial detail, and yet I've battled kits from other manufacturers where these same tabs were so small, and their moulded-on numbers so faintly-moulded, that I could barely use them to identify parts. A small detail, certainly, but my fading eyesight appreciates it!
The Clear Parts
The clear parts are furnished on one small sprue: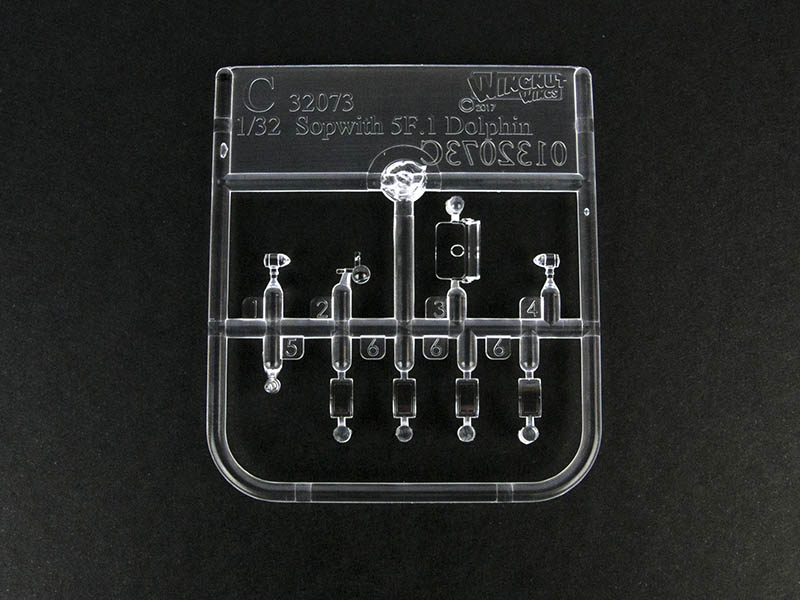 All parts are crisply moulded and free of any visible flaws. In a departure from previous releases I've seen, the clear parts sprue in this kit is wrapped in a protective sheet of flexible clear plastic, as well as being contained in the usual sealed plastic bag.
Photo-etched Fret
Housed inside the plastic bag that contains the decals is a small photo-etched fret: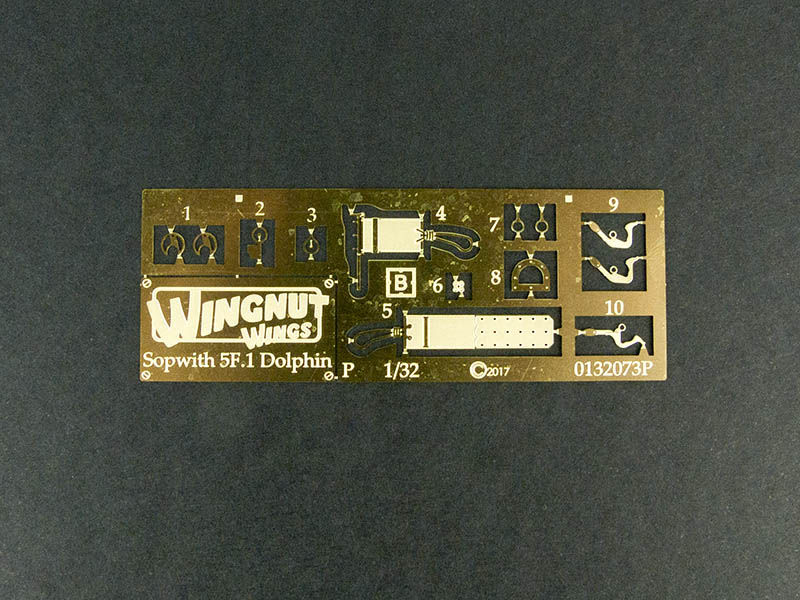 This consists mainly of seat belts and sundry cockpit details.
Decals and Markings
The decals are contained on a single large sheet: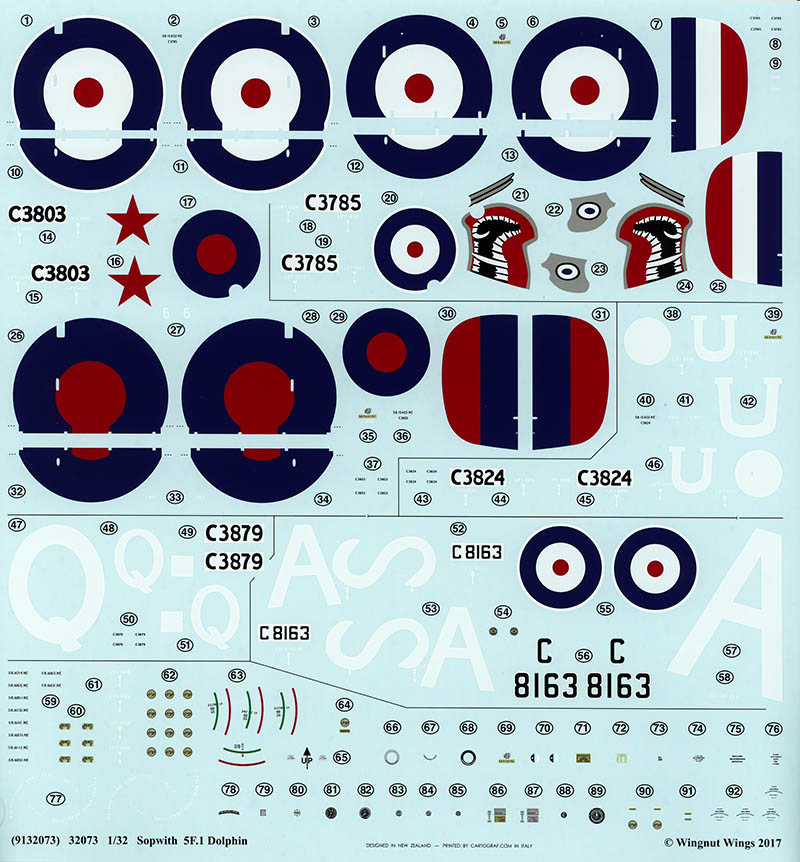 These are exquisitely printed by Cartograf in Italy, and exhibit perfect registration, finely-printed details and no obvious signs of translucence.
The sheet features markings for five aircraft:
Sopwith 5F.1 Dolphin C3785, RNAS Dover, early 1918
Sopwith 5F.1 Dolphin C3803 'Red Star 6', SARD, March 1918
Sopwith 5F.1 Dolphin C3824 'U', JW Pearson (12 victories) & CE Walton (1? victory), C Flight 23 Sqn RAF, May to July 1918
Sopwith 5F.1 Dolphin C3879 'Q', RB Bannermann (17 victories), C Flight 79 Sqn RAF, August to November 1918
Sopwith 5F.1 Dolphin C8163 'A', HJ Larkin (11 victories), A Flight 87 Sqn RAF, August to November 1918
---
Instruction Booklet
The instruction booklets supplied in Wingnut Wings kits have become legendary, and with good reason. The production values are equivalent to a glossy magazine, and to refer to them as mere instruction booklets does them a grave disservice.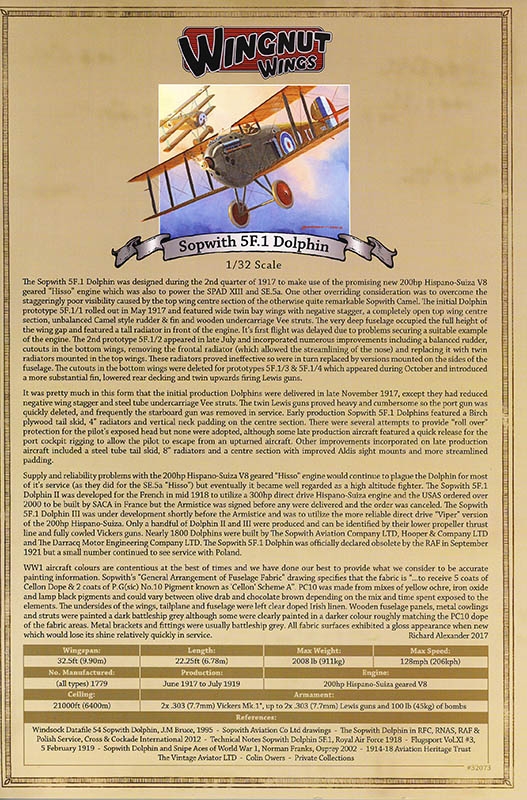 ---
Conclusion
This surprise release from Wingnut Wings represents everything we've come to expect from their kits: exceptional moulding quality, excellent detail, superb decals and industry-leading documentation. What more could you ask for? Any modeller wishing to build a 1/32 Sopwith Dolphin will be well satisfied with this kit, and I highly recommended it.
Thanks to Wingnut Wings for the review sample.
© Kevin Futter 2017
This review was published on Thursday, December 21 2017; Last modified on Thursday, December 21 2017