Eduard Brassin | 632111 Spitfire Mk.IXc Cockpit for Revell kit
Reviewed by Iain Ogilvie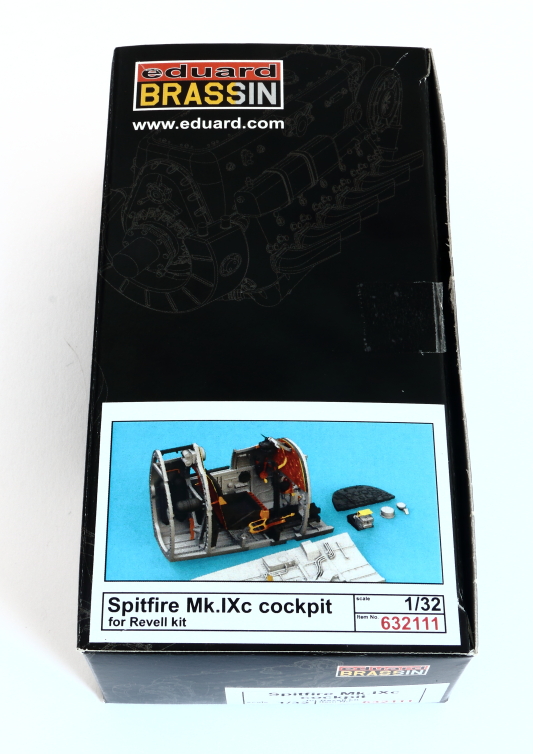 This is a complete replacement cockpit set for Revell's recently released Spitfire Mk.IXc kit.
---
Above images are Eduard CAD renderings.
Resin Parts
Beautifully cast to Eduards usually high standard this comprehensive set features a large quantity of components in grey resin and two photo-etched frets.
You have a few options: you can use a detailed resin instrument panel with instrument decals, or a pre-printed photo-etch version. Alternative gunsight types are also included.
---
Photo Etched Parts
Two sheets of photo-etch are provided - one pre-printed with instrument panel, seat straps, etc., and a second that provides seat armour, compass mount and a variety of levers and handles. The colour printing looks pretty sharp - and the sutton harness is etched with buckles integral, so no fiddly separate items to fit/lose!
---
Decals and Gunsight Glass
A full set of instrument decals and a number of placards are included on a small decal sheet. I thought mine was missing - but it was sandwiched between two card sheets in the 'photo-etch' bag.
---
A clear piece of pre-printed acetate is included for the builder to cut out and apply to the relevant gunsight - two types are included in this set.
---
Instructions
These are clear, concise and very detailed; they not only highlight where each item is fitted, but also have clear colour call-outs. Whilst complex, assembly should be straightforward once the resin pour stubs are removed. Note that there are three sheets - only two illustrated here for reference.
---
Conclusion
As mentioned previously, I'm really becoming very impressed with the quality of Eduard's Brassin range. Top notch masters (which look like they've been designed using CAD software), perfect casting, nice etch, comprehensive decals and great instructions.
This is a stunning and superbly detailed set - the only thing I'm not sure of is the market for these. Whilst the cost of this set, plus the Revell Spitfire Mk.IXc is cheaper than the Tamiya kit, I suspect many that want to go to town on a large scale Spit may still opt to go for the Tamiya kits.
Review sample courtesy of my wallet.
Iain
© Iain Ogilvie 2018
This review was published on Saturday, January 06 2018; Last modified on Saturday, January 06 2018