Olimp | ORA 32-14 EF2000 Typhoon 'Englishman over Tripoli'
Reviewed by Iain Ogilvie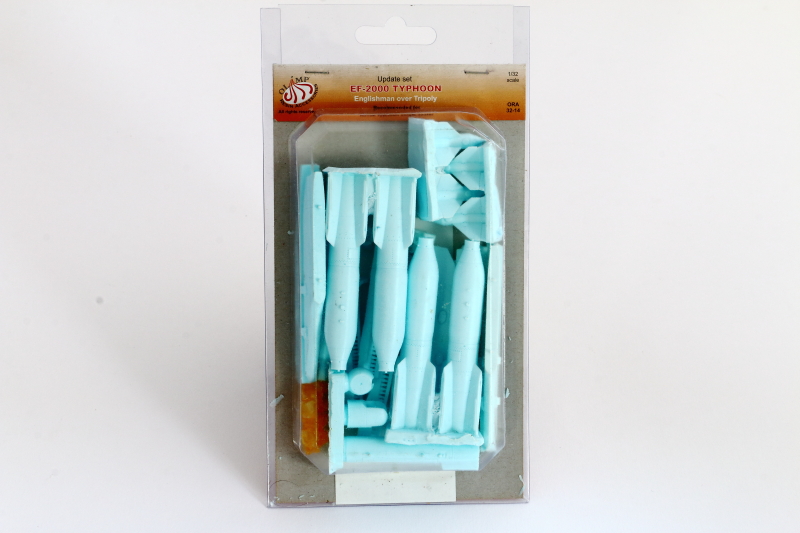 I love the look of the Eurofighter Typhoon, so much so that I now have four of the 1:32 Revell kits (more accurate in shape than the Trumpeter kits) and have been looking at how I can build them in a variety of schemes and weapons fits.
With the big Telford show on the horizon last year I was looking through the Hannants site to see if there was anything I could order and take advantage of their 'collection at show' discount, when I came across this armament and decal set from Olimp. A new manufacturer to me, so I didn't know what the quality would be like, but took the plunge and ordered.
Overview
So, what do you get?
The set provides 4 x 1000lb Enhanced Paveway II laser guided bombs, GPS conduits, a Litening III targeting pod, new inner wing pylons and a centreline pylon, moulded in an unusual resin shade of pale blue, along with a small set of decals.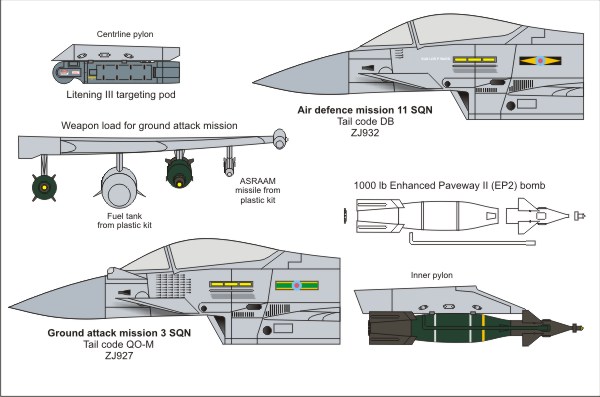 Resin Castings
I'm not sure what I was expecting. Resin castings can vary from very crude, to sharp and better than injected styrene. We've become a little spoiled by the likes of Aires etc., but the castings supplied here are somewhere in between. The shapes look OK to my eyes, but some of the castings are a little 'woolly' and will need some attention and clean-up before use.
I'll let the photos do the talking...
---
My set also appears to be missing the lenses for the Litening pod - but that's a relatively easy fix.
Decals
A small decal sheet is supplied that provides some ordinance stencils and mission markings/codes for two airframes - squadron markings will have to come from the kit, or other aftermarket sheets.
ZJ932 'DB' of 11 Squadron, Royal Air Force
ZJ927 'QO-M' of 3 Squadron, Royal Air Force
---
Conclusion
A useful set to make your Typhoon look a little different, but I have to say I was a little disappointed with the overall quality of this set, especially at the price (£43.60 at time of writing, here in the UK).
Review sample courtesy of my wallet.
Iain
© Iain Ogilvie 2018
This review was published on Tuesday, March 20 2018; Last modified on Tuesday, March 20 2018