Kagero | #33 P-38 Lightning at War: Part II
Reviewed by Kevin Williams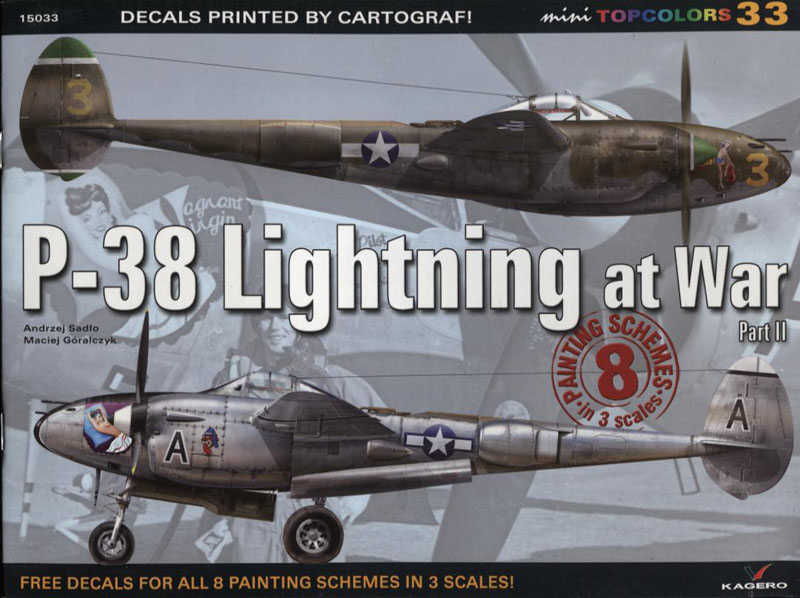 Publisher: Kagero
Author(s): Sadło, Góralczyk
Publishing date: 2012
ISBN: 978-83-62878-48-2
For me, the Topcolors series books from Kagero, represent really good value for money, offering up not only nice color drawings (profile, plan and scrap views), but also for the splendid decals that are included, usually worth the price of the publication in their own right.
This particular book (No. 33 in the series), depicts the ubiquitous Lockheed P-38 Lightning, and it's dedicated to eight different P-38s (three J's, four L's and one G model). The last illustration in the book, a plan view of P-38L, "Wicked Woman", is shown as plan only, no profiles or scrap views are provided. I'm not sure if this was an accidental omission or not, but seems that it likely was. Not at all a new book (published in 2012), it's still quite a viable addition to my references collection, if for no other reason than the markings for "California Cutie". I've been collecting many volumes from this series since it's inception, and have every intention of continuing to do so.
Decals
---
To me, the real selling point of the Kagero Topcolors series, are the incredibly nice (specifically in the later volumes) decals that are included within the publication, in this specific case, for 1:72, 1:48 & 1:32 scale machines. Printed by Cartograf of Italy, very high quality is assured.
Typical Illustration Quality
---
The illustrations obviously form the backbone of the book, and while some may balk at that concept, I find them to be quite delightful, and offer up inspiration for kits to model, as in the case (for me) of P-38J: California Cutie. (Note: The one area where the decals for California Cutie differ in this volume from those provided in volume #10, lies in the fact that this set does not include the white triangles for the tails, however some Microscale white film will handily take care of that little problem.)
Rear Cover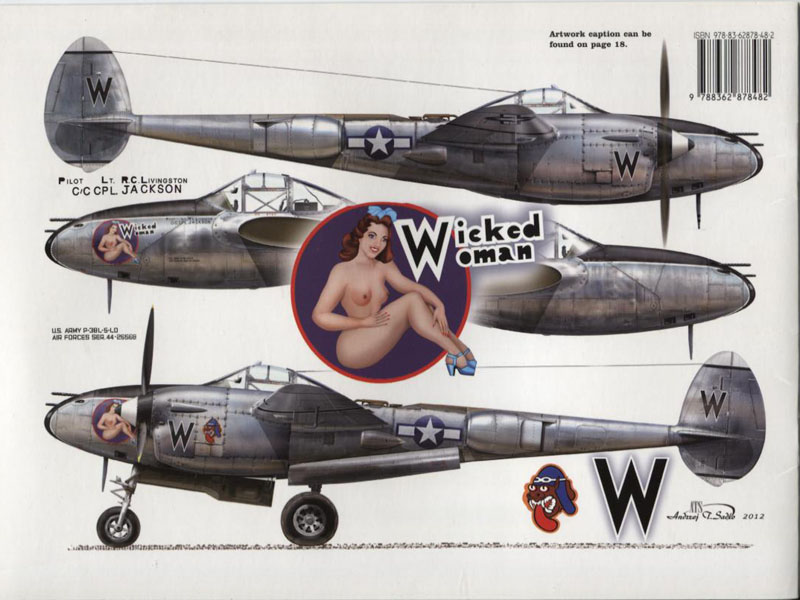 Even if you have just a passing interest in The P-38, you can't go wrong with the purchase of this book. You may just become a fan.
On a scale of 1 to 10, I'd rate this book as a 10, no question about it, if for no other reason than the excellent decals. There are currently a few more volumes in the series that I don't yet have, but want, and I'll be adding them to my personal library as soon as I'm able, I enjoy them that much.
My review copy compliments of a forum pal. Thanks a ton, Don.
© Kevin Williams 2018
This review was published on Wednesday, January 17 2018; Last modified on Thursday, February 22 2018