Roden | 620: Cessna O-2A Skymaster
Reviewed by Andrew Birnie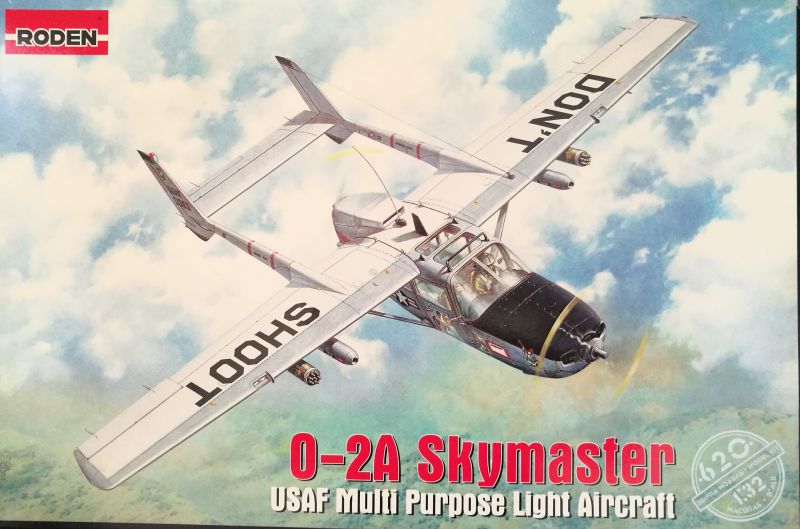 Following neatly on from their previous 1/32 release - the L-19/O-1 Bird Dog which it replaced in the USAF - comes the Cessna O-2 Skymaster, which was derived from the civilian Model 337.
The kit comes in ten grey sprues, one clear, two containing the engines and weapons, props and main wheels are replicated. The plastic used for the grey parts has quite a bit of "flex" which might well cause an issue with the main gear one-piece strut as it may sag unless a solution such as mounting the kit on a base and pinning the wheels to said base, a brass replacement would be welcome, but as it's a short run kit it probably isn't going to happen.
Main Parts
---
There is also a fair bit of flash on some of the parts, particularly engines, but this shouldn't take too long to remove. the parts are nicely cast with fine panel lines, one curiosity is the surface on the upper wing is more "textured" than any other parts, there are also some sink marks running along near the rear of the trailing edge which is a real pity. The cockpit interior consists of two rows of two seat, which is correct for the O-2B, for the O-2A configuration this will need to be changed by removing the rear two seats, moving the non-pilot seat further back and adding electrical equipment to the rear of the cab. Seat belts will need to be added as none are supplied. It's a pity no spinners are included, though none are needed on the decal options, as I think the aircraft was much more attractive when fitted.
Clear Parts
The clear parts are nice and thin, though there does appear to be a ripple effect on the odd curved part, perhaps as a result of a difference in thickness, though this may be solved if needed by some sanding and polishing. As with all the parts they come in one bag, so better to separate them into a bag of their own to prevent scratching.
---
Decals
The decal sheet is comprehensive with options for three Vietnam-era USAF aircraft, the provenance of one or two of the aircraft has been questioned, so check your references if you're so minded. There are spelling mistakes on some of the stencils; Resque instead of Rescue on decals 16 and 17 being the most glaring. There is a very recently released decal sheet from AOA, and one in the works from Caracal, so a solution with additional options is at hand.
---
Markings
---
Aerial
---
Conclusion
There are a few shortcomings, but nothing alarming, is such a great unique subject, and will no doubt build into an attractive model.
© Andrew Birnie 2018
This review was published on Wednesday, February 14 2018; Last modified on Thursday, November 29 2018