Revell-Germany | 04849: BAe Hawk T.1A
Reviewed by Kevin Williams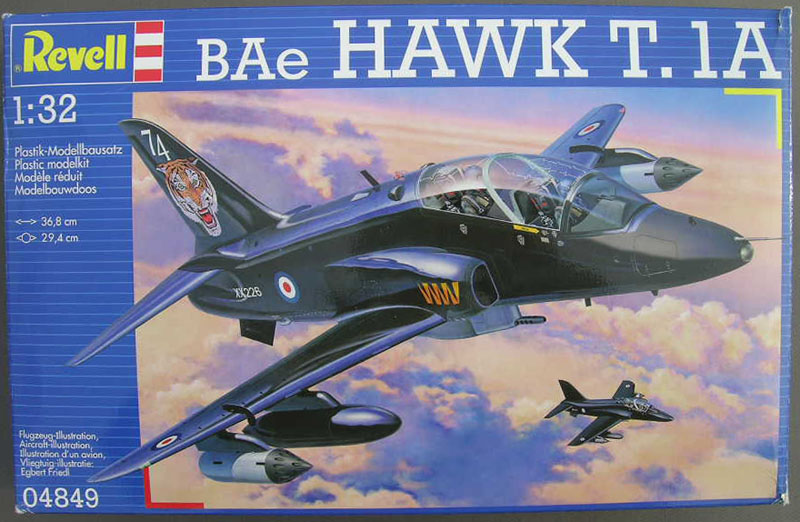 I decided at the outset to remove myself from the somewhat typical and lengthy description of the Hawk technical development and operational history. The Hawk has certainly served very well during its lifetime, and has undoubtedly been a great asset to those who use/used it.
A good friend recently received this kit (via the LSP Christmas raffle), and he has graciously allowed me to review it for the site.
While I'm not a fan of trainers in general, I must say that I'm most impressed with what I've seen while examining and photographing the parts of this kit. And now, on to the goodies.
Instructions
---
Instructions are Typical Revell, including a parts chart, which I personally like very much.
Decals
---
Markings are provided for two Hawks:
XX286: 74 Squadron, RAF 1997 (Tiger Meet)
XX284: 151 Squadron, RAF 1992
Decals appear to be in register, quite opaque, with good coloring and well detailed, also including plenty of stenciling. I'm really not sure who prints the decals for Revell, but they appear to be reasonably thin. They're marked as printed in Italy, is all I know for sure.
Fuselage
---
Now that I have the kit "in hand", I can say that the surface detailing (not that I ever had any doubts), is very delicate and refined.
Wings
---
Wings are what one might expect, with nice molded-in details. Wheel wells (main), as molded into wing uppers and surrounded by the provided 3 enclosure pieces, should provide a reasonable enough representation for the average builder, though additional detailing is definitely possible.
Cockpit
---
Not a lot to be said here, save for the notion that if one takes his time, the cockpit has the potential to be built into a very decent and busy representation right out of the box.
Engine/Intake Components
---
Very pleasing to me, is the complete absence of ejector pin marks on key parts, such as the engine intake trunking. While there will still be a seam to deal with (naturally enough), at least one won't have to remove unnecessary pin marks, and I see that as a major plus. Engine exhaust area is depicted as nothing more than a smooth tube (again, with no ejector pin marks), and it seems doubtful to me that this is correct, but my Hawk reference books are extremely limited, so I cannot verify that.
Clear Parts
---
All clear parts are just that, crystal clear, and look just great; typical for Revell.
Fuel Tanks
---
Basic under wing fuel tanks are provided, and look quite reasonable to me.
Landing Gear, Wheels and Doors
---
Gear, wheels and tires all look quite acceptable to me, and should provide for a nice appearance.
Weapons
---
One gun pod and two rocket pods are included, and appear to be nicely detailed, with good proportions.
Miscellaneous Plastic Parts
---
There were a few portions of the kit that I photographed, but had no specific category for, so I decided to just lump them all together here, as they are undoubtedly relevant.
Summation
All in all, I think this is a very nice effort from Revell, with overall proportions looking good to my eye. I am very pleased with what I've found thus far, and if I had any intentions of building a two-seat trainer, this might well be the kit I'd choose.
Many thanks to my friend for the use of the kit to write this review.
© Kevin Williams 2018
This review was published on Thursday, February 01 2018; Last modified on Thursday, February 01 2018