Pheon Decals | 32026: 1/32 Pfalz D.IIIa Fighters of Jasta 30
Reviewed by James Fahey

This set was first designed in 2011 - a longer gestation time than most sets from Pheon - Rowan had been hoping for a definitive history of Jasta 30 to be published. As this work has not been forthcoming, an amended version has now been released which differs slightly from the first concept. Now there are 'only' six options instead of the original nine, recognising that few modellers will build more than one Jasta 30 Pfalz in 1/32 scale, and the price has been reduced accordingly.
Jasta 30 was one of the few units to be equipped exclusively with the Pfalz. The Jasta marking was a distinctive black-bordered orange diamond on the fuselage and tail, along with various individualised black stripes.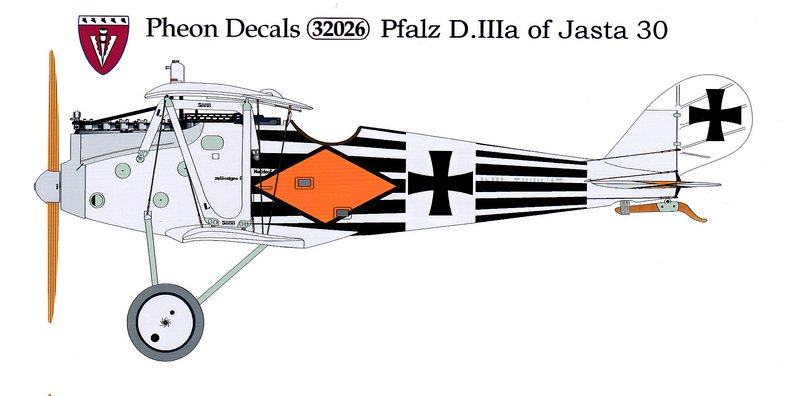 Oberleutnant Hans Bethge was the Jasta CO for the unusually long term of fourteen months. Following his 20th victory, Bethge was recommended for the Blue Max but before the recommendation could be approved, he was killed in on the morning of 17 March 1918. His Pfalz D.III was shot down over Passchendaele by a D.H.4 of 57 Squadron.
Along with Hans-Georg von der Marwitz the two scored about half Jasta 30's total victories between them. Both of them were recipients of the Royal House Order of Hohenzollern and the Iron Cross.
Von der Marwitz transferred to aviation in March 1916 and became a pilot. He scored his first victory while flying for Schusta 10, on 5 January 1917. A year later, he trained as a fighter pilot; upon completion of training he was assigned to Jasta 30. Marwitz scored a second time that year burning an observation balloon on 13 May but did not score again until 19 February 1918. He then tallied a victory or two per month for the remainder of the war. Marwitz commanded Jasta 30 for two months, from 17 April to 17 June 1918. As Staffelfuhrer, he flew a Pfalz painted all burgundy except for a white rudder and a large orange diamond emblazoned on either side of its cockpit. He flew the Pfalz until July 1918, when Jasta 30 upgraded to Fokker D.VIIs and finished the war with 14 or 15 victories.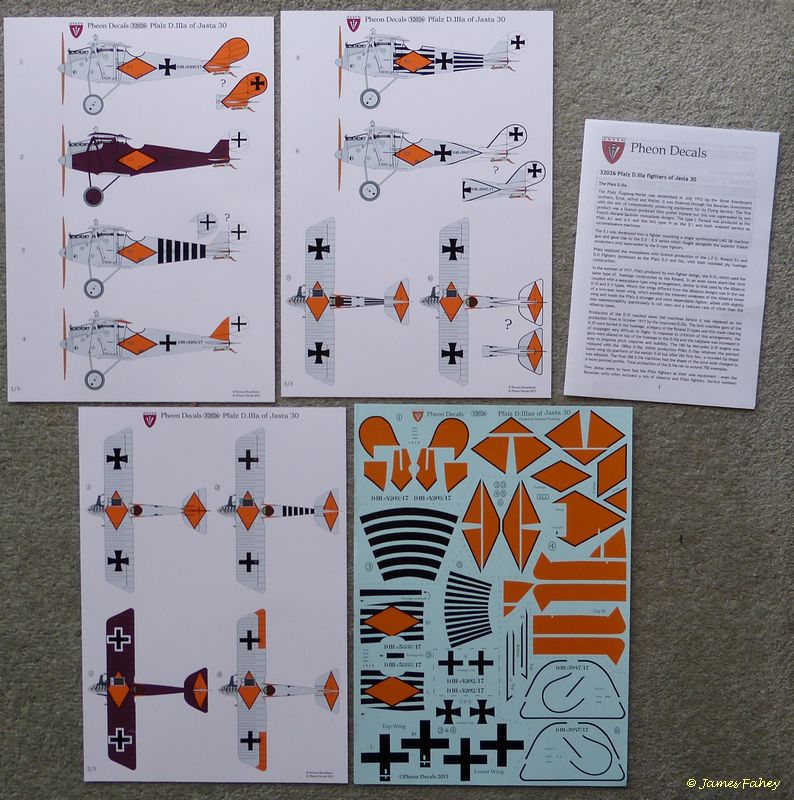 References
Pfalz Aircraft of World War I by Jack Herris, Flying Machines Press, 2001
Pfalz Scout Aces of World War 1, from Osprey's "Aircraft of the Aces" series, by Greg VanWyngarden
There are six options in this set, two of von der Marwitz's Pfalz, two belonging to unknown pilots, one flown by Bethge (most likely the one in which he was shot down) and one flown by Ltn Freiherr von der Horst. Note only one model will be able to be completed from the set.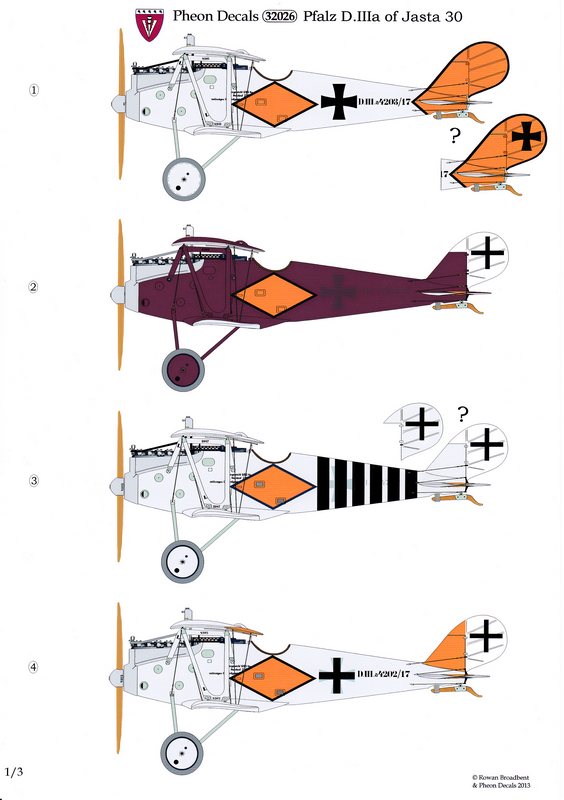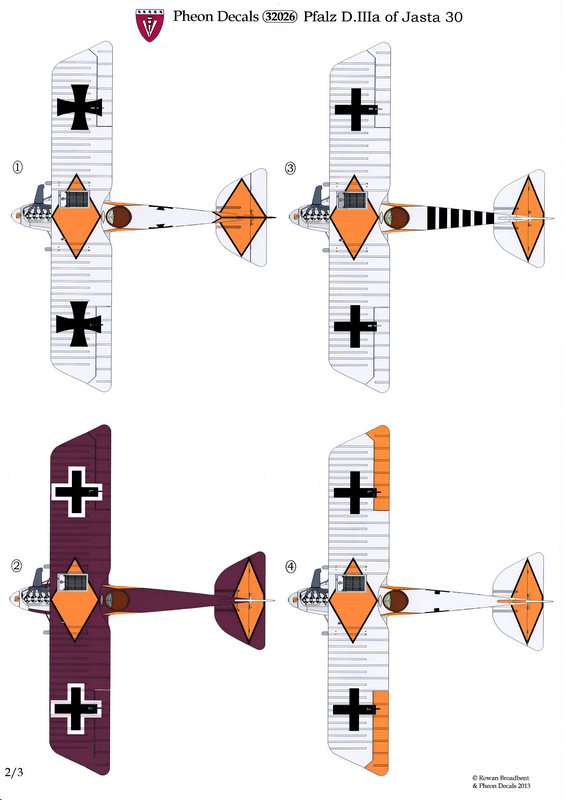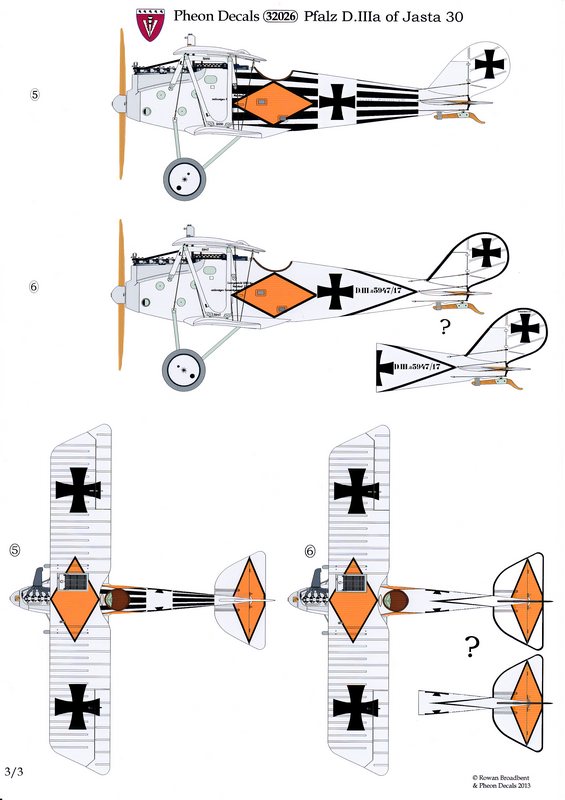 The 7 page instruction booklet is set out in the usual Pheon style with background information on the Pfalz DIIIa, references, decal application guide, and brief notes on individual aircraft and pilots.
Pheon decals are printed by Fantasy Printshop in the UK and have excellent register and opacity.
Three A4 sheets of full colour artwork are included for decal placement.
Pheon decals come well packed in sealed plastic bag inside a bubble envelope.
Available for purchase at https://www.pheondecals.com/32026-pfalz-diiia-of-jasta-30.html
Enquiries to: pheon@pheondecals.com
Shipping costs: http://www.pheondecals.com/shipping.html
Conclusion
The Jasta 30 signature marking of black outlined orange diamond looks great against the Pfalz silbergrau finish, toss in some black striping or edges and you have a very stylish effect. And if you want something even more personalised von der Marwitz's burgundy red painted Pfalz D.IIIa is a cracker. Hard to get excited about PC10 after seeing these beauties.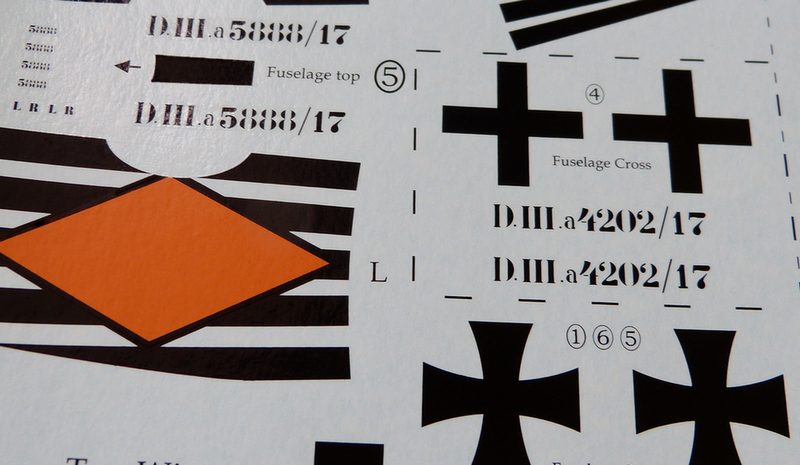 Highly recommended.
Thank you to Pheon Decals for providing the decals for this review.
© James Fahey 2013, 2018
This review was published on Wednesday, February 07 2018; Last modified on Saturday, February 10 2018