Pheon Decals | 32052: Jasta 30 Volume 2
Reviewed by James Fahey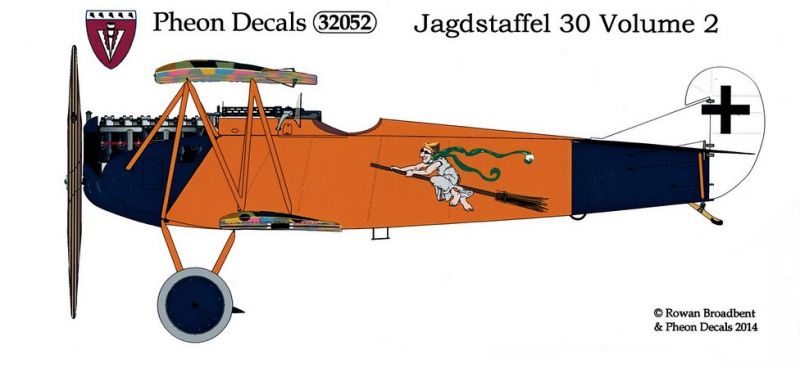 Background
Royal Prussian Jagdstaffel 30 was established in December 1916 and allocated to the German 6th Army, facing the British Army Air Service in 1917 and 1918. Hans Bethge and Hans-Georg von der Marwitz scored about half the squadron's 63 victories between them, with 20 and 15 victories respectively. Both pilots received the Royal House Order of Hohenzollern and the Iron Cross.
Inspiration and information for the development of this set came from "Royal Prussian Jagdstaffel 30" by Bruno Schmäling and Winfried Bock, recently published by Jack Herris' Aeronaut Books. The book presents a detailed and unique history of Jasta 30, based on interviews and information from four former members of the unit by one of the authors in the 1970s, unpublished German documents, daily German Army Reports of the activity in the air, personal rosters, and information from allied sources. The book also contains a detailed war dairy excerpt and - never published before - the complete logbook of one of the unit's pilots. There are 56 colour profiles by Jim Miller and original paintings by Russell Smith and Jerry Boucher. As Pheon note in the reference booklet "this is one of the most revealing and authoritative Jasta histories yet published".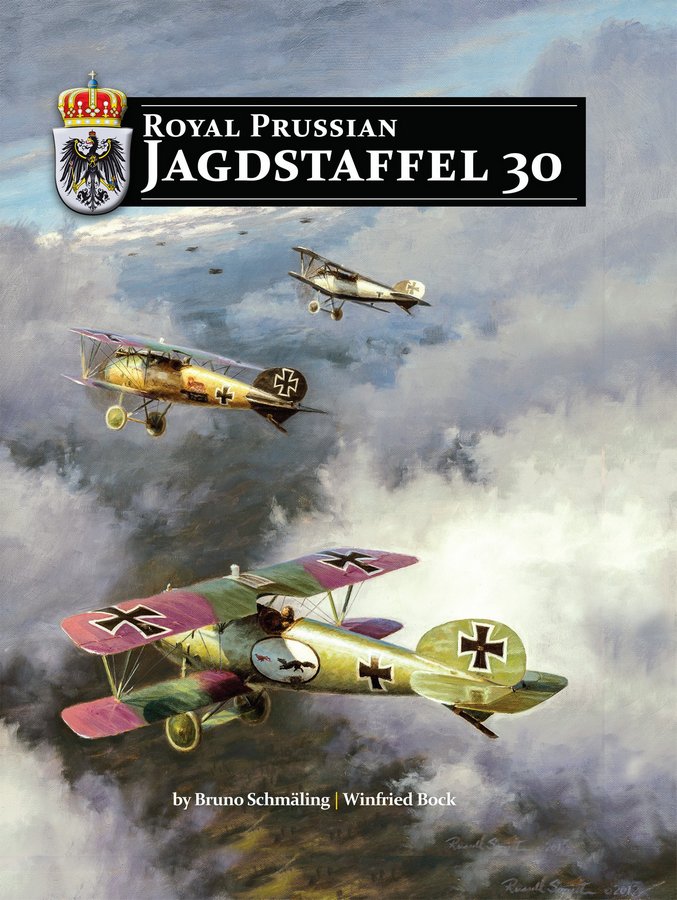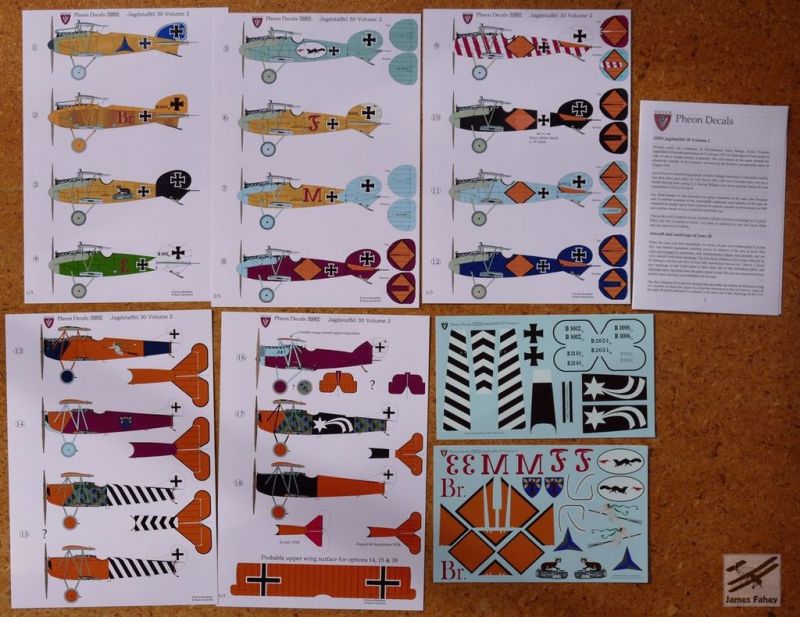 Markings for Jasta 30's Pfalz D.IIIa aircraft were covered in Pheon's first Jasta 30 set #32026.
This second volume covers a whopping 18 markings options, two for Albatros D.II, ten for Albatros D.V, five Fokker DVII and a Pfalz D.XII.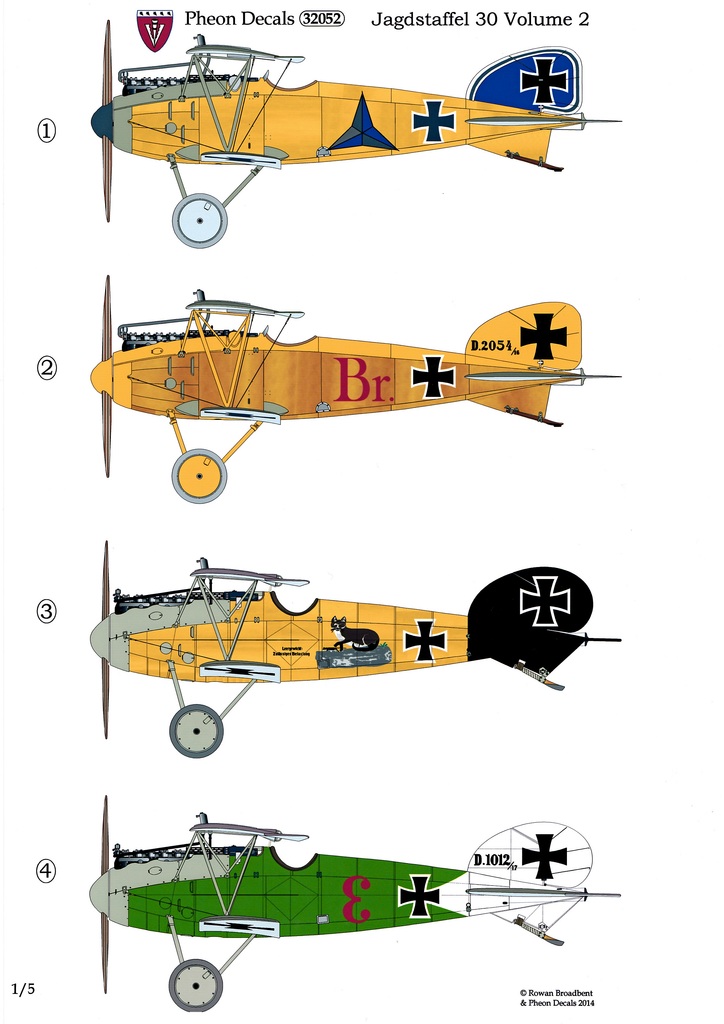 1. Albatros D.III, Oblt. Hans Bethge
2. Albatros D.III, D2054/16, Ltn. Heinrich Brügman
3. Albatros D.V, Ltn. Kurt Katzenstein
4. Albatros D.V, D1012/17, Ltn. Paul Erbguth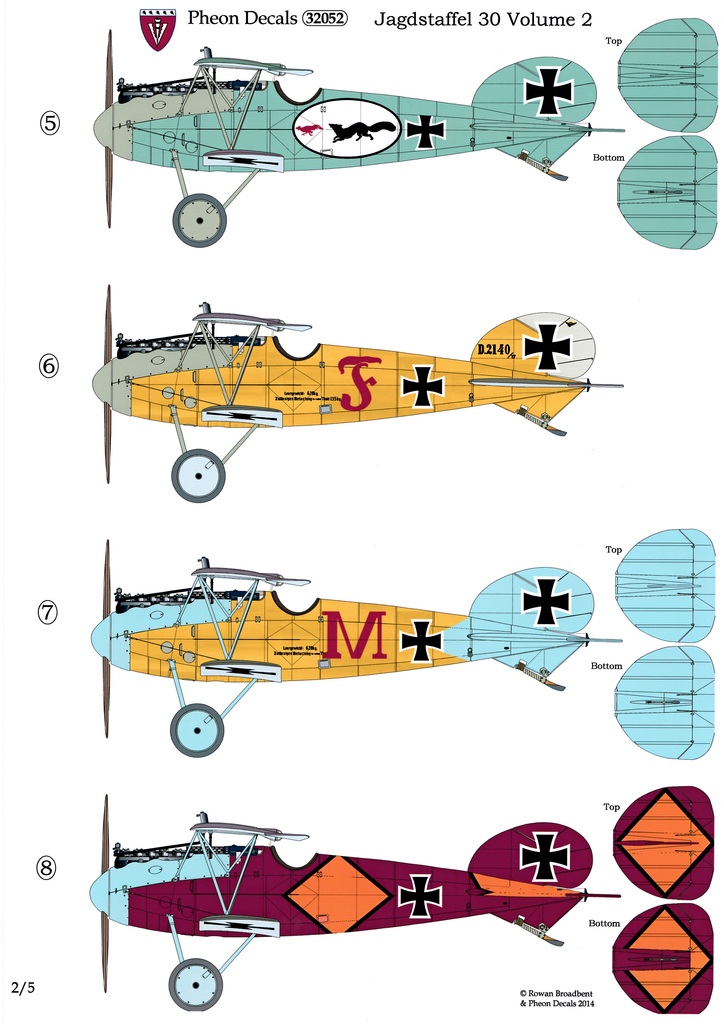 5. Albatros D.V, Ltn. Otto Fuchs
6. Albatros D.V, D 2140/17, Ltn. Otto Fuchs
7. Albatros D.V, D1016/17, Ltn. Hans-Georg von der Marwitz
8. Albatros D.V, Ltn. Hans-Georg von der Marwitz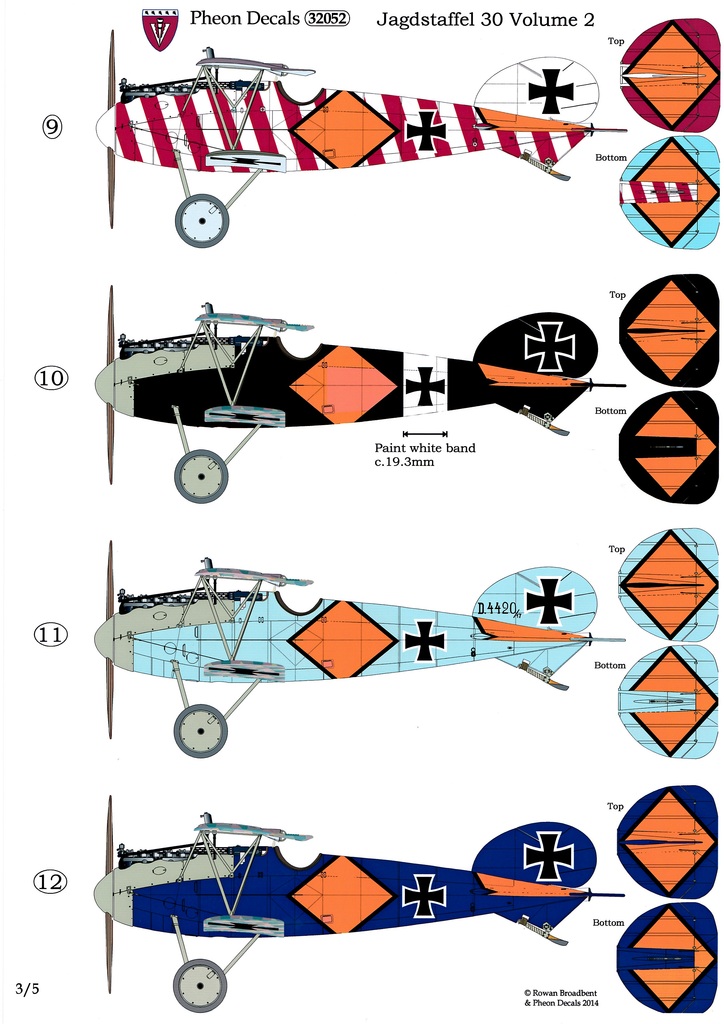 9. Albatros D.V, Ltn. Hans Holthusen
10. Albatros D.V Vzfw.Josef Heiligers
11. Albatros D.V, D4420/17, Ltn. Karl Weltz
12. Albatros D.V, Uffz.Emil Liebert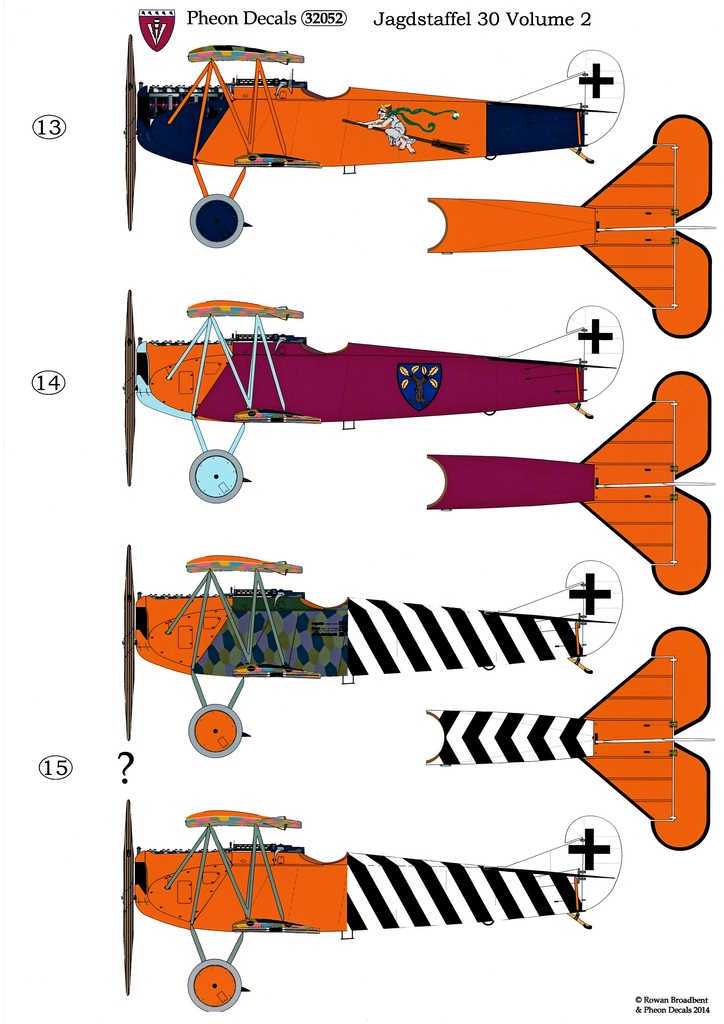 13. Fokker D.VII, Ltn. August Hartmann
14. Fokker D.VII, Ltn. Hans-Georg von der Marwitz
15. Fokker D.VII, Pilot not known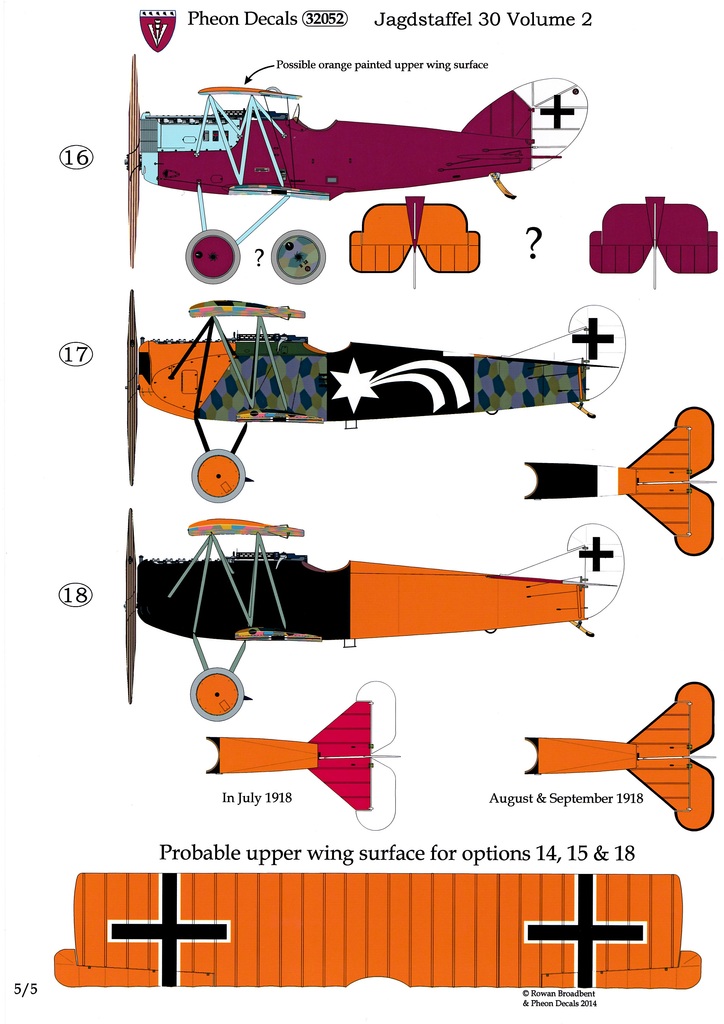 16. Pfalz D.XII, Ltn. Hans-Georg von der Marwitz
17. Fokker D.VII, Pilot not known
18. Fokker D.VII, 370/18. Ltn. Hans Holthusen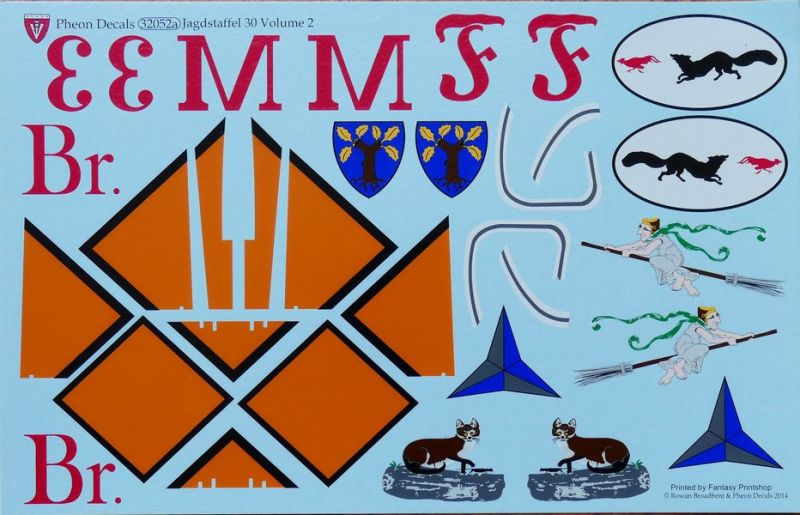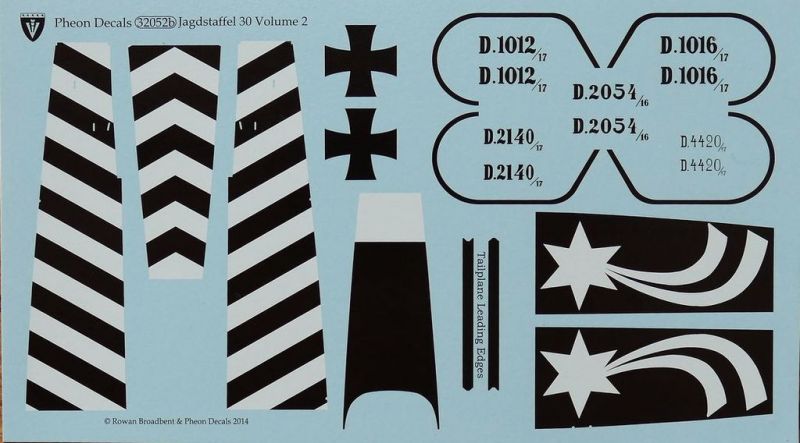 One set of Jasta 30 tail decals for the Albatros DV are included (Options 8 to 12), and one set of outline decals for the Fokker DVII
The 14 page reference booklet includes historical background on Jasta 30, an extensive list of references used, notes on individual aircraft and pilots and decal application instructions.
Note that the use of decal setting solutions is not recommended (or needed).
Website: http://www.pheondecals.com/32052-jasta-30-vol-2.html
Orders and Enquiries to: pheon@pheondecals.com
Shipping costs: http://www.pheondecals.com/shipping.html
Payment: Paypal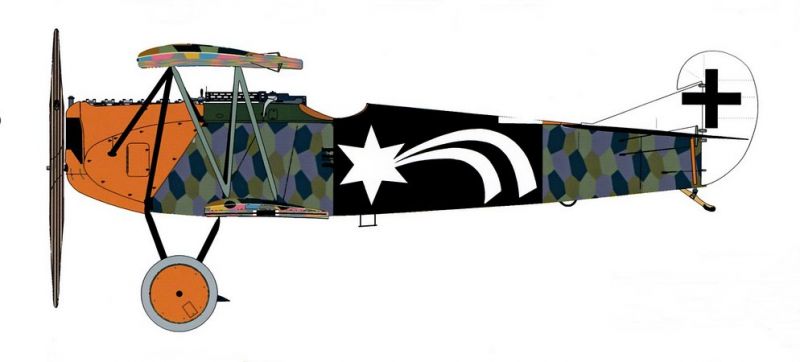 Things I Liked
Jasta 30 markings are colourful and interesting – a good choice for an after-market decal set
18 options, wow that is extensive coverage, plenty to choose from.
Thorough research is evident in the notes. Most decal manufacturers provide very little information.
Markings cover a range of aircraft types which increases the utility of the set
Confidence in decal quality as they are manufactured by Fantasy Printshop in the UK
Five full A4 pages of colour artwork to guide decal placement. Beautifully done
Rowan's design work on some of the more intricate markings is superb, particularly the strange looking cat painted by Otto Fuchs on Katzenstein's D.V and Hartmann's witch on broomstick.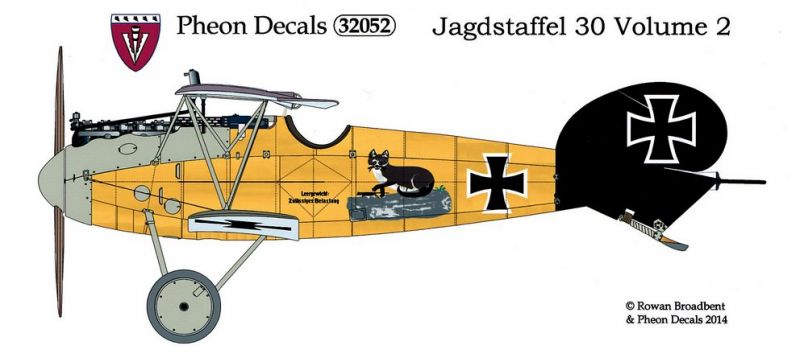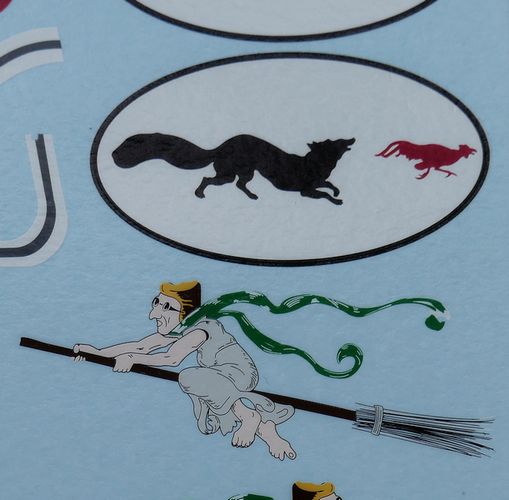 Conclusion
WWI aviation enthusiasts are raving about the new Jasta 30 book so it is great to see this set from Pheon being released so quickly.
There are so many interesting and colourful options to choose from. This is another top quality set from Pheon and is highly recommended.
Thanks to Pheon Decals for providing the sample for this review
© James Fahey 2015, 2018
This review was published on Wednesday, February 07 2018; Last modified on Saturday, February 10 2018